New 2019 State Rankings: The Sunshine State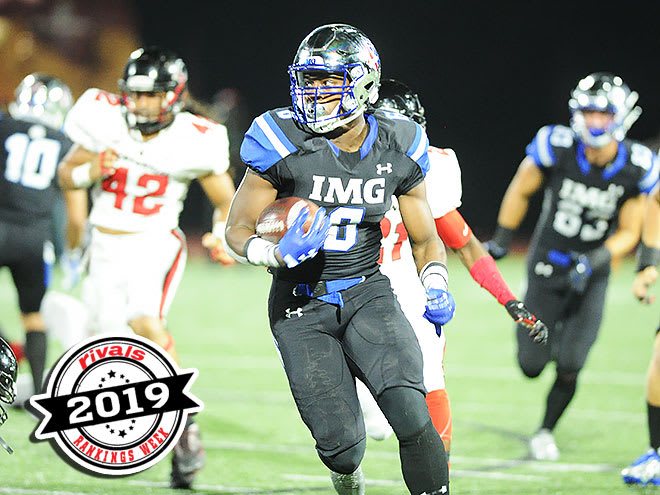 With the new Rivals.com rankings now out in full, our look at the state rankings is well underway. Below, we meet the top five in the talent-rich state of Florida, complete with a discussion about where each might land for college.
1. TREY SANDERS
WHY HE'S NO. 1: Sanders started his career at Port St. Joe High School and committed to Alabama as a promising young prospect. He then transferred to IMG Academy, where he added size and developed into one of the nation's truly elite players. Sanders had an incredible junior season and boasts a college-ready build. His combination of size and speed is special and will help him make an early impact at whichever school lands his letter of intent.
WHERE HE MIGHT GO: A one-time Alabama commit, Sanders is considering schools such as Miami, LSU and Texas. The Tide are also in the mix. Sanders recently visited Texas but isn't expected to make a decision for some time.
2. NOLAN SMITH
WHY HE'S NO. 2: A teammate of Sanders' at IMG Academy, Smith had an absolutely monster spring, testing well at camp stops and shining during offseason workouts. A new five-star, Smith checks every box you want in a defensive end and seems to somehow be getting even bigger. Originally from Georgia, the touted prospect was already a recruiting commodity before landing at IMG, but he's certainly taken steps forward since moving to the Sunshine State.

WHERE HE MIGHT GO: Smith is committed to Georgia. He recently picked up an offer from Alabama, but there's no reason to think his pledge to the Bulldogs is on shaky ground as things stand now.

3. AKEEM DENT
WHY HE'S NO. 3: Dent has solid length and an impressive build, but it's his athleticism that makes him truly special. He was awarded his fifth star during the most recent updates because his versatility and ability to cover any shape or size of wideout. Dent has physicality for days and jams smaller wideouts while being able to run down the field with most anyone.
WHERE HE MIGHT GO: Currently committed to Florida State, Dent will likely continue to take visits until National Signing Day. He was once pledged to Miami but that didn't stick. Right now, FSU is the heavy favorite to sign the five-star defensive back, but there's no ruling out late drama here.

4. FRANK LADSON
WHY HE'S NO. 4: Ladson has the frame of an NFL prospect and couples his impressive length with reliable hands and solid acceleration. He's proven effective against top-flight cornerbacks on both the high school and elite 7-on-7 circuit. In a solid year for receivers in the state, Ladson has been the most consistently great. Knocks on the 6-foot-4 target are hard to find.
WHERE HE MIGHT GO: Ladson is committed to Clemson and says he has shut his recruitment down. He is expected to sign with the Tigers in December.

5. MARK-ANTONY RICHARDS
WHY HE'S NO. 5: Richards is a versatile athlete with size and speed. He's shined at running back, safety and wide receiver in the past year, and could conceivably play any of the three at the next level. Richards has devastating athleticism but his position remains a bit of a question mark. His ranking is likely to fluctuate as he settles into a role.

WHERE HE MIGHT GO: Logic says Richards will land at Miami, as his older brother is a budding star in Carol Gables. That said, the four-star athlete insists his recruitment is wide open. Auburn and Florida are involved, as is LSU.
RIVALS RANKINGS WEEK COVERAGE