Take Two: Can Jimbo Fisher keep up his hot recruiting start?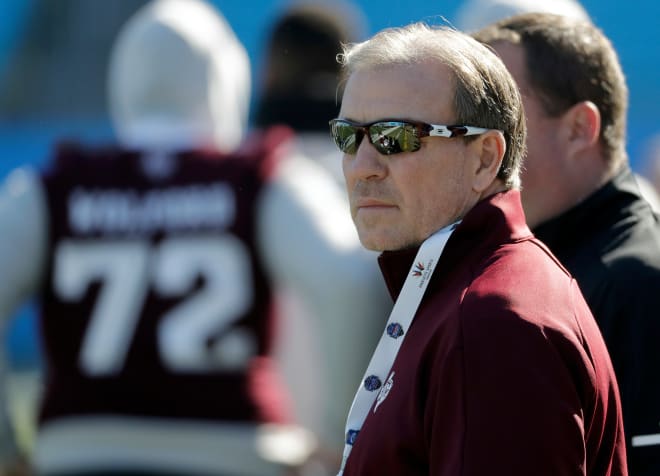 THE STORYLINE
Even before coaching a game at Texas A&M, first-year coach Jimbo Fisher is making a statement in College Station.
The Aggies have the third-best recruiting class nationally behind only Oklahoma and Alabama, and Fisher and his staff are doing a phenomenal job already with in-state recruiting.
*****
RELATED: Rivals.com's updated 2019 team rankings
*****
Five-star offensive lineman Kenyon Green is the highest-profile commitment so far. Landing high four-star defensive back Brian Williams back in late January definitely made a statement. Texas A&M has gone into Georgia for a four-star in wide receiver Kenyon Jackson and the Aggies have really recruited the state of Texas better than anybody but Oklahoma.
Other than the Sooners, Texas A&M is the only other team that has four of the top 18 players in the state committed. More good news is possible as well since high four-stars Erick Young and Jalen Curry could be two other top in-state prospects who might be headed to the Aggies.
After basically sleepwalking through recruiting in his final year at Florida State, which was also a disappointment on the field, has Fisher not only regrouped in College Station but can he keep up this outstanding recruiting haul?
FIRST TAKE: MARK PASSWATERS, AGGIEYELL.COM
"I think a lot of Fisher's success to date comes from his personal record and the skill of his recruiters. He can make a very simple pitch: I've won it all before with far fewer resources at my disposal, and we can do it again here. So far, the pitch is working and if you see an upward tick in Texas A&M's record on the field this year, there's no reason why it shouldn't continue to work."
SECOND TAKE: MIKE FARRELL, RIVALS.COM NATIONAL RECRUITING DIRECTOR
"I'm not surprised at all. He's one of the best recruiters in college football. At Florida State he wasn't happy and a lot of people felt he quit on that class last year and stopped recruiting. When he wanted to recruit, Florida State was always near the top when it came to the rankings. As an assistant coach, he was an excellent recruiter as well.
"I have put him in the top five of head-coach recruiters. Urban Meyer, Nick Saban and Dabo Swinney are up there. I would put Jimbo in that second tier, so it doesn't surprise me at all that they're having a really good recruiting year."

RIVALS RANKINGS WEEK SCHEDULE