Stingley's rise to top is no surprise to those who know him best
Cornerback Derek Stingley Jr. is the new No. 1 prospect in the 2019 Rivals100. It is not often a prospect at this position sits on top, but that should give you an idea of just how talented Stingley is.
Everywhere we have been, Stingley has impressed. He was one of the select underclassmen to be invited to the Rivals 100 Five-Star Challenge presented by adidas a year ago and we had him as one of the top defensive backs at the end of the event.
RELATED: Introducing 2019 Top 10 | Will Stingley hold on to No. 1? | Where does Stingley stand in Rivals history? | Three players knocking on door of top 10
We watch a lot of Stingley's tape and we have seen him compete all over the country the last two years, but Neil Weiner, the head football coach at Baton Rouge (La.) Dunham sees him daily and knows him about as well as anyone outside his family.
Weiner has watched Stingley grow up, mature on and off the field and blossom into the top prospect in the country.
The first time the two crossed paths was 2014. Weiner knew Stingley had some talent, but it was too early to call him a future star.
"I did not know right away that Derek would be this type of player," said Weiner. "I first met him when he was finishing the 7th grade, so he was young.
"I could tell that he was very athletic and a little more polished than some of the others, but he was still young, a little thin and while working out with the older guys, he was definitely a step slower.
"I could tell he was going to be good, but to this level, I could not tell back then. To be who he is now, I just didn't see it that early."
It didn't take long, though.
If you know Stingley, you know his mentality and attitude. He wants to be the best. He did not get to where he is by playing video games all day and trolling on social media.
Stingley has put in the work and he has been doing that from a very young age. Weiner saw it early and quickly pushed him up the ranks.
"After about three weeks into his 8th grade year, Derek had scored every time he touched the ball and they couldn't run to his side, so we moved him up to the high school team. About mid-way through his 8th grade season, he was brought up to the varsity team.
"He recorded two interceptions that year, he became our punt returner, so we knew then he was going to be pretty special.
"Then, in his 9th grade year, he was as good as anyone on the field regardless of classification or age. He was different and that is when I knew he was well on his way."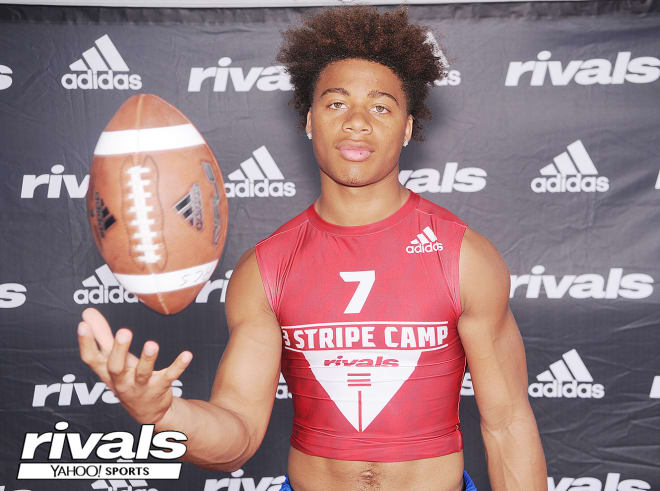 Stingley grew up having success regardless of where he lined up. He could do it all on the field as an offensive or defensive player. He settled in at cornerback and he has been locking down the top opposing wideout for two-plus years.
A lot of fans want to evaluate a defensive back by looking at interceptions and tackles, maybe pass break-ups for those that know a little more about the position, but it is the stuff behind the scenes that has helped Stingley become elite.
"I think his biggest strengths may be a lot of things people can't even see," said Weiner. "When I log into my Hudl account, I can see how much time each player has spent watching film. Even as a 9th grader, he was watching more film than anyone else. He was watching tape of receivers he was going to face in the future, he was going over the scouting report, he was watching defensive cut-ups our coaches had sent out and he is a true student of the game.
"He eats that type of stuff up and that really has helped separate him.
"As a cornerback, he is very patient. Even the very good ones get a little impatient, they jump routes and then give up a big play, but Derek is not like that. He is very calculated. He knows what to look for, he is on the prowl and he is very smart on the field. He waits for the right time to pounce and make his play.
"Derek does his homework and he is always prepared. That has really separated him."
The combination of the physical tools and the work Stingley puts in behind the scenes has made him the best in his class. He has had that fifth star beside his name since early 2017, but it has not affected him at all.
Sure, he enjoys it and takes pride in it, but being one of the few five-stars in the country, Stingley is still the same young man he was before any stars were on his profile.
"He has a lot of maturity and he has handled being a five-star prospect extremely well. He is humble and he just has a lot of respect.
"We've had coaches come through here from small schools, big schools and from all over and he looks each coach in the eye, shakes their hand and speaks with each of them the same way. He has really handled that part of it extremely well.
"The media, the social media and all that, I think he has embraced it all too. He has fun with it, but he has not let it get to his head. He enjoys it some, but he is not out there involved with it all day, every day.
"He has really handled it all well."
Talking about handling it well. Stingley likes to just blend in with all at his school. He doesn't walk the halls sticking his chest out trying to draw attention his way so all know he is the No. 1 prospect in 2019. He just wants to be a kid. He wants to be a regular student-athlete at Dunham like his peers.
"He is a pretty laidback guy. He does not act out in an outlandish way to draw attention to himself and I really don't think he really enjoys being center of the stage kind of guy all the time.
"Derek is just a laidback young man who hangs out with everyone. He is cool with a third-string guy, a starter or a non-football player. Derek is the type of kid that just gets along with everyone."
He wants to blend in, and he does a very good job it day to day, but still, Stingley is different. He is not just your average high school student. He is a special talent. He is a football recruit that will make his college selection on June 20.
The former LSU commit will decide between Florida, LSU and Texas on that day.
MORE: Making the Case: Where will Stingley commit?

Could he have another decision to make in 2022 after his junior year at the college he selects? All signs point to Stingley being a name high on NFL draft boards in the future. That is his goal and we all know he will put in the work.
"Physically, I cannot imagine anyone in the NFL that is more impressive than he is coming out of high school," said Weiner. "He is still just 16-years-old. He has the tools to be as good as anyone who is out there.
"The thing that makes that makes that big separation for many is that mental separation, that passion for the game and really, that appreciation for what is in front of him and Derek has all those things.
"I can't really see anything outside of some crazy injury of some sort keeping Derek from that trajectory of the NFL."
RIVALS RANKINGS WEEK (2019) SCHEDULE:
Monday: Top 10 players
Tuesday: New Rivals100
Wednesday: New Rivals250
Thursday: New offensive position rankings
Friday: New defensive position rankings
Saturday: Team rankings breakdown
Sunday: New state rankings