Take Two: Can Derek Stingley close out the 2019 cycle at No. 1?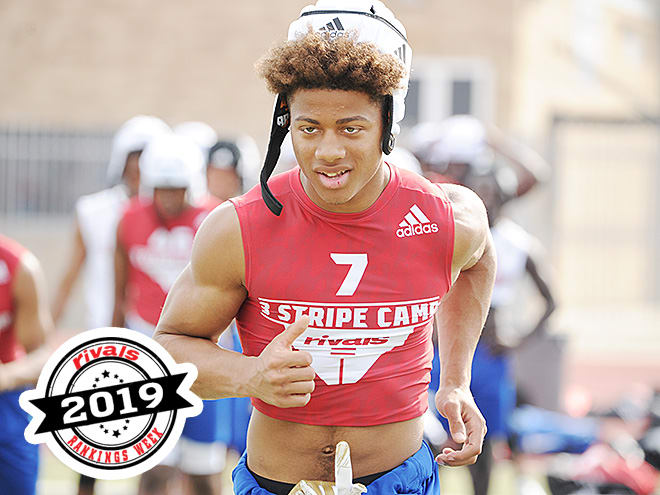 THE STORYLINE
Derek Stingley Jr. is the new top-ranked prospect in the Rivals100 and the five-star could make history because never has a cornerback finished No. 1 in the rankings. That's if the Baton Rouge (La.) Dunham standout can hold onto the top billing.
Stingley is a 6-foot-1, 195-pound star athlete and lockdown cornerback and that's why he eclipsed other top recruits in this latest rankings release. He is expected to compete at the Rivals100 Five-Star Challenge presented by adidas in a few weeks to further solidify himself atop the rankings.
It's a big statement that Stingley could be the first-ever cornerback to finish No. 1. Vernon Hargreaves III and Ted Ginn, Jr. ended up second in the rankings; Eric Berry, Jabrill Peppers and Iman Marshall were third; and Patrick Peterson (at that time Patrick Johnson) was fourth in his class.
That is some incredibly impressive company to surpass. Last recruiting class there were five five-star cornerbacks led by Patrick Surtain at No. 8 overall. What makes Stingley so special and can he close out this rankings cycle leading up to National Signing Day going down as the highest-rated corner in Rivals.com history dating back to 2002?
FIRST TAKE: CHAD SIMMONS, RIVALS.COM RECRUITING ANALYST
"There is simply no box that Stingley does not check. Sure, he does not face great competition on Friday nights, but if that was a concern, it really can't be anymore after what he has done against the best at camps over the last two years. He has the size of a top-end college safety right now and he can still cover like a corner. He has shown the ability to play man- and off-coverage, he has great instincts and he is a very physical defensive back.
"Coming out of high school, there is no doubt that he is one of the top corners I have seen. I loved Eric Berry as an athlete, but he played a lot more quarterback than defensive back in high school. The closest comparison for me is Vernon Hargreaves because I personally covered and evaluated him for years. Hargreaves was a very advanced cornerback coming out of high school, but Stingley is above average there, too. Plus, Stingley is bigger.
"To be the No. 1 prospect in the country at any position, you have to be special and Stingley is that plus some."
SECOND TAKE: MIKE FARRELL, RIVALS.COM NATIONAL RECRUITING DIRECTOR
"He's more Patrick Peterson than anybody. Hargreaves is much smaller than Stingley and I never thought he was elite. We ended up having him No. 2 but that was based on a lot of feedback other than mine.
"Is he the best cornerback in Rivals.com history? He has a chance to be. Right now he's not. He has another year left and we'll see how he does and how he performs against the elite at the all-star events but he's in the discussion. Eric Berry is another one I would compare him to because he has the size you want in a cornerback, too. I would say Peterson and Berry are the two he reminds me the most of and he is one of the most athletic kids to come out of Louisiana in a long time so that plays into it, too."
RIVALS RANKINGS WEEK (2019) SCHEDULE:
Monday: Top 10 players
Tuesday: New Rivals100
Wednesday: New Rivals250
Thursday: New offensive position rankings
Friday: New defensive position rankings
Saturday: Team rankings breakdown
Sunday: New state rankings