Rival Views: Should Grant Gunnell have slid in the rankings?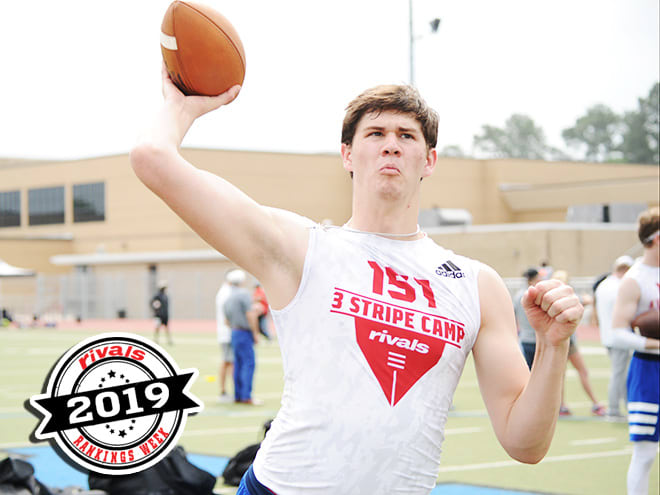 GORNEY'S VIEW: YES
As the offseason ran its course and we saw a lot of other quarterbacks in camp and 7on7 settings, I believe it became clear that other players at that position should be ranked ahead of Grant Gunnell, even though he still has special qualities.

The new Arizona quarterback commit remains a four-star prospect but after watching a ton of quarterbacks at the adidas National Championships including Sam Howell, seeing Ryan Hilinski and Hank Bachmeier numerous times, and watching a bunch of quarterbacks at the Steve Clarkson Quarterback Retreat, it just seemed as if Gunnell was not keeping pace with the top players at his position nationally.
I love his size and he's an excellent leader, but Gunnell struggles at times ripping a tight spiral and he's not consistently accurate on tough throws. He can definitely prove me wrong during his senior season and I still think he's one of the best in this class but a bump down in this latest round of rankings was warranted.
NICK KRUEGER'S VIEW: NO
I understand the criticisms of Grant Gunnell from knowing how often and where the other analysts have seen him throw. At the Rivals100 Five-Star Challenge last year, I don't think that other eyes got a strong enough look at the way he can get the ball downfield, and they were hoping for him to be more aggressive in the chances he took during the 7-on-7 tournament.
I thought he may have been looked at too critically but his ranking has held to this point. I also thought that he caught a tough break at the Future 50, after no quarterback was overwhelmingly strong, but he just didn't benefit from being out there. However, I have seen him in a big game and I like his poise and decision-making. I could use a couple of tweaks to his delivery, but you can't argue with the weight and pace of his passes when he's at his best.
Even though there seems to be a changing market for pro-style passers, Gunnell has a lot of the inherent traits that are desired in most quarterback prospects. He is tall and filling out his frame, and occasionally makes the call to pick up some tough yards on the ground. He has a good sense of self, feel for his game and can make it work as a top-flight quarterback.

RIVALS RANKINGS WEEK SCHEDULE