Mind of Mike: Thoughts on movers and shakers in Rivals100
*****
... It's kind of amazing that we've never had a cornerback ranked No. 1 overall in the Rivals100 and that shows you how special Derek Stingley Jr. can be. He has it all – bloodlines, size, speed, agility, instincts, football sense – to be one of the best cornerbacks we've seen in quite some time. It's imperative for LSU to keep him home as he's one of the most athletic players to come out of the state of Louisiana in more than a decade, but the Tigers will face some competition for his signature. That being said, I still think he stays home.
... Quavaris Crouch is tough to rank. I've heard comparisons with Von Miller on defense, which I don't think are accurate. He reminds me of a bigger Ernie Sims, who was our No. 1 player way back in 2003. Crouch can play running back, linebacker or defensive end at the next level. Sims could never play defensive end, but he was one of the best running back/linebacker prospects I've ever seen. Crouch is in that category.
*****
... I love many things about the new five-stars and I'll break them down here:
Nolan Smith – He has a great motor, changes direction so well in pursuit and is the perfect hybrid who can stand up when needed and then get after the passer. Smith could be a pure defensive end as well as he gets bigger. Has great pass rushing moves and instincts. Georgia will use him properly.
Kardell Thomas – He is a nasty mauler on the inside who wants to dominate his opponent and plays to the whistle. Thomas always finishes his blocks and learns quickly when he gets beaten. He has good feet for a player who still needs to drop a few pounds. Thomas will be a perfect fit at LSU.
Akeem Dent – Dent has good size, a nice frame to build on, excellent ball skills and solid athleticism. He will be the next great corner at Florida State with his ability to play press or off coverage.
Wanya Morris – He has a huge lower body and will be scary good when he catches up in the upper body. Morris boasts good arm extension, excellent feet and mirrors very well. He has a higher ceiling that many in this class as he's just starting to learn to dominate. Morris could play early at Tennessee.
Daxton Hill – He is freaky athlete who has great make-up speed and closes on the ball very well. Hill could play corner as well in certain schemes.
*****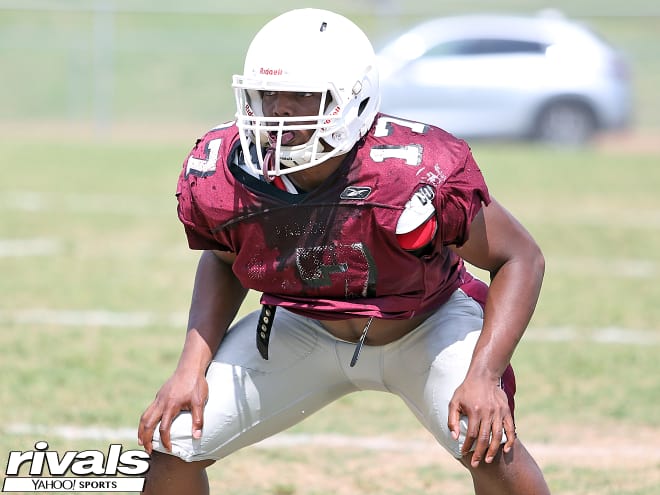 ... Nakobe Dean has emerged as the No. 1 linebacker in the country and is knocking on the door of five-star status. The only issue? He's not that long. However, Roquan Smith was the same way and he turned out to be pretty good. He is very explosive.

... The battle for the No. 1 quarterback in this class is a good one as is the battle for the No. 1 running back. At quarterback, Oklahoma commitment Spencer Rattler is just a shade ahead of Auburn quarterback Bo Nix although Rattler appears to have more supporters on the analyst team when it comes to potential five-star status. At running back, Trey Sanders moved past Penn State commitment Devyn Ford and the two could flip-flop many times during this recruiting cycle.
*****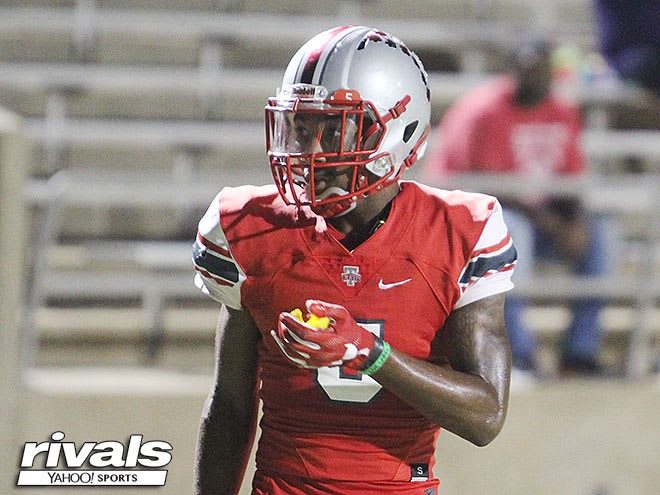 ... I'm a big fan of wide receiver Frank Ladson, who has a chance to be the next five-star wide receiver committed to Clemson. He is so fluid at his size and just needs to get a bit stronger and more consistent, but when he wants to dominate that's exactly what he does.
... Wide receiver Arjei Henderson lost his fifth star because there are some questions about how badly he wants to be great. He has all the physical tools to be an elite prospect and he still is despite being a four-star now, but he needs to step it up in the "want to" department a bit.
... The wide receiver position, as it often is, is loaded for 2019 and guys such as Lance Wilhoite, Garrett Wilson and George Pickens made big moves into the top 50. Wilhoite had a very good spring and is quick, while Wilson is fluid and a terrific route runner. Pickens has the size needed to be a great red zone threat and has added some speed to his game as well.
... A few prospects went from outside our Rivals250 all the way into the Rivals100, a huge leap. The biggest name? Quarterback Ryan Hilinski, a South Carolina commit, jumped all the way to No. 55 in the country after having arguably the best offseason of any signal caller in the country. Defensive back Nick Cross, defensive back Isaiah Rutherford and linebacker Rian Davis also made huge jumps. Cross has great size and looks like a linebacker playing safety while Rutherford is one of the most athletic defensive backs in the country overall. As for Davis, he is just starting to scratch the surface of his potential and seems to improve every time we see him.
*****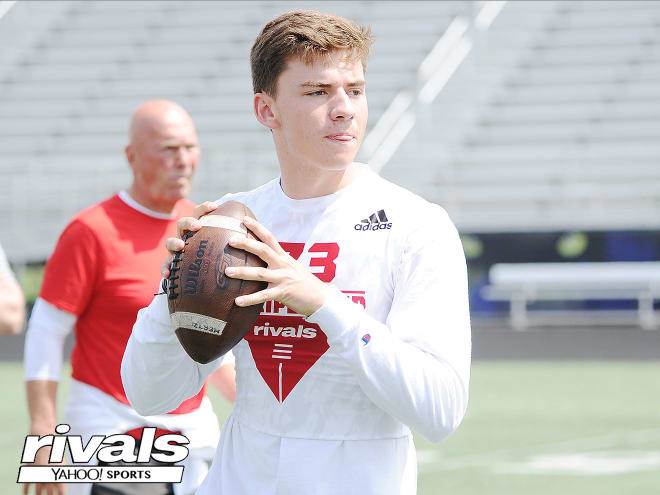 ... There were a few significant absences from the new Rivals100 as players such as quarterback Grant Gunnell and running back Daniel Carter are no longer Rivals100 prospects. This is more about how they compare with others at their position than anything else. After seeing so many quarterbacks and running backs since our last ranking, both players appear to be ranked too high initially. Each will be in the Rivals250 when it is released Wednesday.
... Another quarterback on the rise is Wisconsin commitment Graham Mertz, who jumped 162 spots from the Rivals250 into the Rivals100. Mertz is being pursued by numerous other programs and it's easy to see why as he is getting more comfortable each time we see him throw.
... Two big men that made nice jumps were offensive tackle Amari Kight and defensive tackle Jowon Briggs. For Kight, his athleticism really stands out and he could be a guy to keep an eye on for five-star status if he continues to improve and dominate. As for Briggs, he has amazing quickness for an interior lineman and could even play a big defensive end position in a 3-4 scheme if needed.
... Louisiana has become known for elite running backs in recent years and John Emery made a huge jump into the Rivals100, up 99 spots from his previous ranking. He has added some bulk and gone from a guy who couldn't handle the load as an every-down back in college to a workhorse. He's not Leonard Fournette or Derrius Guice, but he's a very good one and keeps the tradition going.
*****
RIVALS RANKINGS WEEK SCHEDULE