2019 Position Rankings Update: Defensive line
TEAMS WITH TOP COMMITS: SOUTH CAROLINA, MICHIGAN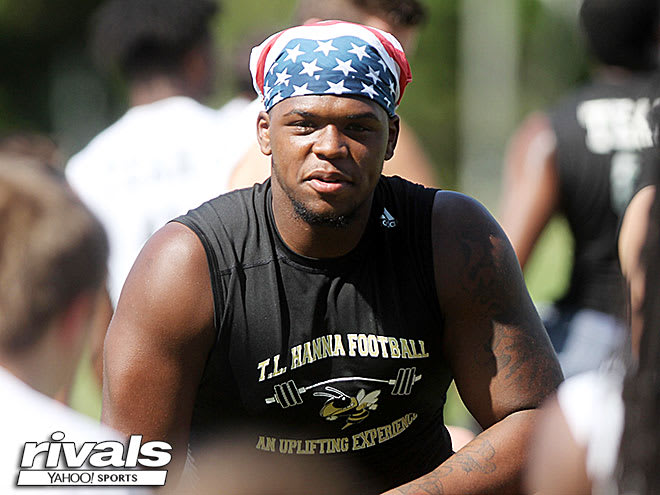 South Carolina had a defensive lineman drafted every year from 2011 to 2014 and the Gamecocks are working to get back to that trend with this recruiting class. They have a commitment from five-star strongside defensive end Zacch Pickens, Rivals250 strongside defensive end Joseph Anderson and four-star weakside defensive end Rodricus Fitten. They are the only team with commitments from two defensive linemen in the Rivals250 and a total of at least three defensive linemen rated at least four-stars. South Carolina also holds commitments from three-star defensive linemen Jaylen Nichols, Jahkeem Green and Devontae Davis.
Michigan doesn't have an unbelievable recruiting class right now, but the Wolverines have the best pair of defensive line commitments so far. Even though Christopher Hinton is no longer the top-ranked strongside defensive end, he is still a five-star. Combine Hinton with Rivals100 defensive end Stephen Herron and you'll find what is currently the best defensive line duo out there. Herron and Hinton have long been committed to the Wolverines, with Herron's commitment coming at the end of July last year and Hinton's commitment just days after in early August. The Wolverines also hold a commitment from three-star weakside defensive end Gabe Newburg.
Oregon, Oklahoma and Alabama are the three other teams with at least two commitments from defensive linemen in the Rivals250. Mario Cristobal has Oregon on the rise and two of his best commitments right now are from Rivals100 strongside defensive end Mase Funa and Rivals250 defensive tackle Keyon Ware-Hudson. Funa (5) and Ware-Hudson (6) held at the same spots in their respective position rankings.
Alabama holds commitments from Rivals100 defensive tackle Antonio Alfano and Rivals250 weakside defensive end Kevin Harris. Alfano is a top 5 prospect at his position, while Harris is in the top 10 at his position. They are joined in Alabama's recruiting class by three-star defensive linemen DJ Dale and Rashad Cheney.
Oklahoma's defensive line class is led by weakside defensive end Joseph Wete and strongside defensive end Marcus Hicks. Wete, out of Washington (D.C.) Gonzaga, and Hicks, from Wichita (Kan.) Northwest, are both in the Rivals250, but they aren't the only defensive linemen committed to the Sooners. Three-star defensive linemen Derek Green and Kori Roberson have also verbally committed to Oklahoma.
Also deserving of a mention here is Notre Dame. The Fighting Irish only have one Rivals250 commitment in NaNa Osafo-Mensah, but they have three other commitments on the defensive line and they are all four-stars. Hunter Spears and Howard Cross are strongside defensive ends and Jacob Lacey is a defensive tackle. Notre Dame is the only school with commitments from four four-star defensive linemen.
 TEAMS TO WATCH: GEORGIA, FLORIDA STATE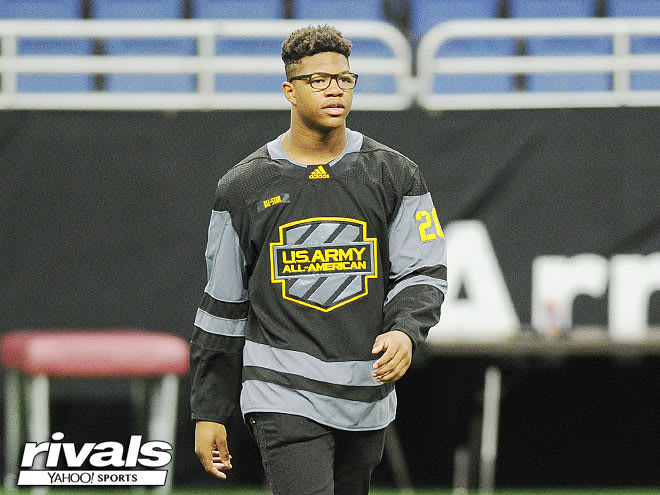 There are very few defensive linemen committed right now, especially at the top of the rankings. Of the 48 defensive linemen in the Rivals250, only 19 of them are committed. On top of that, only six of the 15 players that comprise the top five players at weakside defensive end, strongside defensive end, and defensive tackle are committed. Of all 82 defensive linemen rated at least four-stars, only 37 of them are committed. This leaves plenty of room for a number of teams to pick up major commitments.
Georgia already holds a commitment from Nolan Smith, probably the most athletic defensive lineman in this class, and defensive end William Norton. The Bulldogs have been chasing Rivals100 strongside defensive end Travon Walker for a long time and there is a very good chance he could end up in their class. Keep an eye on the Dawgs and their recruitment of four-stars JJ Weaver, C.J. Clark, Joshua Harris, Justin Eboigbe, Derick Hunter and five-star Kayvon Thibodeaux.
Speaking of Thibodeaux, there is a very good chance he could end up playing on the East Coast instead of near his home on the West Coast, and it could be because of Florida State. The Seminoles have commitments from four-star defensive ends Quashon Fuller and Michael Morris, but Thibodeaux would be a major coup for the Noles. Willie Taggart and his staff are also going after Khris Bogle, Derick Hunter, Justin Eboigbe, Lloyd Summerall, Miami commit Cameron Williams and Mohamoud Diabate.
PLAYER TO WATCH: C.J. CLARK 
Clark, the No. 10-rated defensive tackle, will be announcing his commitment on Monday, his mother's birthday. Most believe the choice will be Georgia, but North Carolina and NC State are putting up a fight. Clark took visits to NC State and North Carolina over the past week, but they seem to still be trailing the Dawgs. Tray Scott, Georgia's defensive line coach, has done a great job building trust with Clark and he really likes his opportunity in Athens. There are still a few days left before Clark makes his decision, so expect North Carolina and NC State to pull out all the stops.
  RIVALS RANKINGS WEEK SCHEDULE