2019 Position Rankings Update: Wide receiver/Tight end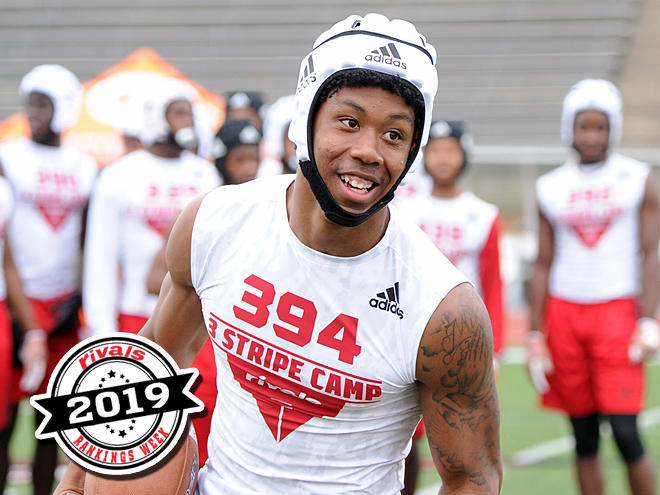 CLASS OF 2019 POSITION RANKINGS: Wide Receiver | Tight End
The group of pass-catchers in 2019 is a pretty deep one, particularly at wide receiver. So much so that even in a bit of a thin year at the top of the tight end rankings, the receivers more than make up for it when considering the overall quality of both positions. Several teams have gotten off to a fast start grabbing some of those elite talents, but there are still plenty of big names left on the board.

A total of 34 wide receivers are in the latest Rivals250 and there are 14 tight ends nationally ranked four-stars, eight of which are in the Rivals250 as well. Here is a quick check-up on which programs look strongest at this point with committed and prospective players.
THURSDAY: QB rankings | RB rankings | WR/TE rankings | OL rankings | Ask Farrell
FRIDAY: DL rankings | LB rankings | DB rankings | ATH rankings | Ask Farrell
TEAM WITH TOP COMMITS: OKLAHOMA, GEORGIA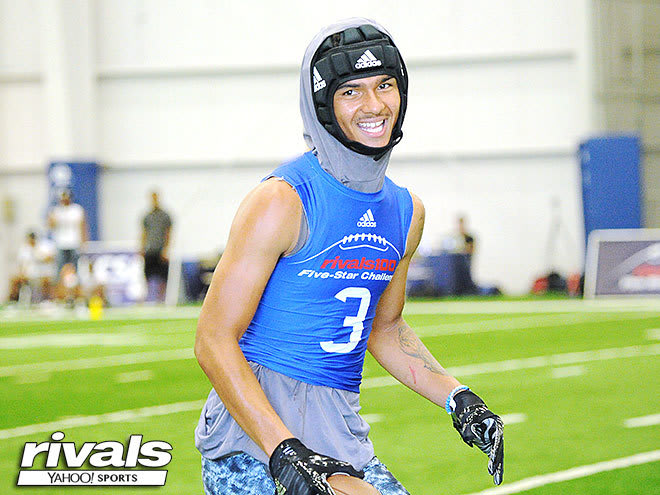 Oklahoma made a big splash earlier in the spring with the re-commitments of Theo Wease and Arjei Henderson after already having Trejan Bridges committed in the meantime. Tight end Austin Stogner is currently ranked as the third tight end in the country after this update, but the space between he and new No. 2, Texas commit Brayden Liebrock, is minuscule. Even with Henderson slipping from five-star status after the spring, he's going to stay in the conversation as one of the top wide receivers in the country simply because he's such an explosive receiver when he turns it on.
At this point, Georgia isn't surprising anyone with how well it recruits any position, but with a five-star prospect in the fold with Jadon Haselwood – who has re-ignited the conversation about who will be the best wide receiver in the country – leading the way and Dominick Blaylock, another top-10 player at the position, as well as four-star tight end Ryland Goede, the Bulldogs are in great shape.
Texas A&M has also had a lot of success filling its class to this point and has gotten off to a nice start in 2020 as well. Houston slot receiver Chase Lane has shown over and over how dynamic of a playmaker he can be, Kam Brown has been a longtime Rivals250 prospect and was a pleasant surprise when he committed at a junior day early in the spring. The Aggies also pulled a nice prospect out of Georgia in the March with the commitment of four-star Kenyon Jackson, giving them a huge target on the outside. Many are excited about the athletic potential of Baylor Cupp, and he is on the watchlist for tight end prospects that could be the next to make a move up the rankings and shake them up a little bit.
Considering the success of wide receivers at Clemson in the Dabo Swinney era, it's never a surprise to see the Tigers with a stable of exciting talent. They're coming close to filling out their latest crop with Frank Ladson, who is now the top four-star wide receiver in the country and on the verge of five-star status. Jaelyn Lay is one of those guys that looks like a muscular basketball power forward on the field playing tight end and has the look of a guy that could be a monster in college. With a couple of nice supporting guys in Brannon Spector and Davis Allen, Clemson seems to have a solid group brewing.
TEAMS TO WATCH: ARKANSAS, TEXAS, WASHINGTON
Arkansas just swiped a nice player to get things cooking offensively in this class when Shamar Nash flipped from Missouri last week. Even though some of the optimism around landing some of the other higher-profile receiver targets has faded a bit, the Razorbacks still look like they could be in the mix for some prominent prospects like Trey Knox, Elijah Higgins, Dylan Wright and others.

Picking up even just one of that trio would be major, but the country's top tight end, Hudson Henry, is an in-state prospect and the brother of former Arkansas star Hunter Henry, and pulling him in would be a major win.
Speaking of Texas, the Longhorns are off to a great start of their own, but should still be in the mix to work hard on adding one more big name before it's all said-and-done. Although he's not the traditional idea of a big playmaking receiver, Jordan Whittington is a clear elite talent. Jake Smith is expected to make a big impact on the offense and Liebrock makes for an exciting TE tandem with recent commitment Jared Wiley. The Longhorns have been on Wright and Higgins as well, but could also add a guy like Jaylen Ellis with a lot of upside to also round out their group.
The Huskies find themselves in the mix for several top wide receiver targets after the spring and are coming hard after guys like Joseph Ngata (No. 71), Josh Delgado (No. 180) and Mycah Pittman (No. 82). Taj Davis is the only wide receiver committed to Washington right now, but after last season's success, they seem primed to have a shot at picking up one more top playmaker in the passing game.
PLAYER TO WATCH: JOHN DUNMORE
Dunmore released a top seven at the start of June and has taken official visits this offseason to Michigan and Penn State. Several other teams feel good about their chances at grabbing the one of the top uncommitted prospects in the Rivals250. There hasn't been much indication as of late as to where his head is at with the others in his finalists, but Florida State and Ohio State are among the teams thought to be heavy in the mix as well.
He was one of the top wide receiver prospects at the Miami Rivals 3 Stripe Camp presented by adidas, outplaying several other top prospects participating. He's a bit lean, but that hasn't interfered with his ability to show off how big of a playmaker he's shown to be. Indications are that he's not in a rush to make a commitment, but the race is heating up for him this summer.
RIVALS RANKINGS WEEK SCHEDULE