2019 Position Rankings Update: Defensive back
  TEAMS WITH TOP COMMITS: FLORIDA STATE, TEXAS A&M, OREGON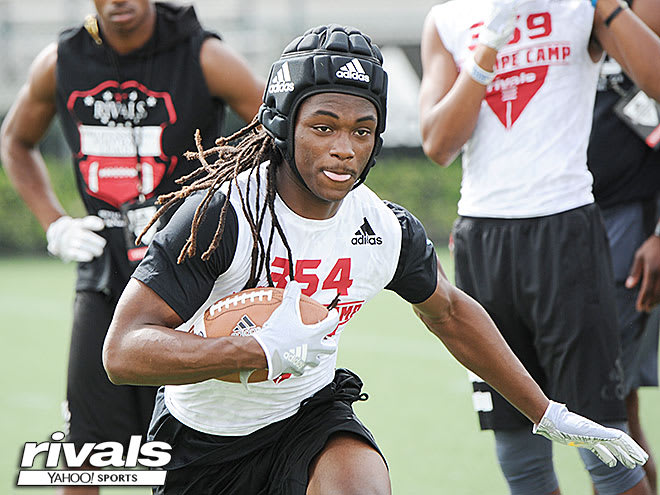 Akeem Dent is the highest-rated defensive back commit nationally, a new five-star cornerback who has already pledged to Florida State. He leads an impressive haul already for the Seminoles that also includes four-star cornerback Jaleel McRae and three-star defensive backs Renardo Green and Travis Jay. The only defensive backs ranked higher than Dent, who's been committed to FSU for nearly a year, are cornerbacks Derek Stingley Jr. and Chris Steele.
Another school doing incredibly well recruiting defensive backs this cycle - even though there are only two pledges - is Texas A&M. First-year coach Jimbo Fisher pulled in high four-star safety Brian Williams in late January. He's one of the best safeties nationally and No. 30 overall. Four-star safety and Rivals100 member Demani Richardson was another major in-state commitment, as he's from Waxahachie, Texas.
First-year Oregon coach Mario Cristobal not only has the top-rated class in the Pac-12, he's also loading up on defensive backs. Four-stars Mykael Wright and Jeremiah Criddell are physical cornerbacks, and getting them out of Southern California was big. The Ducks have also secured a pledge from three-star CB Marques Caldwell from Alvin, Texas.
  TEAMS TO WATCH: OHIO STATE, ALABAMA, FLORIDA, LSU 
Maybe no team nationally has an opportunity to load up like Ohio State - if everything falls coach Urban Meyer's way. Three-star Bryson Shaw is the lone Buckeyes commit in the secondary so far, but four-star defensive backs Adonis Otey and Woodi Washington out of Tennessee are both high on Ohio State. Another player to watch is new five-star safety Daxton Hill, who is high on Oklahoma, Ohio State and Alabama at this point.
Speaking of the national champ, Alabama already has commitments from four-stars cornerback Christian Williams and Brandon Turnage, but the Crimson Tide could be far from finished in the secondary. Four-star safeties Jaylen McCullough and Noa Pola-Gates are two names to watch, and there could be many more in Alabama's recruiting haul.
Two SEC schools with a tradition at defensive back should also be closely watched. Top targets for Florida include five-star cornerback Chris Steele and four-star cornerbacks Kaiir Elam and Chester Kimbrough, among others. At LSU, the big fish is No. 1 overall prospect Derek Stingley Jr., who is right there in Baton Rouge. He is a "must-get" prospect for coach Ed Orgeron. Four-star cornerback Devin Bush from New Orleans Edna Karr is also a top priority.
  PLAYER TO WATCH: DEREK STINGLEY JR.   
Wednesday, the No. 1 prospect in the 2019 class will make his commitment. LSU, Florida and Texas are the three finalists for Stingley, the superbly talented cornerback from Baton Rouge (La.) Dunham.
The expectation is that coach Ed Orgeron and his LSU Tigers will win out, and it's a "must-have" kind of commitment for the hometown school. Stingley could be the next superstar cornerback in college football, and to see him leave Baton Rouge would be unthinkable.
But Stingley recently visited Florida again and had an excellent time in Gainesville alongside fellow five-star cornerback Chris Steele, who was also visiting and is serious about the Gators. Texas would be considered the darkhorse heading into the decision.
RIVALS RANKINGS WEEK SCHEDULE