Rivals.com 2019 Position Rankings update: Wide receiver and tight end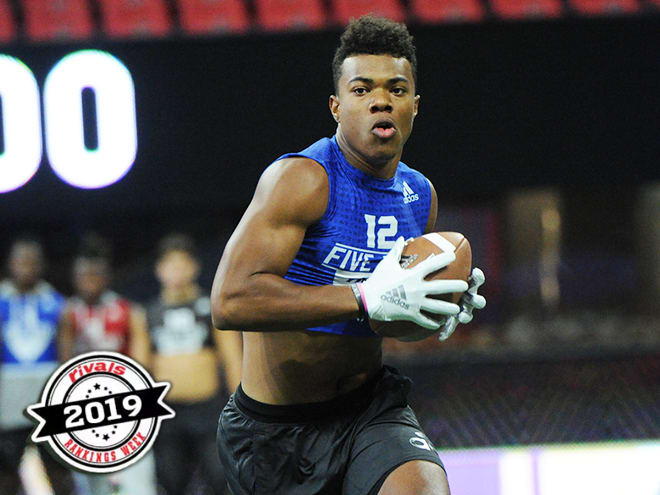 The latest update of the Rivals250 was heavily influenced by several major national events that put the spotlight on skill players. The Rivals100 Five-Star Challenge presented by adidas was the biggest opportunity for some of the nation's top recruits to put their best foot forward in front of all the Rivals.com analysts, and in addition to other events many other prospects were seen in, some noteworthy changes took place for several teams' recruiting outlooks.
Wide receivers and tight ends were big needle-movers this summer and heading into the fall, and have been at the center of much of the conversation around the latest update, here is the latest look at which programs have the most to talk about when it comes to committed and targeted wide receivers and tight ends.
2019 Position rankings: Wide receivers | Tight ends | All positions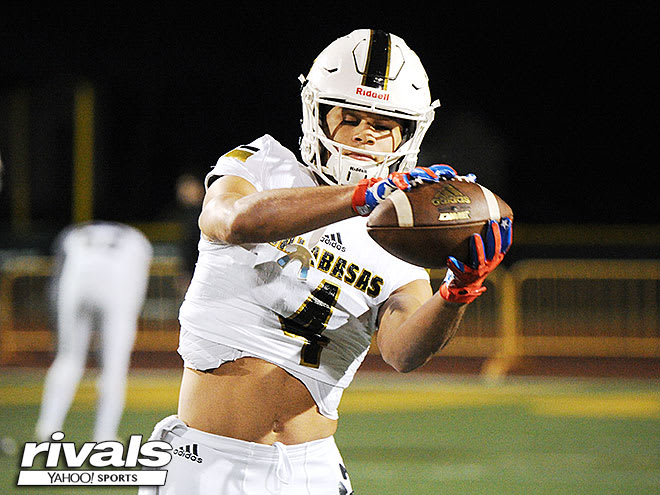 TEAMS WITH TOP COMMITS: Oklahoma, Oregon, Texas A&M, Clemson
Oklahoma continues to lead the conversation when it comes to programs with the most elite group of pass-catchers. Although the Sooners didn't add any commits at wide receiver or tight end since the last rankings update, Trejan Bridges is a newly-minted five-star prospect and that's pretty big news. Arjei Henderson was once a five-star prospect but held steady in his spot as a high four-star, as did tight end Austin Stogner.
After the release of the Rivals100 on Monday, Oregon was second in the team recruiting rankings, but slid back behind Texas A&M when the Rivals250 followed. Both teams have stellar lists of wide receivers and tight ends committed after Mycah Pittman committed to the Ducks in July and Dylan Wright committed to the Aggies earlier this month. Both made moves up in the Rivals250 - Wright jumped more than 100 spots - and A&M tight end pledge Baylor Cupp also made his debut in the Rivals250.
Clemson also has a tidy, but strong collection of receiving options led by two receivers ranked as 6.0 4-stars in Frank Ladson and Joseph Ngata. Tight end Jaelyn Lay showed well for himself at the Five-Star Challenge and moved within the top-200 players nationally.
TEAMS TO WATCH: Georgia, Texas, Ohio State
Georgia continues to be a recruiting juggernaut across the board with its overall success recruiting under Kirby Smart. The Bulldogs already have two of the top receivers in the country already committed in five-star Jadon Haselwood and Dominick Blaylock, as well as four-star tight end Ryland Goede. Smart's program also has offers out to 11 other wide receiver targets and could pick up another big name during the fall.
Texas hasn't grabbed recruiting headlines as frequently as the Aggies this offseason, but by the end of this fall the Longhorns could have a standout group of pass-catchers. Jordan Whittington and Jake Smith are both still listed as athletes, but it seems clear that both are expected to be big playmakers for the Longhorns in the passing game. Both players more-or-less stood pat at where they were previously ranked, but are on the radar as recruits that could see their ranking improve again this fall.
Finally, Ohio State will be an interesting team to keep an eye on when it comes to recruiting all positions after the drama surrounding Urban Meyer this summer. Garrett Wilson and Cormontae Hamilton remain highly-ranked commitments, but once things with the Buckeyes' head coach are resolved - for better or worse - who might join the class? Who might leave it?
PROSPECT TO WATCH: Elijah Higgins
Speaking of Ohio State, Elijah Higgins used his only official visit during the summer on a trip to Columbus. He is close friends with Wilson, who has been recruiting him hard to join him as a Buckeye, but perhaps his recruiting preferences have changed a bit, pending the resolution of Meyer's current situation. Stanford continues to be a lead option for him, as does Florida. Should things go sideways with Ohio State, perhaps a team like Auburn, Ole Miss or Texas can make a new push for him. As if his official visits weren't already going to be closely watched, they seem to have an added importance since the one to Ohio State is now in the rear-view mirror.
#RivalsRankingsWeek Schedule