Rivals Rankings Week: Who could land in updated 2019 top 10?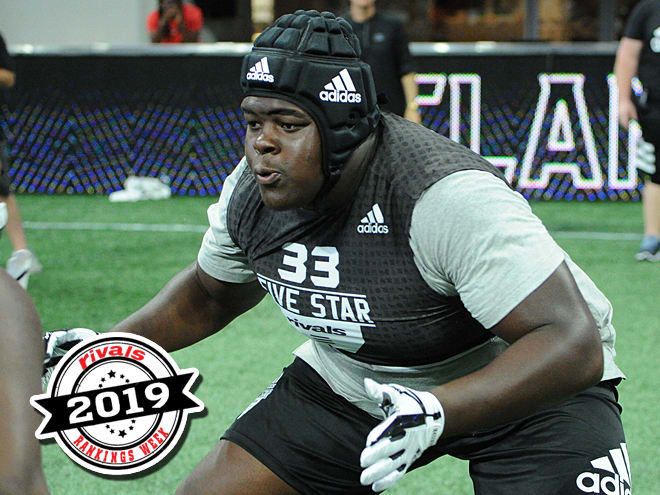 Today kicks off the latest update to the Rivals rankings, with the debut of the new Top 10 of the Rivals100 at noon ET. The Rivals.com analyst team spent the summer attending various events and evaluating the nation's top prospects and the group of experts met last week to hash out which prospects belong where in the rankings. The analyst team had plenty of debates about who should go where and today we have three of them present their case for individual prospects to land inside the new top-10.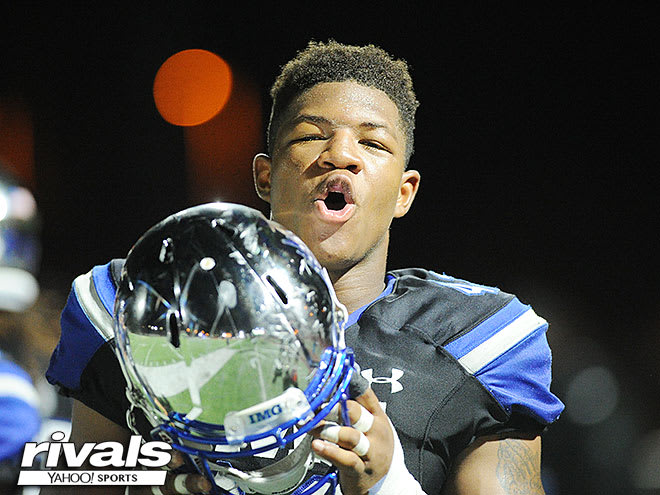 I've always been a big fan of Smith because when I see him on the field - whether during the season or in the offseason - the five-star defensive end is relentless and he dominates all the time.
When I saw him play last season, Smith was dominant off the edge and harassed the quarterback all game. He made tackles in the backfield, tracked players down to the sideline and he hits like an 18-wheeler. I love how he plays with toughness and relentlessness.
At The Opening this summer, Smith again had a dominant performance at defensive end with great speed to the edge, nice inside moves and he uses his hands really well. Plus, Smith can stand up and play in space - the perfect defensive end/linebacker hybrid that is so popular in the game these days.
The Georgia commit is going to learn even more and perfect his craft under coach Kirby Smart, defensive coordinator Mel Tucker, defensive line coach Tray Scott and others in Athens. He's already a five-star prospect, so we think really highly of Smith, but he's definitely a top-10 prospect in this class because of his versatility, production, upside and just how special he is as a player right now. - Rivals.com national recruiting analyst Adam Gorney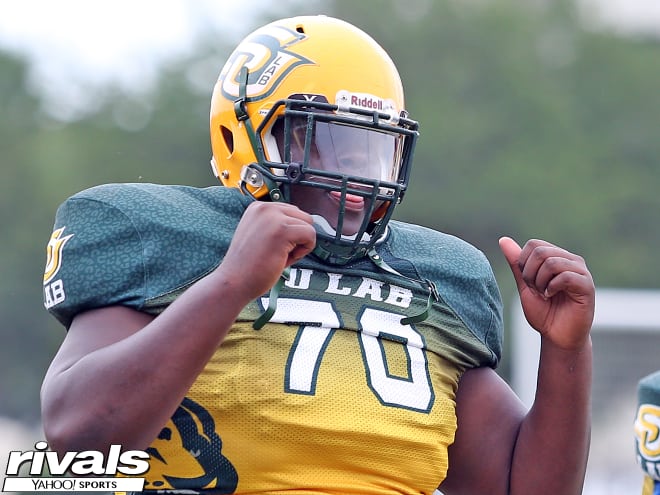 Thomas was at the Rivals100 Five-Star Challenge presented by adidas last summer as a rising junior. He impressed there against some of the top defensive linemen in the 2018 class. He's been high on my list since I saw him early in his sophomore year. He plays with a chip on his shoulder and he looks to dominate whoever is in front of him regardless of where he is or who the defensive lineman is.
He earned his fifth star this spring and he has been nothing short of dominant over the summer. At the Rivals100 Five-Star Challenge last month in Atlanta, Thomas was named Offensive Line MVP. He had success at tackle and guard against some of the top defensive linemen in the country. He moves his feet well for an interior offensive lineman and the LSU commit has made his case to be one of the best in the country. He is a powerful young man who plays with an edge and he looks like one who will open big holes in the SEC down the road.
Thomas has made a strong case to be one of the top-10 prospects in the country. His position may not be a sexy one, but he is dominant there on a consistent basis. He is only going to get better on the next level, too. - Rivals.com southeast recruiting analyst Chad Simmons

Pickens has seen his stock rise over the past year, both among college coaches and on the rankings front. During the last update in June, he made a huge leap, jumping from outside the top-100 into the top-50. After he dominated elite competition during the summer, I feel like he belongs in the discussion for the overall top-10 and is in line for another big move up the charts.
Pickens has a rare combination of size and speed in addition to elite playmaking ability and a killer instinct. During the IMG 7-on-7 National Championships, Pickens paired with fellow Auburn commit, quarterback Bo Nix, to make a run all the way to the championship game. Despite seeing double teams on most plays and being the focal point of almost every defense he faced, Pickens found a way to make play after play. Despite his impressive ability, Pickens never lets up or coasts and his non-stop effort and competitive spirit is what separates him from some of the other top players in this class at other positions.
The one thing working against him for the top-10 is the fact that the entire analyst team hasn't had a chance to see him, but as an All-American, that will change and it will be hard for anyone who sees Pickens in action not to become a fan. - Rivals.com southeast recruiting analyst Woody Wommack

#RivalsRankingsWeek Schedule
Monday: Who could land in new top 10? | Top 10 players revealed | Who is top wide receiver? | Could McCoy make push for No. 1?
Tuesday: Which QBs could be five-stars? | New Rivals100 released | Farrell's Mind of Mike | Rival Views
| Godfather & Gorney podcast
Wednesday: New Rivals250 released | Rival Views | For which prospect did each analyst go to bat? | Five schools that should be most pleased with new rankings | Players who could finish in Rivals100
Thursday: Rivals250 by the numbers | QB rankings | RB rankings | WR/TE rankings | OL rankings | Rivals Rankings podcast | Commitment Issues podcast
Friday: DL rankings | LB rankings | DB rankings | ATH rankings
Saturday: Team rankings breakdown
Sunday: Mid-Atlantic states rankings | Southeast states | Midwest states | Texas | Florida | West