Take Two: Could Bru McCoy make a push for No. 1 in the Rivals100?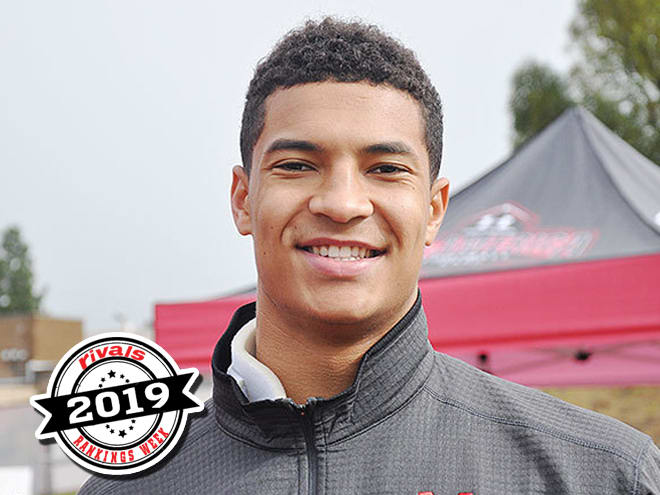 THE STORYLINE
Bru McCoy is a rare prospect in the 2019 class, a five-star athlete who could legitimately play wide receiver and linebacker at the next level and who has drawn comparisons at least from a physical standpoint to JuJu Smith-Schuster and Myles Jack.
The Santa Ana (Calif.) Mater Dei standout has taken large portions of this offseason off, though, as he recovers from injury and prepares for a big senior season on arguably the top high school team in the country. He's expected to be Mater Dei's top receiving target and could be the team's top tackler with four-star defensive end Mase Funa sidelined because of injury.
McCoy is not only an intelligent player, but his physical nature playing both ways makes him unstoppable at times. Soft-spoken off the field, the five-star athlete is sometimes a freak of nature on it and he could push even higher up the rankings, especially if no other players stake their claim at the top of the rankings.
McCoy is currently the No. 7 prospect in the class. Can the five-star make a push for No. 1 through his senior season and into the all-star events?
FIRST TAKE: CHRIS SWANSON, TROJANSPORTS.COM
"Bru McCoy is an impressive athlete. He's one of those very few football players who showed potential to play in a Power Five conference when he was only a freshman in high school. I also think there's a legitimate debate about what side of the ball he should play on in college. I think he could fit in on either side of the ball on any team in the country. It takes a rare football player to earn that praise.

"But I don't see him as the best player in the 2019 class at all. Last year, two players on him his high school team where clearly better than him. Others at Mater Dei could argue that they are more important to the Monarchs as well. Since I'm not sure he's the best player on his own high school team, I'm confident he's not the best player in this class.

"He's a great high school football player that should be highly ranked. He deserves all the praise in the world. But I would bet against him being the best player in this class and feel very confident in doing so."

SECOND TAKE: MIKE FARRELL, RIVALS.COM
"He could play both ways. He could be that Myles Jack-type of guy. You see him on offense and defense in college and someone is going to give him that opportunity if he stays out West. I've already heard some schools say they're going to give him a chance to contribute at wide receiver and linebacker and he has those Myles Jack-qualities where he's an explosive athlete at receiver and a hard-hitting, aggressive linebacker. Alabama, Georgia and others came hard after Jack late in the process and there were reasons why.
"I don't know if McCoy is the best player in this class, but this is a class where no one has really stepped up and definitely claimed that No. 1 spot. There is still a long way to go to determine where McCoy finishes, but with his versatility and production on both sides of the ball, if he shows that dedication to be his best, it's going to be interesting to see how he matches up against the other top players in the class."