Rivals.com 2019 Position Rankings update: Running Backs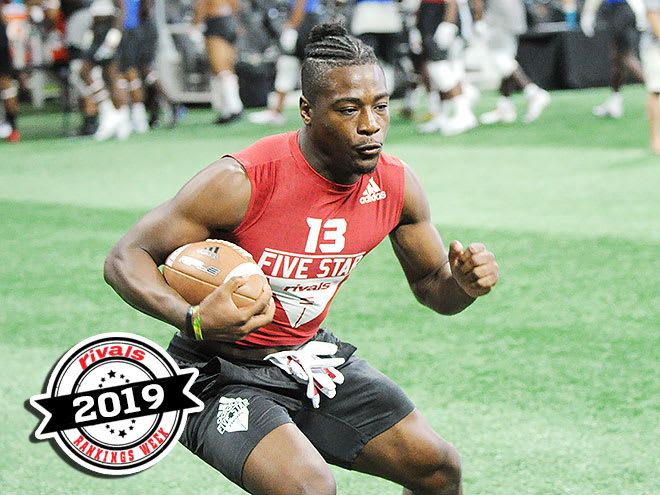 Rivals.com's rankings week rolls on with a look at the pecking order at each position. Here we take a look at a running backs led by five-star Trey Sanders of Florida's IMG Academy. Below are notes on the players and teams to watch at the position and a link to the full list of the nation's top backs.
2019 POSITION RANKINGS: Running backs | All-purpose backs | Quarterbacks
TEAM WITH THE TOP COMMIT: Penn State
The top-ranked committed running back in the country, Penn State pledge Devyn Ford trails only Trey Sanders in the position rankings. Ford turned in an impressive performance at the Rivals100 Five-Star Challenge presented by adidas and may have taken home MVP honors had the dominant Sanders not also been in attendance. That shouldn't make Penn State feel bad about their pledge, however. Ford is clearly an elite back, even if he struggled some in one-on-one work at the event.
Ford is incredibly elusive and seems to be trending toward a college-ready build and should be in for a stellar senior season. The five-star prospect is a nice blend of elusiveness and power and is at his best in pads, so it will be interesting to see if he elevates his stock this fall.

PROSPECT TO WATCH: Trey Sanders
When the top running back in the country remains uncommitted this late in the cycle, he's certainly one to watch. The fact that so many schools feel they're in the running to land Sanders makes his situation even more interesting. Florida, Texas and Alabama are all very involved here. And while Alabama, to which Sanders was once committed, may seem to have a slight edge things with the five-star back have a tendency to change abruptly
Sanders has a brother at Florida. And, for whatever reason, many of his IMG teammates seem to think Texas has become a real player in recent months. Sanders has set no commitment date and could very well just make a pledge out of the blue on an idle Tuesday afternoon.
TEAM TO WATCH: LSU
LSU missed on its top running back target when John Emery decided to commit to Georgia last month. Now the Tigers turn their attention to IMG tailback Noah Cain, a Louisiana native and one-time LSU lean. Ed Orgeron's program is thought to be the team to beat for Cain, a Rivals100 prospect, but if things get messy this fall and LSU loses Cain to Auburn, Texas, Oklahoma or Penn State, the Tigers will be in dire straits when it comes to recruiting the position.
The situation is certainly one to monitor, as we could be in for a twist or two when to comes to Cain and the Tigers.