Mind of Mike: Thoughts on movers and shakers in Rivals100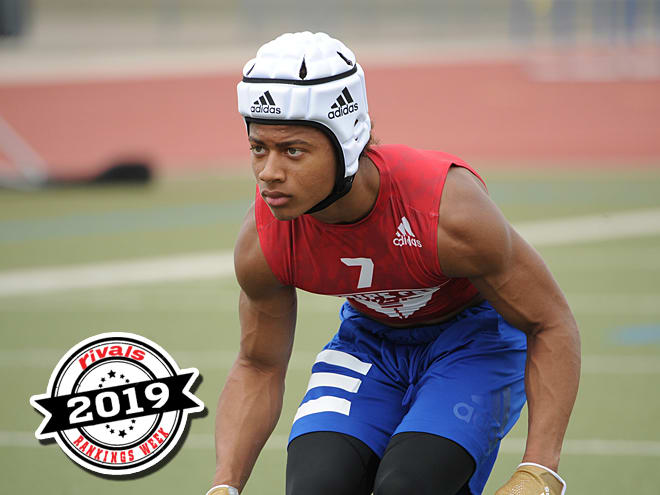 The Mind of Mike is a scary place. Rivals.com National Recruiting Director Mike Farrell shares his thoughts on the big movers and shakers in the updated Rivals100 for 2019 released today.
The No. 1 debate, plus five-star QBs
Derek Stingley Jr. as our No. 1 was quite the debate, especially after he went one-on-one with Theo Wease at the Rivals100 Five Star Challenge presented by adidas and elsewhere. Yes, Wease won more reps, but keep in mind that one-on-ones give a huge advantage to the wide receiver and Stingley wasn't burnt at all.

The question came down to this – how special is Stingley at cornerback versus Wease at wide receiver compared to current and past classes. The LSU commitment held onto the No. 1 spot because he's just a bit rarer at his position than Wease. The debate between Wease and Georgia commitment Jadon Haselwood as the No. 1 wide receiver was also intense and Wease won out because he's just a bit more sudden. Each has great size, good hands, are competitive and have excellent body control but Wease plays a little faster on the field. These debates will rage on throughout our final two ranking updates in December and January.
The quarterback position is an interesting one this year. At first, I wasn't sure if there was a five-star quarterback in the mix. It looked like a weak year depth-wise and at the top. Yes there was some talent, but five-star talent? That was another issue.

But after breaking down Bo Nix and Spencer Rattler some more, I led the charge to make both five-stars this time around. Nix has always impressed me, but the way he dominated the Five-Star Challenge, the confidence he has in his arm and his other attributes made me think we'd be missing out if we didn't pull the trigger this time around. And the same can be said for Rattler, who probably has an even higher ceiling. The bottom line is that both have adequate arm strength, can extend a play and feature solid accuracy.

We went from having zero five-star quarterbacks in this class to having two but that's where it ends. I'm not sure if I see another quarterback with that five-star potential in 2019. So who I like better? For some reason I think Nix will be the guy. It's a gut feeling.
Breaking down the eight new five-stars
WR George Pickens – This kid could end up being the No. 1 wide receiver before all is said and done and could push for No. 1 overall, that's how high his ceiling is. He's big, strong and has great potential in the red zone.
ATH Trey Palmer – I made the big push for Palmer to be a five-star because he's going to be an absolute star in college whether he plays offense or defense. He is equally impressive on either side of the ball and is such a quick twitch kid that he will dominate at one position or another.
QB Spencer Rattler – I mentioned a few things I like about Rattler above and he can dominate at the next level. He can move, he can throw on the run or from the pocket and he has great downfield vision. He could be very, very good.
WR Trejan Bridges – Bridges' ball skills are off the charts. He reminds me a bit of Odell Beckham Jr. in that department as he can make any catch possible and bails out the quarterback with great body control and adjustments on poorly thrown footballs. Oklahoma fans will love him.
LB Owen Pappoe – Despite the size concerns, this is one of the best pure athletes you'll see at the high school level at linebacker. He can make plays in the backfield, can run plays down to the outside and he's excellent in coverage. Once he adds more weight and strength, watch out.
QB Bo Nix – I like Nix and his confidence, arm strength and ability to extend the play. He plays with a lot of guts and has the mental makeup to be a good one down the road. He could be very, very good if he adds a few things to his repertoire, including consistency.
CB Erick Young – I love his combination of size, power and quickness. He could end up as a safety or start his career that way, but in the end he has the potential to be a great lock-down cornerback with size and ball skills.
OT Evan Neal – This was a questionable one, but the work he has put in to reshape his body and add quickness and agility is impressive and we liked him a lot even when he carried some bad weight. He has one of the highest ceilings in this class.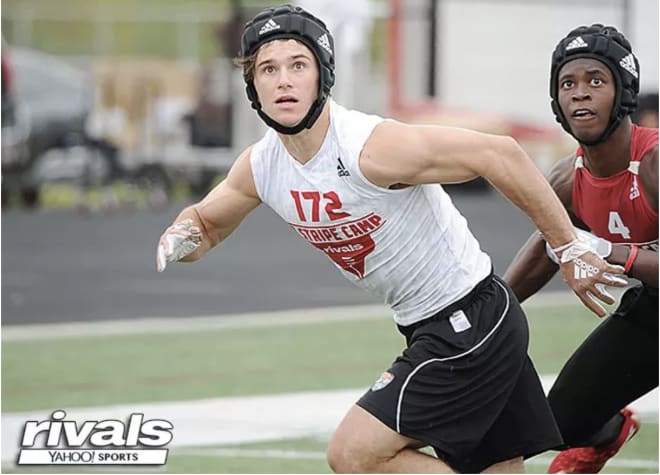 Big movers and other final thoughts
... CB Tyrique Stevenson fell short of five-star status, but the Florida cornerback made a huge jump into the Rivals100 at No. 39 after a very good performance at the Rivals100 Five Star Challenge presented by adidas. Stevenson moved up 136 spots but wasn't the biggest jumper.
... The biggest jump came from Wake Forest wide receiver commitment Nolan Groulx, who proved to be one of the best wide receivers in the country this summer. Groulx, who jumped from outside of the Rivals250 all the way to No. 72, is an amazing route runner, had great hands and is sneaky fast. He could be the highest rated Wake commitment in Rivals.com history before all is said and done.
... Offensive tackle Stacey Wilkins from Arkansas and linebacker Bryton Constantin from Louisiana also made huge leaps moving up 135 and 133 spots respectively into the Rivals100. Wilkins, an Oklahoma commitment, has a great frame and build and good feet and just needs to work on a few technical nuisances. Constantin, a Clemson commitment, covers like a defensive back with linebacker size. Both could continue to shoot up the charts.
... Stanford commitment Stephon Herron was one of a few prospects to drop out of the Rivals100. Defensive back Devin Bush, quarterback Dylan Morris, wide receiver Maurice Goolsby and others also took serious drops after not living up to the bar set by others at their positions.
... LSU offensive tackle commitment Anthony Bradford made a nice move as well, jumping 57 spots into the Rivals100. He and guard Kardell Thomas, a five-star prospect, form one of the best duos along the offensive line in the county.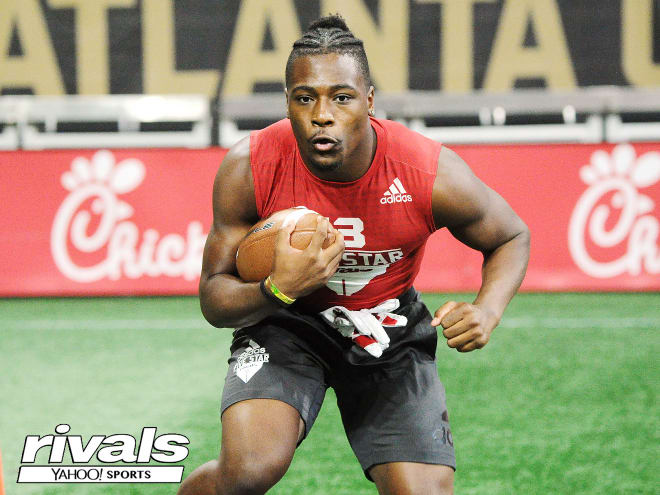 ... Offensive lineman Logan Brown, athlete Jordan Whittington and linebacker Nakobe Dean were the three highest-ranked prospects just outside of the five-star range. Defensive end Travon Walker, Stevenson and fellow defensive back Brendan Grant moved up the most when it comes to reaching five-star range. Walker jumped eight spots to No. 38 while Gant moved up 21 spots to No. 41 and we already talked about Stevenson's jump.
... Running back Trey Sanders has emerged, at least for now, as the clear No. 1 at his position, pushing well ahead of Devyn Ford. There weren't a lot of other moves position-wise at the top as guys like Nix, Rattler, Wease, Darnell Wright, Kayvon Thibodeaux and others retained their spot at the top of the rankings. The best position battles to watch down the stretch are wide receiver, athlete, strongside defensive end and weakside defensive end.