Take Two: Can Theo Wease push for the top spot in the Rivals100?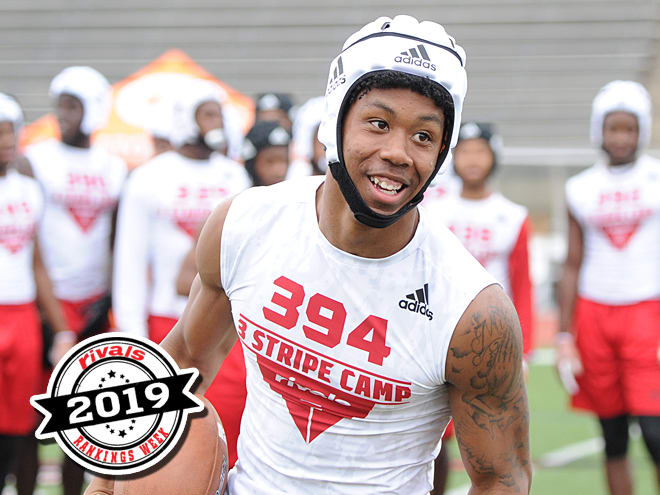 Take Two returns with a daily offering tackling a handful of issues in the college football landscape. Rivals.com National Recruiting Analyst Adam Gorney lays out the situation and then receives takes from Rivals.com National Recruiting Director Mike Farrell and a local expert from the Rivals.com network of team sites.
RIVAL VIEWS: Should Theo Wease or Jadon Haselwood be the top-ranked WR?
THE STORYLINE
Theo Wease has joined heady company in the Rivals.com history of rankings.
The five-star Oklahoma commit is the highest-ranked receiver since Dorial Green-Beckham was the No. 1 prospect in the 2012 class. Most recently, the two receivers pushing toward that top spot were Amon-Ra St. Brown, who finished third last recruiting cycle, and Laquon Treadwell, fifth in the 2013 class.
Other than Green-Beckham in 2012, the only other No. 1 receiver in the Rivals rankings dating back to 2002 was Percy Harvin in the 2006 class. George Farmer was third in 2011, Kyle Prater third in 2010, Rueben Randle second in 2009, Julio Jones fourth in 2008, Patrick Turner second in 2005, Early Doucet third in 2004 and Andre Caldwell fourth in 2003.
Wease pushed up to No. 2 this week after an impressive performance at the Rivals100 Five-Star Challenge presented by adidas in Atlanta where he beat top-ranked Derek Stingley, Jr., a couple of times during one-on-one reps, a drill favoring receivers over defensive backs.
Still, Wease sitting at second means he's only one spot from taking over the top position in the 2019 class. And five-star Georgia receiver commit Jadon Haselwood is also in striking distance at No. 3.
Can Wease push for No. 1 or his No. 2 ranking even a surprise to some?
FIRST TAKE: JOSH MCCUISTION, SOONERSCOOP.COM
"What I like about Wease is that there isn't one thing that overwhelms the rest of his game. He isn't a player that gets lost when his speed isn't more than the corner can handle, or if the defender has the size to get physical with him, or even if the corner has the quickness to contend with him. But it's the rare corner that can match him in all three of those things and one of the ones who can, Derek Stingley Jr., struggled to stop Wease at the Five-Star Challenge thanks in no small part to the Allen, Tex., star showing off some exemplary route running.
"I'll be honest, as far as his ranking, every time I think 'Well, I'm not sure I'd push him that high,' he does something else that makes me take a step back. Frankly, there just isn't a lot left for Wease to prove. He is an elite talent that has produced against the country's best and during his own season doing so on as big a stage as there is in high school sports."

SECOND TAKE: MIKE FARRELL, RIVALS.COM
"The strength of the class is the wide receiver position. It's a really good year there and with him and Haselwood being Nos. 2 and 3, it speaks to how deep the receiver class is but also the high-end talent at the top.
"Is Wease Rueben Randle, is he Percy Harvin, is he Dorial Green-Beckham out of high school? No. But he has his own strengths. Harvin was much faster around the corner, Green-Beckham was huge, but Wease is a guy with good size, runs great routes, is a very competitive kid, has good hands. He has his own skill set, but it speaks to the position more than anything."