Rivals Ranking Week: Does the 2019 class have a five-star QB?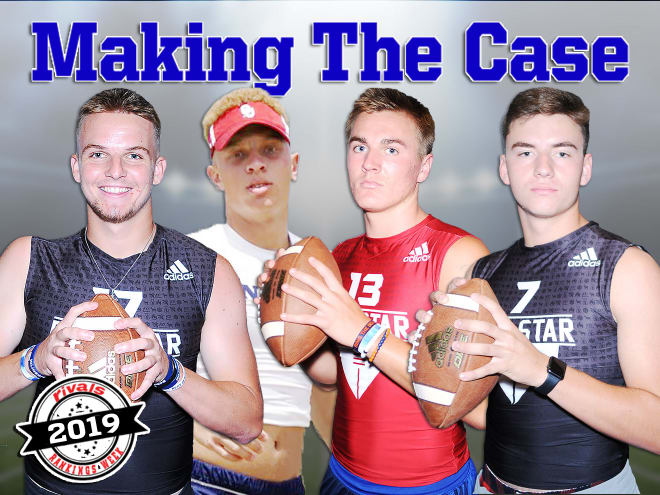 One of the storylines that has been prominent in the 2019 class since JT Daniels reclassified to 2018 is whether there is a five-star quarterback in this class. Several big, national camps took place in the summer months, though, where the top signal-callers in the class made their cases for five-star status. Our analysts break down the case for four of those prospects here.
MORE RIVALS RANKING WEEK: New top 10 revealed

After looking like it might be a year without any five-star quarterbacks, we had a chance to see Ryan Hilinski go toe-to-toe with some of the nation's best at his position and he did a pretty good job of holding his own. The South Carolina commit is a true pro-style passer and the type of guy who can be the leader of an offense at the next level.
The knock on him is his perceived lack of mobility and while he's not the type of guy who is going to take off and run, he can move his feet and extend plays. His consistency as a passer and his arm strength make him one of the best in the class and there's a reason South Carolina had to fend off several late-comers to hold onto his commitment. - Rivals.com Southeast recruiting analyst Woody Wommack

Since Daniels reclassified to the 2018 class in the winter, the question about whether there is a five-star quarterback in the 2019 class had come up empty heading into the summer. Several prospects made strong cases in the last several months, however, and one of those was Wisconsin commit Graham Mertz.
Mertz may not be as dynamic of an athlete as Justin Fields or rifle the football like Shea Patterson, but he is mind-numbingly consistent, which is a great attribute to see out of a young quarterback. From his performance at the U.S. Army Junior Combine this past winter all the way through the Rivals100 Five-Star Challenge in June, Mertz came through with impressive performance after impressive performance.

Being able to count on your quarterback to consistently deliver his best game after game is crucial for coaches, and Mertz is showing that potential as well as the intangibles necessary for success at the position. He brings positive charisma to the field and re-upped on his commitment to the Badgers in June after heavy courting from some of the game's top college programs this spring. - Rivals.com Midwest recruiting analyst Josh Helmholdt
A case can be made for Bo Nix as a five-star for many reasons. He's mobile, he can extend the play, he has a strong arm and he's accurate. This summer, at the Five Star Challenge and at The Opening and Elite 11, he was up with the top group easily in each setting. At the Five Star challenge, he was hands down the best quarterback of the group and never slowed down from his first pass to his last. And at The Opening and Elite 11 he was neck and neck with Spencer Rattler when it came to the best quarterback all around.

I like his confidence and what he brings to the table as a leader. I'm not sure if there is a true five-star superstar quarterback in this class or not, it's not a great year at quarterback, but a case can be made for Nix as one of the best and because he plays the premier position in college football, that five-star case can be made. - Rivals.com National Recruiting Director Mike Farrell

After the summer Spencer Rattler, had there is definitely a valid argument for pushing him to that highest level of ranking.
The Phoenix (Ariz.) Pinnacle standout was already a high four-star and he had a phenomenal junior season where he threw for nearly 4,000 yards with 45 touchdowns, but there's more to his game than just stats. He backed that up with a terrific performance at The Opening.
Rattler is an excellent decision-maker, a pocket passer who also has the athleticism to get outside and prolong plays and then find open receivers down the field. He's committed to Oklahoma and should fit perfectly in that offense. As far as a polished quarterback, Rattler is ahead of Baker Mayfield at the same stage and Mayfield just went first overall in the NFL Draft, so the expectation is that Rattler will get even more developed in Norman.
Size is still a little bit of an issue because Rattler does not have that prototypical, NFL stature but the way the game is trending, decision-making and production seem to be more important than only finding guys who are 6-foot-5 and sit in the pocket all day. - Rivals.com National recruiting analyst Adam Gorney

#RivalsRankingsWeek Schedule
Monday: Who could land in new top 10? | Top 10 players revealed | Who is top wide receiver? | Could McCoy make push for No. 1?
Tuesday: New Rivals100 released | Farrell's Mind of Mike | Rival Views | Godfather & Gorney podcast
Wednesday: New Rivals250 released | Rival Views | For which prospect did each analyst go to bat? | Five schools that should be most pleased with new rankings | Players who could finish in Rivals100
Thursday: Rivals250 by the numbers | QB rankings | RB rankings | WR/TE rankings | OL rankings | Rivals Rankings podcast | Commitment Issues podcast
Friday: DL rankings | LB rankings | DB rankings | ATH rankings
Saturday: Team rankings breakdown
Sunday: Mid-Atlantic states rankings | Southeast states | Midwest states | Texas | Florida | West