Rivals.com 2019 Position Rankings update: Offensive Line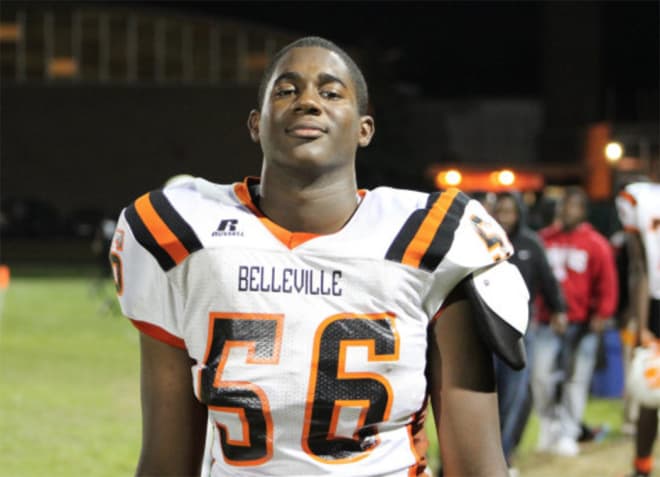 Some big-name offensive linemen came off the board since we last updated rankings in June. No five-stars came off the board, but numerous four-stars put their names on commitment lists and there is another set to commit in the coming weeks.
2019 POSITION RANKINGS: Offensive tackle | Offensive guard | Center
TEAMS ON THE RISE: MICHIGAN STATE, OLE MISS, GEORGIA
Many top offensive linemen have committed since we last updated rankings in middle June. The biggest name that came off the board was offensive tackle Devontae Dobbs. He is the No. 36-ranked prospect at his position and he was a huge pick-up for Michigan State. The Spartans also added three-star offensive guard JD Duplain on Aug. 1.
Ole Miss has added five offensive linemen over the last two months. Darius Thomas headlines the quintet and he committed to the Rebels earlier this month. He is a tackle as are the other four: Carter Colquitt, Caleb Etienne, Jeremy James and Reece McIntyre. A few of those, especially James could cross over and work some at guard too. It was a successful summer up front for Matt Luke and Ole Miss.
Georgia added two Rivals250 prospects in Warren McClendon and Xavier Truss. McClendon drew a lot of compliments at The Opening Finals and Truss competed at the Rivals100 Five-Star Challenge presented by adidas. Their offensive line room has changed dramatically in a positive way since Sam Pittman came in with Kirby Smart.
TEAMS TO WATCH: ALABAMA, AUBURN, FLORIDA STATE, TENNESSEE, USC
Darnell Wright is the No. 1 offensive tackle in the country and he remains uncommitted. This could come down to an SEC battle between Alabama and Tennessee, but you can't count Ohio State out either.
Clay Webb and Evan Neal are also high on Alabama, so the Crimson Tide could have a very exciting finish in 2019 if the chips fall right.
Auburn has Will Putnam, a four-star offensive guard out of Florida scheduled for an official visit Sept. 15 and the Tigers have been trending. Keep an eye on Florida State as well.
Other than Putnam, the Seminoles are very much involved with Deyavie Hammond, an in-state four-star target at IMG Academy.
USC has a need up front and the Trojans are in the thick of things with numerous top targets out west. Troy Fautanu, Sean Rhyan and Enokk Vimahi are three top keep an eye on in the coming months.
PROSPECT TO WATCH: JAQUAY HUBBARD
Ja'quay Hubbard could be next to pull the trigger. The four-star offensive tackle out of Sharpsville (Pa.) is set to commit on Sept. 1, so his mind may be already made up. Mississippi State, Pittsburgh, Syracuse and Virginia are the finalists and the Bulldogs may be the one trending two weeks out from his decision.
#RivalsRankingsWeek schedule