Farrell 50: Nos. 1-5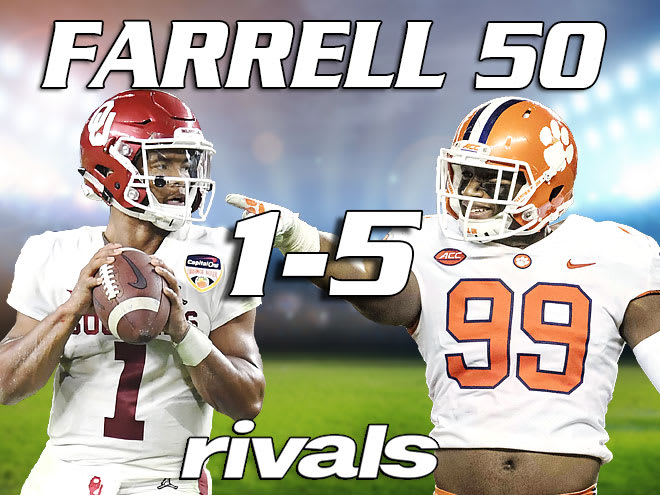 Mark Pszonak contributed to this report.
The post-season Farrell 50, a list of the top 50 college football players in the country and how we saw them out of high school, is complete. Today we continue with 1-5, highlighted by the best player in the country.
FARRELL 50: Nos. 6-10 | 11-15 | 16-20 | 21-25 | 26-30 | 31-35 | 36-40 | 41-45 | 46-50
The skinny: While South Carolina and Virginia Tech pushed Clemson till the end, Ferrell was considered a Tigers lean from the start, so it came as little surprise when he committed during the summer leading up to his senior season. Big things were expected out of Ferrell heading into his final season in Death Valley and he didn't disappoint. Helping lead the Tigers back to the National Championship, Ferrell had 51 tackles, 18.5 tackles for loss, 11.5 sacks, three forced fumbles, one fumble recovery and a defensive touchdown this season. He was named First Team AP All-American and the ACC Defensive Player of the Year.
Farrell's take: Many felt last season would be Ferrell's breakout year at Clemson, and it was, as he was in the offensive backfield often. I always liked his athletic upside, although he was a bit stiff at times, but I questioned his aggressiveness. It has been interesting to watch him mature and come into his own in that area. His ceiling is very high, and it keeps rising. Ferrell stepped up his game another notch this season and emerged as one of the top picks in the draft.

*****
The skinny: Haskins committed to Maryland in the spring before his senior season, but then kept his process open with official visits to Florida and Ohio State. He eventually flipped to the Buckeyes in mid-January. He also canceled a trip to LSU after his commitment to Ohio State. While it took longer than some expected for Haskins to win the starting job in Columbus, once the season began he took off. Finishing his first season as a starter with 4,831 yards, 50 touchdowns and only eight interceptions, Haskins helped lead the Buckeyes to a 13-1 record and a Rose Bowl victory over Washington. Haskins was named a Heisman Trophy finalist, was Third Team AP All-American and the Big Ten Offensive Player of Year.
Farrell's take: Haskins burst onto the scene for us by winning the QB MVP at our Rivals Camp Series event in Baltimore between his sophomore and junior year. The offers flew in after that. He ended up as a Rivals100 prospect by showing off excellent arm strength and good touch downfield. As a top-five pro-style quarterback in the 2016 class, we liked his upside. He lifted the Ohio State passing game and became a Heisman finalist.

*****
The skinny: Williams initially committed to Auburn in January 2015, but then re-opened his recruitment during the summer after several visits to Alabama. Less than a month later, he committed to the Tide. After redshirting in 2016 and totaling only 20 tackles during the 2017 season, not many people predicted the impact that Williams would have in 2018. Quickly establishing himself in the middle of the defensive line, Williams finished with 67 tackles, 18 tackles for loss and eight sacks for the Tide. Williams was a First Team AP All-American and won the Outland Trophy (best interior lineman).
Farrell's take: Williams was a highly ranked prospect coming out of high school, a kid who just missed the Rivals100. He was very quick and had a good frame to fill out. He made a huge jump at the end of the rankings cycle, thanks to some great play at the Alabama-Mississippi All-Star Game. Now he's become one of the best playmakers in the country.

*****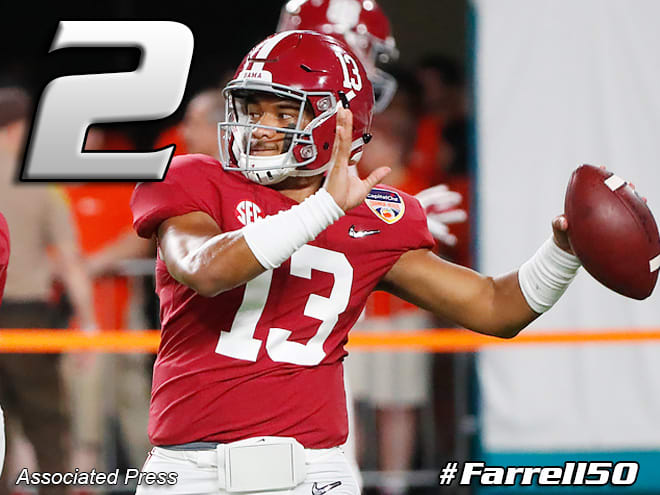 The skinny: Despite claiming that USC was his "dream school," Tagovailoa committed to Alabama after a trip that saw him also visit Auburn and Ole Miss during the spring after his junior season. Both USC and UCLA continued to pursue Tagovailoa, but neither were able to beat out the Tide. After jumping onto the national spotlight last season in the Championship Game, Tagovailoa took the Tide offense to a new level this fall as a first-year starter. With 3,671 yards, 41 touchdowns and only four interceptions his play has propelled the Tide to yet another National Championship game. He was the Heisman Trophy runner-up, was named Second Team AP All-American, was the Maxwell Award winner, the Walter Camp Award winner and the SEC Offensive Player of the Year.
Farrell's take: Tagovailoa was highly ranked, but fell short of five-star status by about 20 spots or so. Oops. We liked his arm strength and accuracy, but he didn't have great size and struggled a few times in evaluations. However, he had one of the best seasons in recent memory and has become a superstar.

*****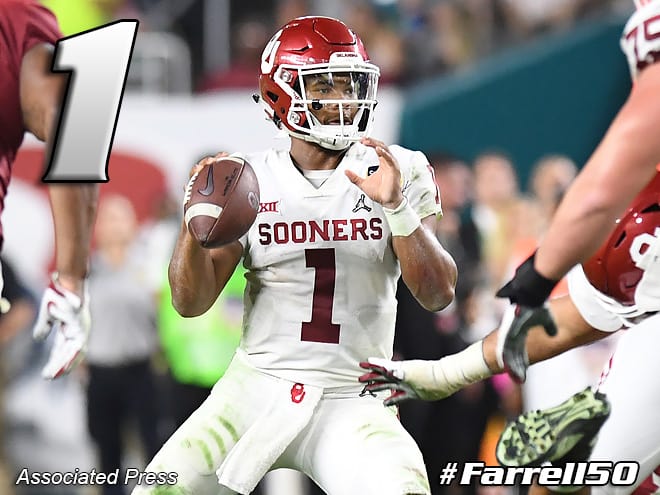 The skinny: Murray's recruiting process had plenty of drama, but he eventually committed to Texas A&M despite a late push from Texas. With the Aggies, Murray had his fair share of success during his true freshman season, but still decided to transfer to Oklahoma. He sat out the 2016 season and then served as Baker Mayfield's back-up in 2017. The transition from Mayfield to Murray went seamlessly this season, as the Sooners were able to pull in back-to-back Heisman Trophies. Murray excelled throughout the season, finishing with 4,361 yards and 42 touchdowns through the air, while adding 1,001 yards and 12 touchdowns on the ground. Murray was the Heisman Trophy winner, was a First Team AP All-American and the Davey O'Brien Award winner (best QB).
Farrell's take: Murray was highly ranked, but many felt he was ranked too low based on his amazing high school career. He was a high school legend who was impossible to beat and put up amazing numbers with his arm and feet. Now he's one of the most dangerous players in the country and a Heisman winner.