Farrell 50: Nos. 36-40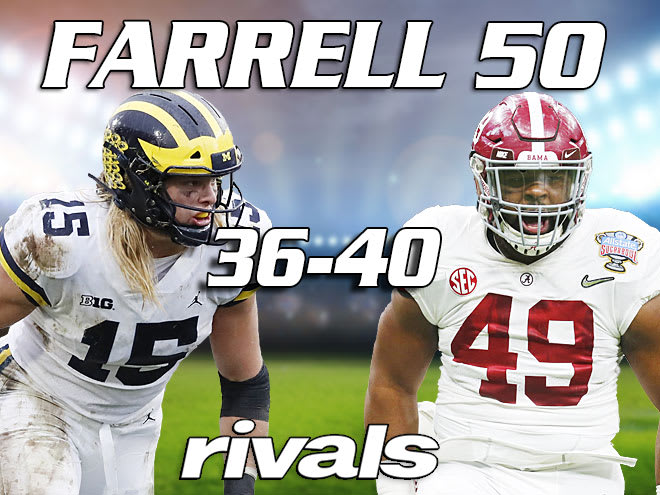 Mark Pszonak contributed to this report.
With the 2018 season in the books, it is time for the final Farrell 50, the top 50 players in college football. Today we continue with Nos. 36-40 led by a Big Ten end with a non-stop motor.
FARRELL 50: Nos. 41-45 | 46-50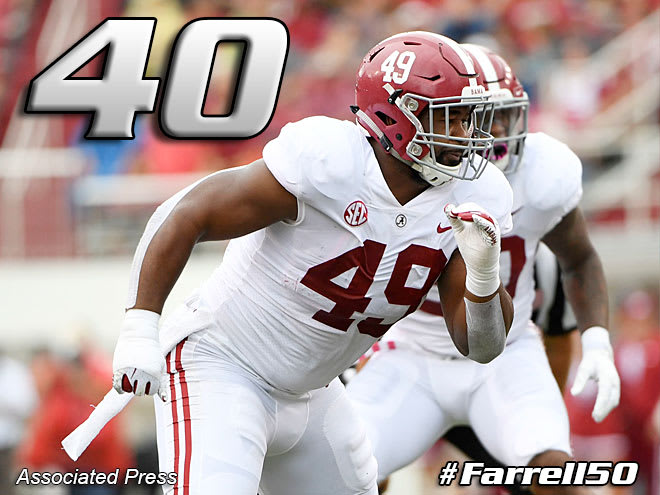 The skinny: Originally from Louisiana, Buggs took the JUCO route before seeing his recruitment explode. Finally trimming his list down to Alabama, LSU, Auburn and Ole Miss, Buggs committed to the Tide in mid-December. As has become the norm in Tuscaloosa, several defensive players raise their level of play each season. Buggs was one of these in 2018, as after an unspectacular 2017 season, he has totaled 46 tackles, 13.5 tackles for a loss, 9.5 sacks, two forced fumbles and one fumble recovery while helping to solidify the defensive line. Buggs was named second team All-SEC this past season.
Farrell's take: Buggs was the No. 1 JUCO prospect in the country and a can't-miss prospect in 2017 for Alabama. He has amazing size, strength and quickness so it's no surprise to see him on this list. He's a huge part of the defense and is a surefire NFL prospect.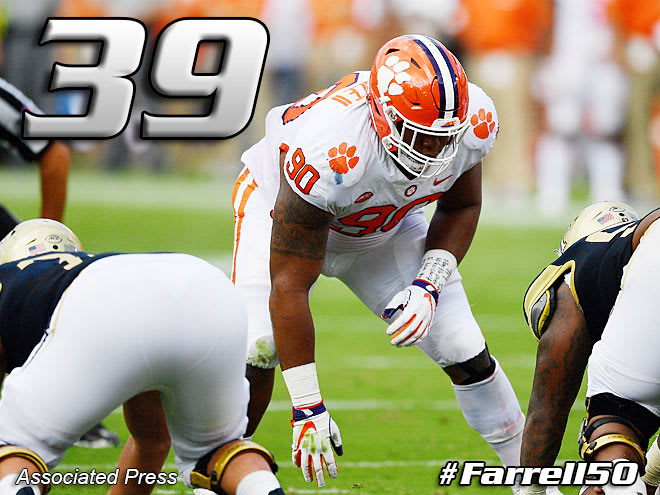 The skinny: Lawrence was open about growing up as a fan of the Florida Gators, however it was Clemson who was able to pull in his commitment over the Gators, Ohio State, Alabama, NC State and North Carolina. Statistically, Lawrence's season, which was abruptly ended by a failed drug suspension, may not turn heads, but the double teams he continuously faced opened lanes for his teammates. Even with the double teams, he still finished with 36 tackles, seven tackles for a loss, 1.5 sacks, one fumble recovery and an interception. Lawrence was named All-ACC first team this past season.
Farrell's take: The unsung hero of the Clemson defensive line? That could be the case with Lawrence, who takes up so many blockers. He was a massive high school prospect, tall and big, who had exceptional pass-rushing moves and worked off contact extremely well for a taller interior lineman. He had light feet, always had a counter for whatever an offensive lineman threw at him and was well-coached in the nuances of the position. He finished as our No. 2 overall player behind Rashan Gary in 2016, but was No. 1 at one point. The NFL scouts are drooling.

The skinny: Henderson, who never truly saw his recruitment take off, took an official visit to Middle Tennessee State in mid-January and then Memphis the following weekend. Soon after returning home from his visit to Memphis he committed to the Tigers. With the Memphis offense focused on him this season, and defense's primed to try and stop him, he turned in an amazing season with 1,909 yards and 22 touchdowns on the ground, while averaging 8.9 yards per carry. He also added 295 yards and three touchdowns through the air. Henderson was named All-AAC first team this past season.
Farrell's take: Henderson was a two-star out of high school with just four offers and none out of the Power Five. He was short and stocky and lacked great breakaway speed, but he's been amazing at the college level and playing like a four-star. He has added speed and is very hard to tackle.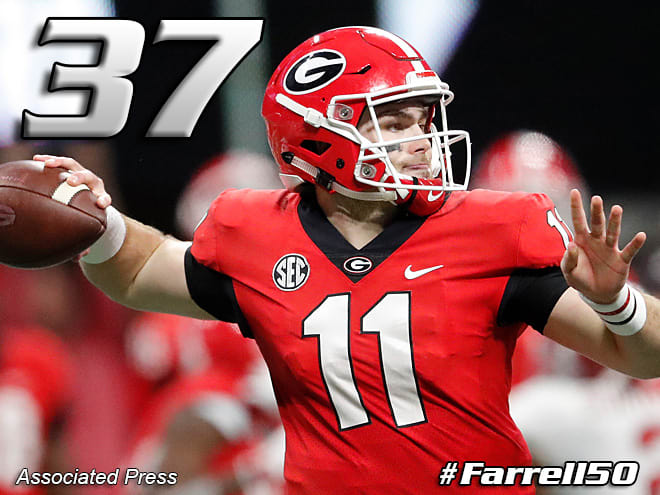 The skinny: Fromm initially committed to Alabama, but then flipped to the Bulldogs during the spring after his junior season. After surprising many with his performance as a true freshman in 2017, he continued to perform like a veteran this fall, with 2,749 yards, 30 touchdowns and only six interceptions. Plenty of pressure will be on him during his junior season in 2019, so it will be interesting to see if he can raise his level of play even higher.
Farrell's take: Fromm became a five-star late in the process, earning that fifth star after a great week at the U.S. Army All-American Bowl, and was a huge flip for Kirby Smart from Alabama. He was a kid we felt was a "gamer" who might not have as many natural skills as some other five-star quarterbacks but had more of the intangibles. Fromm had been limited in his passing attempts last season but progressed and was a bigger part of the offensive strategy as the season wore on. His efficiency and maturity were off the charts and he led his team to the title game, so bigger things were expected this year and he's had a solid season. He beat out Jacob Eason and held off Justin Fields for the starting job and is the leader of the Georgia team.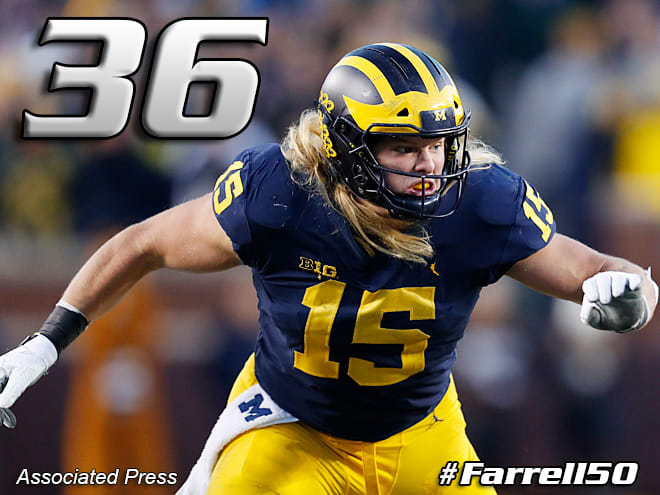 The skinny: Winovich trimmed his list of favorites to Michigan, Ohio State and Pittsburgh before committing to the Wolverines in early June. While other players on the Michigan defense may have received more publicity, Winovich continued to consistently produce. In his final season as the heart-and-soul of the Wolverines defense, he totaled 59 tackles, 15.5 tackles for a loss, five sacks and one fumble recovery
Farrell's take: Winovich earned his fourth star late in the process and we had him ranked as a big, physical outside linebacker who had a chance to move down to defensive end and that's exactly what happened. He always played well off of contact while struggling a bit in coverage in space, so the move to end has been a natural transition. He has a great motor and is easily one of the most explosive players in the country.