Farrell 50: Nos. 46-50
ALL-AMERICAN BOWL COVERAGE: Winners and losers | Stock reports | Gorney Awards
Mark Pszonak contributed to this report.
It's that time of year again, time for the updated Farrell 50, the top 50 players in college football. Today we look at Nos. 46-50, which includes an ACC pass rusher who often gets overshadowed.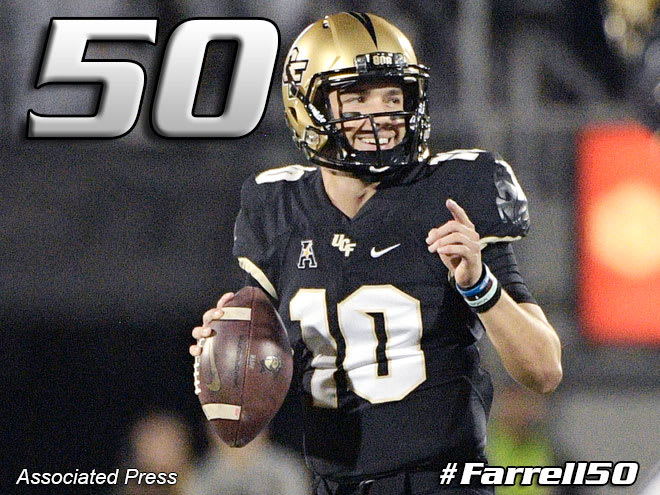 The skinny: A Hawaii native, Milton initially committed to the Warriors, but when Scott Frost became the coach at UCF everything quickly changed. Frost was aware of Milton from Frost's days at Oregon, so after he offered Milton and got the quarterback on campus for an official visit in the January, the flip to the Knights happened soon after. Milton had the Knights undefeated once again, until a gruesome leg injury quickly ended his season. Despite the abrupt end, he still finished with 2,633 yards and 25 touchdowns through the air, plus nine rushing touchdowns, in 10 games.
Farrell's take: Milton was a low three-star coming out of high school, mainly due to his lack of size and an average arm. However, his instincts, leadership and mental makeup couldn't be evaluated, and he's been awesome in college. How would he do under a new head coach? He had another exceptional year before his season-ending and career-threatening injury.
The skinny: While he also considered Boston College and Northwestern, when Notre Dame offered in the spring of his junior year he quickly committed to the Irish. Greedy Williams and Deandre Baker may get more publicity, but Love has proven himself as one of the top cornerbacks in the country over the last two seasons. Leading an improved Irish secondary, he finished with 63 tackles, three tackles for a loss, 16 pass break-ups, one interception, three fumble recoveries and one forced fumble this season.
Farrell's take: Love was a four-star prospect outside our Rivals100 with average size but excellent instincts and ball skills. He was a smothering corner who struggled a bit with bigger receivers but was still able to make the play on the ball for the most part. He was on my freshman All-American watch list and has developed since then and he a high draft pick. Many think he was the key to the Notre Dame defense and it's a good argument.

The skinny: Burr-Kirvin committed to Washington during his senior season over offers from Arizona, Arizona State, Northwestern, Utah, Boise State and several Ivy League programs. He also had interest in Stanford, but an offer never came from the Cardinal. Burr-Kirven was a tackling machine this season, finishing with 176, to go along with 5.5 tackles for a loss, two sacks, two interceptions, four forced fumbles and three fumble recoveries. He was first-team All-Pac-12.

Farrell's take: Burr-Kirven was an undersized inside linebacker out of high school who made a lot of plays but wasn't very long and didn't have much of a frame to build on. He's become a terror on defense with his instincts and quickness to the football and is the leader of the Washington defense.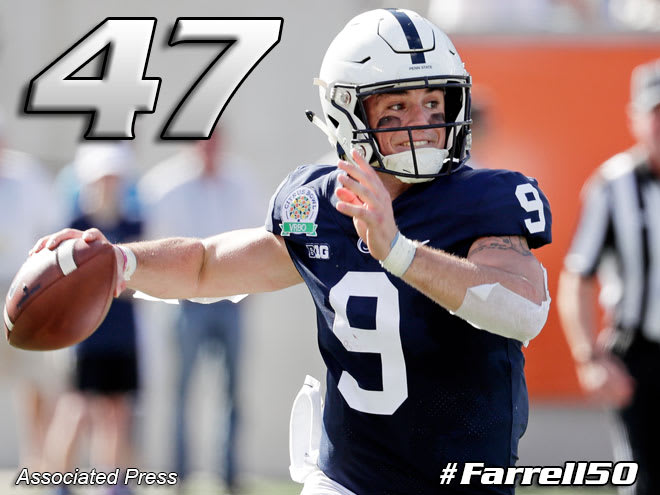 The skinny: McSorley initially committed to Vanderbilt, but when James Franklin made the move from Nashville to Happy Valley, he took an official visit to Penn State which eventually led to his flip to the Nittany Lions. McSorley is currently finishing up his collegiate career with another top-level performance at Penn State. While McSorley's passing numbers didn't jump off the screen (2,520 yards, 18 touchdowns, seven interceptions) the unquestioned leader of the Nittany Lions did also add 798 yards and 12 touchdowns on the ground and was second-team All-Big Ten.

Farrell's take: I would have never expected this a few years ago as we had McSorley as a mid-range three-star athlete. I didn't think he was a college quarterback based on size for the most part and his potential to play other positions. McSorley has always been an accurate and athletic passer, so Penn State has played to his strengths tremendously. He's a proven winner and his best asset has always been keeping his eyes downfield while he shifts around and scrambles. He hasn't had as good a year as last year, but he's still been dangerous.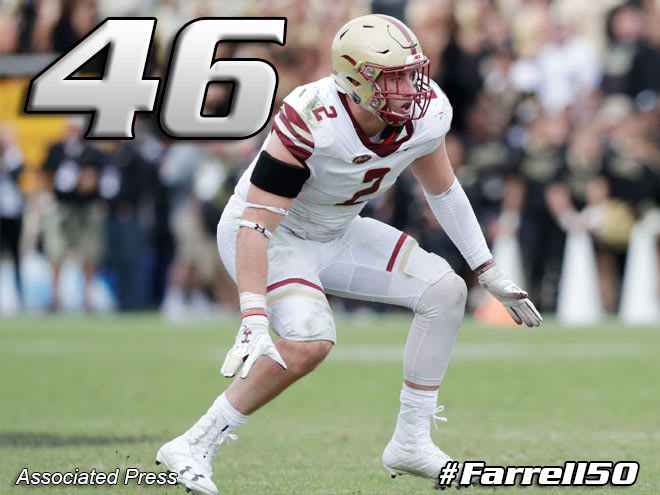 The skinny: Allen initially committed to Northwestern during the spring after his junior season, but then flipped to the Eagles a few days before National Signing Day. A desire to play closer to home was the main reason for his change of heart. Following up a huge 2017 season, Allen saw plenty of double teams throughout his final season in Chestnut Hill. Even with this, he still finished with 61 tackles, 15 tackles for a loss, 6.5 sacks, two fumble recoveries, one forced fumble an interception. He was second-team All-ACC.

Farrell's take: Allen was a mid-level three star kid with good size and length but who played weak competition and wasn't the explosive player you see now. He's become one of the more well-rounded defensive linemen in the country and leads a very underrated defense. Allen is also high on the radar of NFL scouts.