Farrell 50: Nos. 6-10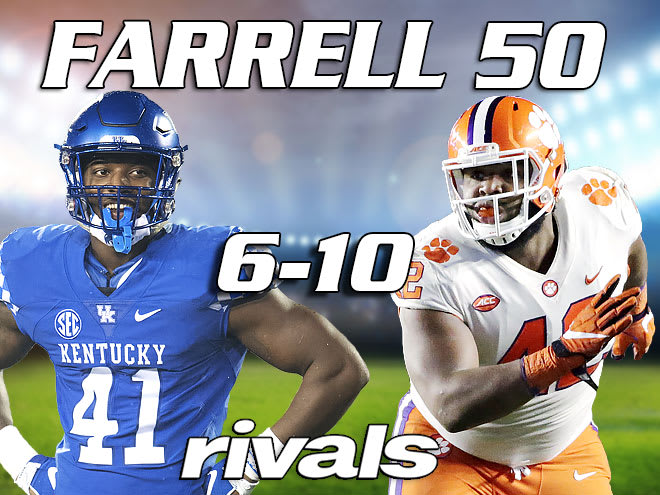 Mark Pszonak contributed to this report.
The postseason Farrell 50, a list of the top 50 college football players in the country and how we saw them out of high school, is complete. Today, we continue with Nos. 6-10, highlighted by one of the SEC's best defenders.
FARRELL 50: Nos. 11-15 | 16-20 | 21-25 | 26-30 | 31-35 | 36-40 | 41-45 | 46-50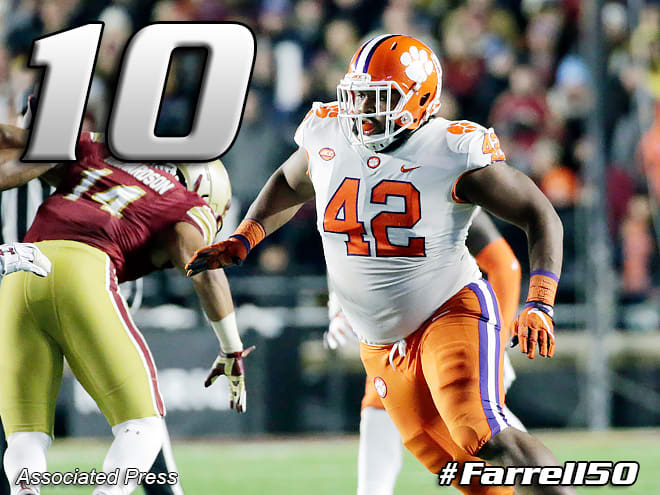 The skinny: Wilkins took official visits to Clemson, Stanford, Penn State, Ohio State and Boston College prior to committing to the Tigers at the Under Armour All-American Game. In Death Valley, he has continued to improve his game from season to season. This fall, he further entrenched himself as one of the top defensive players in the country with 47 tackles, 13 tackles for a loss, five sacks, two fumble recoveries and one forced fumble. Wilkins was named First Team AP All-American.
Farrell's take: I remember the first time I saw Wilkins on film. It was after his freshman season of high school and his athletic ability was off the charts. As a Connecticut prospect, he didn't get the national attention of many until later in his career, but I knew how good he was from the jump. Wilkins has already turned into one of the elite defensive tackles in the country and could emerge as one of the top five picks in the NFL Draft. His dominance doesn't show in the stat sheet as much as expected, but he's one of the top defenders in the country.

*****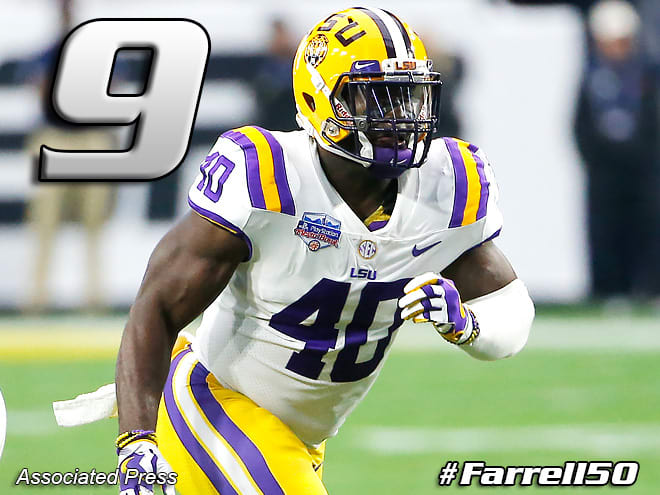 The skinny: White, who was recruited as a running back by most schools, committed to LSU in early January over Arkansas, Alabama and Ole Miss. He burst onto the scene with a fantastic second season with the Tigers in 2017, and continued that high level of play in 2018. Deciding to forego his final season in Baton Rouge, White finished his collegiate career by totaling 115 tackles, 12 tackles for a loss, three sacks, two fumble recoveries, two forced fumbles and five pass breakups in 2018. White was named a First Team AP All-American and the Butkus Award winner (best LB).
Farrell's take: We knew White was a four-star talent, we just couldn't figure out at which position to rank him. I remember when he first came onto the radar he was considered the next Leonard Fournette in the state – a massive and fast running back prodigy. However, he kept getting bigger and lost speed, so he was projected either as a linebacker or a fullback/H-back, or even a kid who could grow into a defensive tackle. He wasn't very good covering in space at all, so we ranked him as a fullback and now he's showing us we should have kept him at linebacker. He's a big hitter, always has been, and is the clear No. 1 linebacker.

*****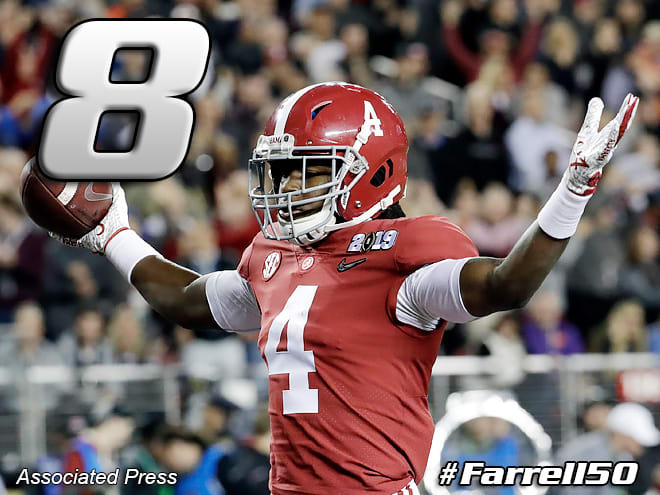 The skinny: Jeudy trimmed his list down to Alabama, Florida, Florida State, Miami and Tennessee before committing to the Crimson Tide during the summer leading up to his senior season. While the Tide have several young dynamic wide receivers on the roster, it is Jeudy who has established himself as the best of the pack. Having totaled 63 receptions for 1,176 yards and 13 touchdowns, he has formed a lethal duo with quarterback Tua Tagovailoa. Jeudy was named First Team AP All-American, won the Biletnikoff Award winner (best WR) and was First Team All-SEC.
Farrell's take: Jeudy has emerged as one of the best receivers in the country and that's no surprise based on our ranking out of high school. We saw him as the next great Florida receiver to make an impact at 'Bama following Amari Cooper and Calvin Ridley. He had size and a frame to fill out and the downfield speed teams covet. When he wanted to be, he was unstoppable and we are seeing that consistency now.

*****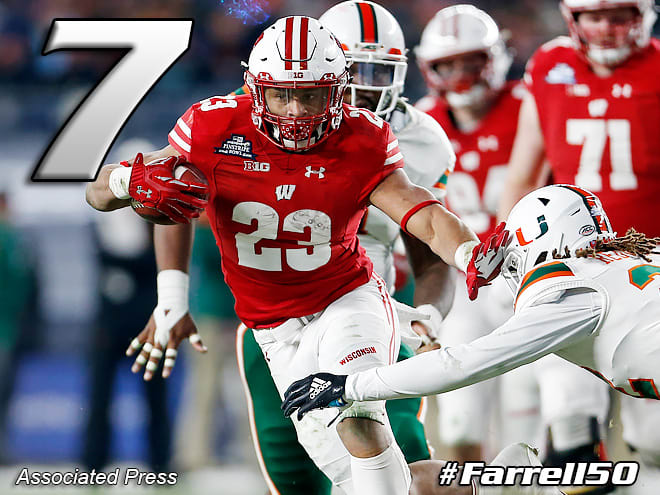 The skinny: Taylor initially committed to Rutgers in early May, but then flipped to Wisconsin after an official visit to Madison in October. After stunning much of the college football world in 2017 with his memorable true freshman season, Taylor followed that up with even more success in 2018 with 2,194 yards and 16 touchdowns on the ground. He will be one of the early season Heisman Trophy candidates heading into the 2019 season. Taylor was named First Team AP All-American and was the Doak Walker Award winner (best RB).
Farrell's take: I liked Taylor's fit at Wisconsin because of his combination of size, power and quick feet, but I never expected him to reach this level so fast. The Badgers have done so well with New Jersey/New York-area running backs over the years, and this kid is clearly the next in line. He broke former Badgers star running back Corey Clement's South Jersey rushing record his senior season and has been compared with Clement often, although he's a bit more physical. Taylor's balance, especially, stood out when scouting him.
*****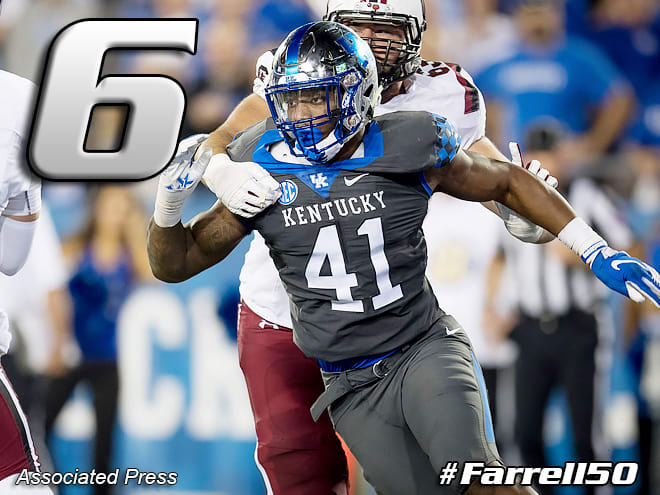 The skinny: Allen never saw his recruiting process take off, so during his official visit to Kentucky in January, which was the only school to offer him, he committed to the Wildcats. After arriving in Lexington with no fanfare, Allen established himself as one of the most dynamic defensive players in the country over the last two seasons. Helping lead the Wildcats to a memorable 2018 season, he totaled 88 tackles, 21.5 tackles for a loss, 17 sacks, five forced fumbles and two forced fumbles. Allen was named First Team AP All-American won the Bednarik Award (Def Player of Year), the Nagurski Award (Def Player of Year) and was the SEC Defensive Player of the Year.
Farrell's take: Allen was a low three-star out of high school, a big linebacker who we had some concerns about when it came to lateral movement and what position he would end up playing. He's turned into a tackling machine who can also blitz and get after the passer. His ability to cover in space as well as rush off the edge has scouts intrigued.