Farrell 50: Nos. 11-15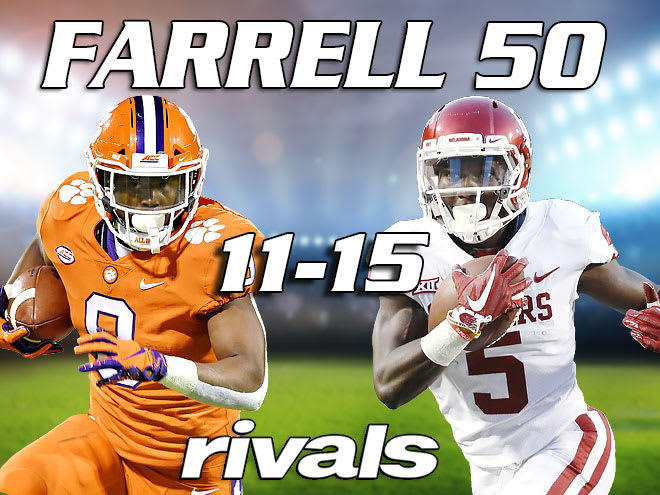 Mark Pszonak contributed to this report.
The postseason Farrell 50, a list of the top 50 college football players in the country and how we saw them out of high school, is complete. Today, we continue with Nos. 11-15 led by one of the best running backs in the country.
FARRELL 50: Nos. 16-20 | 21-25 | 26-30 | 31-35 | 36-40 | 41-45 | 46-50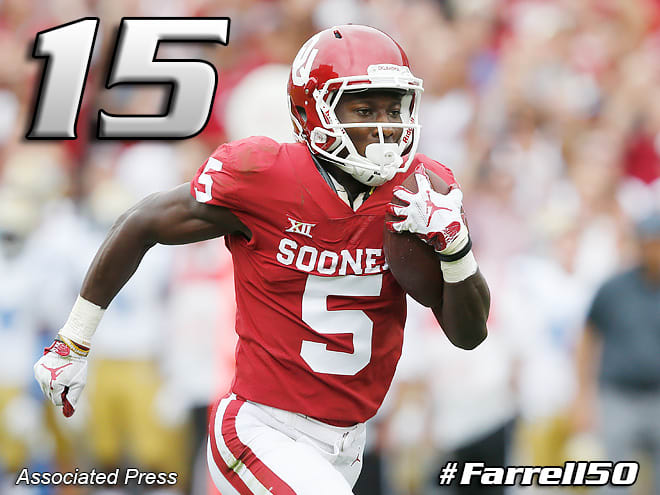 The skinny: After playing junior college football in California, Brown committed to Oklahoma over West Virginia. TCU, Tennessee and USC were also in contention for Brown. After a huge first season in Norman, many wondered if Brown would be able to duplicate his output without Baker Mayfield. Despite a nagging injury at the conclusion of the season, Brown didn't skip a beat with this Kyler Murray in charge of the offense, finishing with 75 receptions for 1,318 yards and 10 touchdowns. Brown was named first-team AP All-American.
Farrell's take: Size was a question mark when it comes to Brown, but not much else as he had the speed and home run potential to be a star after dominating at the JUCO level. A slot receiver with catch-and-run speed, we liked Brown as an instant impact guy for the Sooners. His quickness was evident, and he has added a good 20 pounds from his high school days, when he was a 5-foot-10, 155-pounder on a bad team.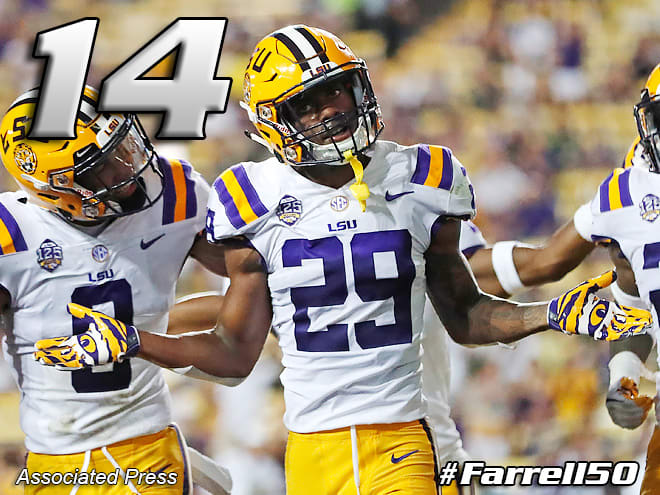 The skinny: There was limited suspense in Williams' recruitment as he took numerous unofficial visits to LSU before committing to the Tigers. After redshirting in 2016, Williams quickly established himself as one of the top redshirt freshmen in the country in 2017.

This season, as more teams threw away from him, he continued to excel with 33 tackles, nine pass break-ups and two interceptions. He is now regarded as the top cornerback in the 2019 NFL Draft. Williams was named a second-team AP All-American
Farrell's take: A high three-star out of high school, Williams was tall and long enough but needed to fill out and become more physical. However, he always had excellent ball skills and instincts. Williams was a willing tackler and always aggressive so we knew he'd have a chance at success with some time, but we were still worried about the overall balance of his game as a defender and tackler.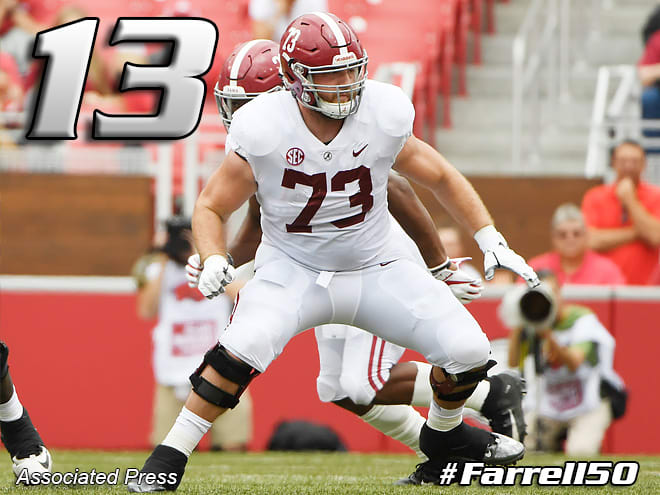 The skinny: Williams played his high school football in California, but he actually grew up in SEC country, which is why Alabama became an immediate player for him. After the Crimson Tide offered in March and he took a visit to Tuscaloosa, he committed in early April. Williams, who has been an integral part of Alabama's offensive line since his true freshman season, has firmly proven himself as the top offensive lineman in the country while helping to lead the Tide back to the College Football Playoff. Williams was named a first-team AP All-American and the SEC Offensive Lineman of the Year.
Farrell's take: Williams was the rare five-star prospect who didn't attend camps, didn't care about all-star games and just dominated on the football field with pads and a helmet on. We saw him in game action but never got to see him go against the elite defensive linemen in the country at any events. But it didn't matter to us, because he was so good in person and on film, and he had that throwback, nasty attitude of the greats of yesteryear. Williams just wanted to destroy the player in front of him and help his team win. He didn't care about gear, free trips or rankings. He's clearly showing our faith in his film was warranted.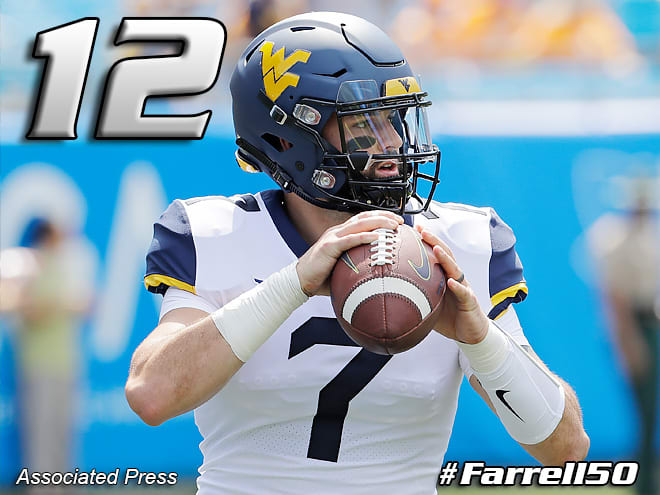 The skinny: Grier initially signed with and played for Florida, where he showed a great deal of promise during the 2015 season before a failed drug test led to a season long suspension and eventually his transfer to West Virginia. While he recently decided to forego his final season in Morgantown, Grier spent two highly productive years with the Mountaineers. Leading West Virginia's potent offensive attack, he finished 2018 with 3,864 yards, 37 touchdowns and only eight interceptions. Grier was named second-team All-Big 12 behind Heisman winner Murray.
Farrell's take: Grier was always a talented kid despite being a bit thin coming out of high school and we had him very highly-ranked. His route to stardom has been an interesting one, but he is putting up monster numbers once again for West Virginia this season. I always liked his ability to extend the play, although his mechanics have always needed some work and I have never been a fan of his arm strength. But he's had such a good year that he hasn't come close to hurting himself when it comes to his draft stock.

The skinny: Etienne was initially committed to Texas A&M, but re-opened his recruitment two months later. After trimming his list to Clemson, LSU and Tennessee, and taking official visits to Clemson and Tennessee in January, he committed to the Tigers a week before National Signing Day. There is no questioning the impressive play of true freshman quarterback Trevor Lawrence this season, but without the dynamic play of Etienne, his maturation may have not happened so quickly. With 1,573 yards, 22 touchdowns and an 8.3 yards per carry average, Etienne is a threat to take it the distance on any touch. Etienne was named second-team AP All-American and the ACC Offensive Player of the Year.
Farrell's take: This is a kid I thought might be under-ranked, because he had size, speed and shiftiness. LSU really coveted him and Clemson did a great job winning this recruiting battle. He's faster than I expected and his burst has improved greatly. As a guy just outside of that four-star ranking, he might make us look bad during his career, based on early returns. Etienne has already turned into one of the fastest and most explosive running backs in college football.