Farrell 50: Nos. 26-30
Mark Pszoank contributed to this report.
The postseason Farrell 50, a list of the top 50 college football players in the country and how we saw them out of high school, is complete. Today we continue with Nos. 26-30, highlighted by an elite defensive tackle who played a ton of offense in high school.
FARRELL 50: Nos. 31-35 | 36-40 | 41-45 | 46-50
*****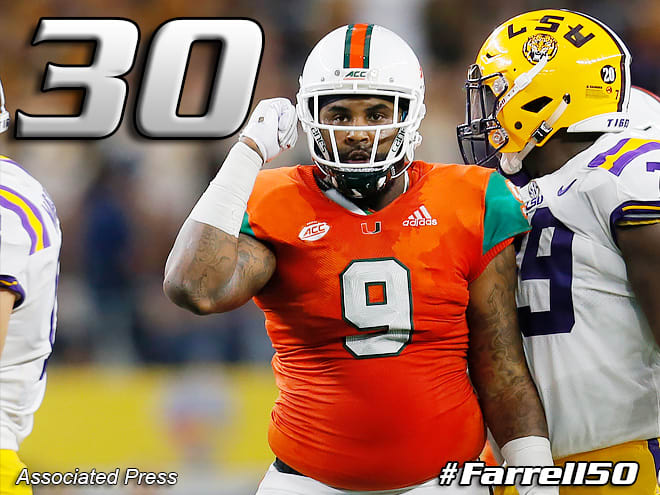 The skinny: Willis initially committed and signed with Florida, but after one season full of off-the-field issues, including an altercation with Jameis Winston on the sideline, he was dismissed from the program. A month later he found a new home with the Hurricanes. His time in Coral Gables began with some inconsistent play, but he put it all together in 2018 with 59 tackles, 18 tackles for a loss, four sacks and one forced fumble. Willis was a second-team AP All-American
Farrell's take: Willis was a defensive end coming out of high school, and he was ranked in the Rivals100 because of his ability to work off of contact and his power. I never would have thought he'd grow into a defensive tackle - and such a dominant one, at that. He takes up a ton of attention.
*****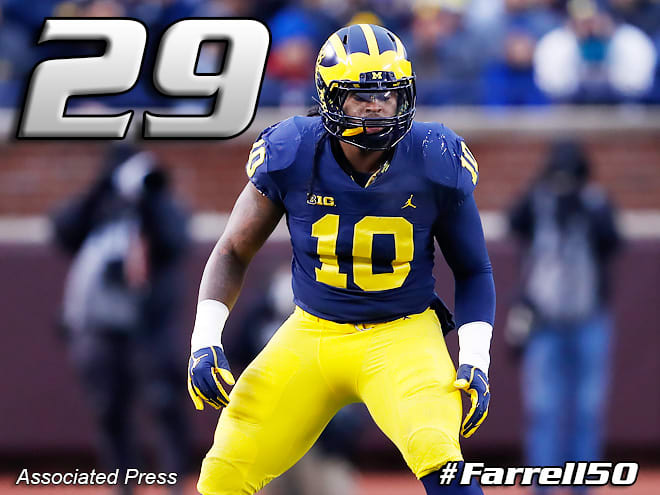 The skinny: Despite being a legacy to Florida State, Bush always thought of Michigan very highly. So after taking official visits to Tallahassee, Ann Arbor and also Auburn, Bush committed to the Wolverines. Bush became an integral part of the Michigan defense during the 2017 season and continued that level of play this fall with 66 tackles, 8.5 tackles for a loss, 4.5 sacks and four pass breakups. Bush was a second-team AP All-American and the Big Ten Defensive Player of Year.
Farrell's take: We had Bush ranked in the Rivals250 and as a top 10 inside linebacker, but I never expected him to be as dominant as he has been. He's a much bigger hitter at the college level than I expected, and his lack of length – something we worried about – hasn't hurt him at all. He explodes to the football, arrives with a thump and has been a huge key for Michigan's defense.

*****
The skinny: Harry considered Texas A&M, Washington, Oregon and USC, but despite never taking an official visit to Arizona State he still committed to the Sun Devils due to their proximity to home. At Arizona State, Harry has produced since the first game of his true freshman season. That continued this fall with 73 receptions for 1,088 yards and nine touchdowns, as he now prepares for the NFL. Harry was named first-team All Pac-12.
Farrell's take: The first time I saw Harry at one of our Rivals Camp Series events in Vegas, I knew he was a five-star. He was big, strong and very fluid, and he had an extra gear rare for a 200-pound high school receiver, which allowed him to gain great separation. The No. 1 wideout in the 2016 class, he has adjusted to college very early and one can only imagine the numbers he would have at Arizona State with an above-average quarterback.

*****
The skinny: Playing his high school football in Eugene, Ore., Herbert picked up offers from Montana State, Northern Arizona and Portland State when the Ducks offered during his senior season. He quickly ended his recruitment with a commitment. After missing time in 2017 with a broken collarbone, Herbert returned healthy this fall and finished with 3,151 yards, 29 touchdowns and eight interceptions. He also surprised some by announcing he will return to Eugene in 2019 for his final collegiate season.
Farrell's take: Herbert is another great find by Oregon as his only other offers were FCS schools, and now some were talking about him as the No. 1 overall pick in the NFL Draft if he decided to come out. He was a big, raw, dual-threat coming out of high school who could sling it, but had some accuracy issues and some mechanical problems. He also looked skinny despite being 210 pounds or so. He's filled out, has improved his accuracy greatly and is making good decisions. He's big, he can move, he has a strong arm and he has all the intangibles that NFL scouts love.

*****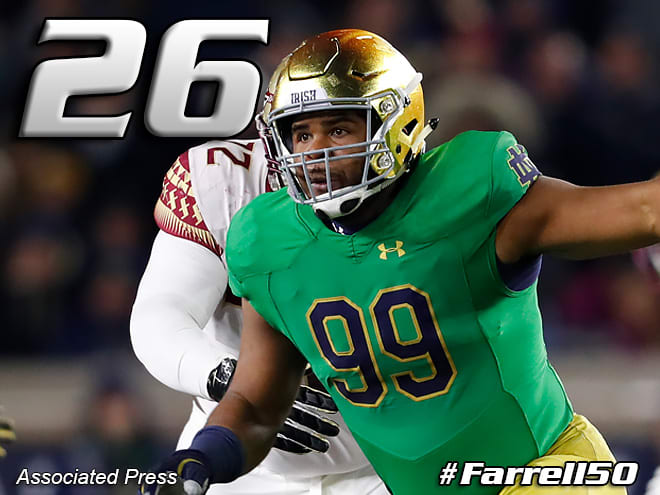 The skinny: Tillery committed to Notre Dame during an unofficial visit to South Bend. After his commitment he left his options open, with LSU pushing the Irish the hardest. However, in the end Tillery stuck with original commitment on National Signing Day. Many attributed Notre Dame's improved defense play this season to Tillery's solid and consistent play in the middle. After finishing his final collegiate season with 28 tackles, 8.5 tackles for a loss, seven sacks and two forced fumbles, he will take his talents to the NFL in 2019. Tillery was named second team AP All-American.
Farrell's take: Tillery worked out everywhere as an offensive lineman, but we still projected him as a defensive tackle despite his height. It's not easy for such a tall player to play with such natural leverage, but Tillery has done so and lived up to his ranking. He was dominant at times this season and is pushing up the ranks at a position that is beyond loaded in the upcoming draft.