Farrell 50: Nos. 31-35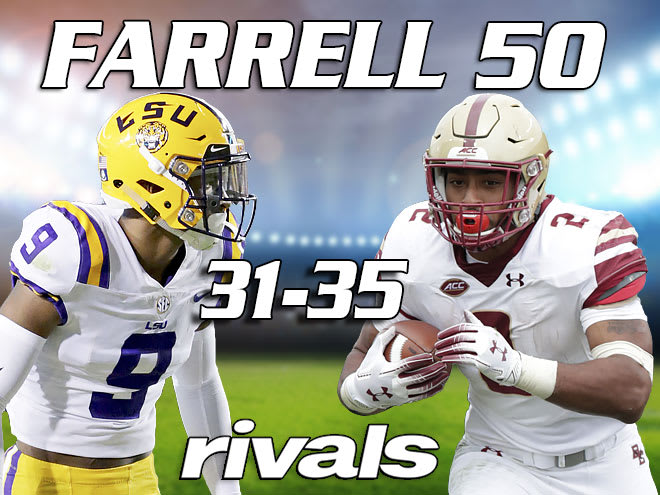 Mark Pszonak contributed to this report.
It's that time of year again, time for the updated Farrell 50, the top 50 players in college football. Today we continue with 35-31, led by one of the best safeties in the country.
FARRELL 50: Nos. 36-40 | 41-45 | 46-50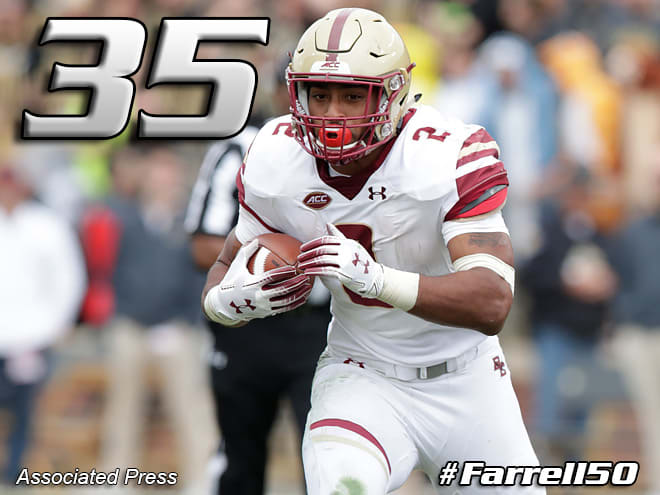 The skinny: Dillon initially committed to Michigan during the spring after his junior season, but then flipped to Boston College in December. While he missed a couple of games due to an injury, when healthy Dillon once again dominated the opposition. Finishing with 1,108 yards and 10 touchdowns, Eagles' coaches and fans are all curious to see what Dillon can do in 2019 when he is on the field for an entire season. Dillon was named first-team All-ACC this past season.
Farrell's take: Dillon was a big kid with solid speed and nifty feet that we liked, but I didn't think he was as quick as he showed at the college level or as evasive. He was a workhorse for Boston College last season, and has shown vision and footwork. His ability to run with power and always fall forward for extra yards have been impressive as well. He looks a bit like a young Derrick Henry. Injuries have limited his time a bit this season but not his overall value.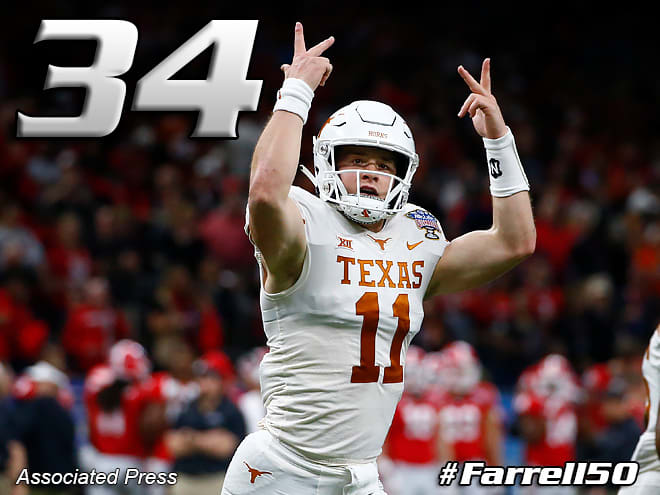 The skinny: Ehlinger committed to Texas during the summer before his junior season and never wavered on his word. After fighting off Shane Buechele for the starting job in 2018, Ehlinger's performance this season gives plenty of hope to Texas coaches and fans for a big 2019. Passing for 3,292 yards, 25 touchdowns and only five interceptions, while rushing for 482 yards and an extremely impressive 16 touchdowns, Ehlinger gives the Longhorns a potent dual-threat weapon.
Farrell's take: I had Ehlinger in my Commit Fit after National Signing Day when he was coming out of high school for a reason because he had the skill set that Tom Herman covets at quarterback. His injuries during his high school career, from his knee to his wrist, led to some question marks, but he was still so prolific that there was no question he was in the Rivals100 range and a top-150 talent. He wasn't the tallest quarterback, but he had a good arm, compact release and was powerfully built, which helped his running ability and ability to bounce off tackles. He's lived up to his ranking so far.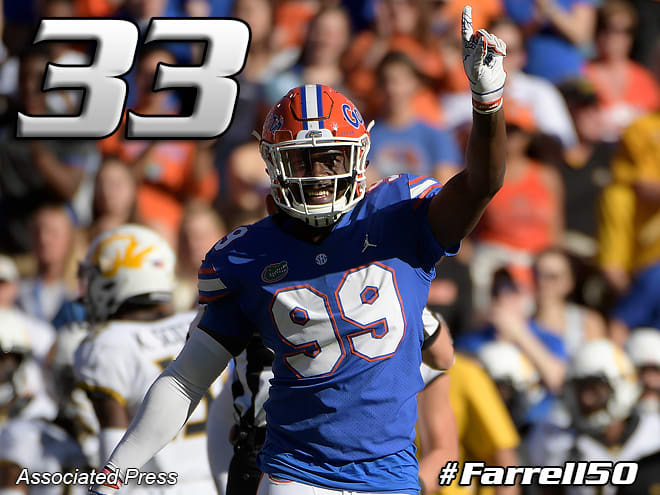 The skinny: Polite was initially seen as a lean to Miami, but after earning an offer from Florida at a Gators' camp, he gradually to turn more of his focus on Gainesville. This led to his commitment in November. While he did take an official visit to USC in late January, he stuck with his word on National Signing Day. Polite, who improved his level of play each season in Gainesville, announced he will be declaring for the NFL Draft after he totaled 45 tackles, 19.5 tackles for a loss, 11 sacks and six forced fumbles. Polite was named first-team All-SEC this past season.
Farrell's take: Polite was a mid-level three-star coming out of high school who had average size and wasn't overly explosive but made big plays when needed. He was moderately recruited and a kid with a good frame to add size and strength, but he has outplayed his ranking. He always had a good motor, but his ability to pursue increased in college.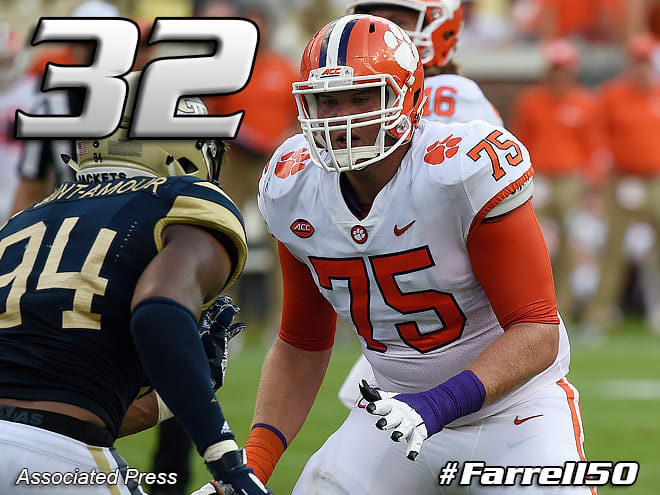 The skinny: After taking multiple visits to Clemson, Hyatt committed to the Tigers during the spring after his junior season. Georgia and Ohio State were also in the picture and continued to push Hyatt until he signed with the Tigers. A starter during each of his three seasons in Death Valley, Hyatt continues to improve his level of play while helping the Tigers capture a second national championship. Hyatt was named first-team All-ACC this past season.
Farrell's take: Hyatt was a longtime five-star, but was downgraded at the end of the process because of concerns regarding his ability to fill out his frame and add strength in his lower body. Oops, I'll take the blame for that one. His technique and footwork have helped him overcome a frame that is still filling out. Hyatt seemed to get stronger game by game and his third season was probably his best so far.


The skinny: Delpit committed to LSU over Alabama, Clemson and Florida in August while at The Opening. As the Tigers underwent a coaching change in the fall of 2016, plenty of schools tried to pull him away from Baton Rouge, but he stuck with LSU on Signing Day. Delpit quickly developed into one of the top playmaking safeties in the country during his second season with 74 tackles, 9.5 tackles for a loss, five sacks, five interceptions, nine pass breakups, one fumble recovery and one forced fumble. Delpit was named first-team All-SEC this past season.
Farrell's take: Delpit was highly ranked as the No. 70 player in the country but he was also a guy I thought we might have undervalued and it's showing that we did. He has length, good size and great instincts overall. Now he's become one of the best all-around defenders in the country. Delpit is a star already and will be a legend by the time he leaves Baton Rouge.