Take Two: Is Florida the team to beat for five-star Leonard Manuel?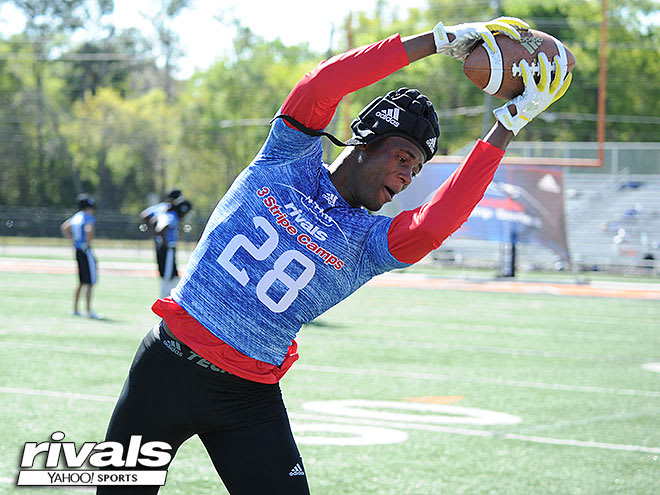 THE STORYLINE
Early last June, 2020 five-star receiver Leonard Manuel committed to Tennessee. By late July, the Ocala (Fla.) Vanguard standout had backed off that pledge.
Then Manuel made a commitment to Miami. That lasted only a while as well as the 2020 standout decommitted from the Hurricanes in April.
Manuel is back on the market and one team giving serious chase is Florida. The five-star receiver - No. 1 at his position in the 2020 class - has started to build a really strong relationship with coach Dan Mullen and receiver coach Billy Gonzales.
The Gators might have a lot going for them - Gainesville is a short drive from Manuel's place in Ocala; Mullen's offense should be able to score lots of points; and someone of Manuel's ability is absolutely needed in an offense that struggled under the previous regime.
Is Florida now the team to beat for Manuel or with his history of commitments and decommitments is it nearly impossible to tell what the five-star receiver is going to do?
FIRST TAKE: COREY BENDER, GATORSTERRITORY.COM
"For Manuel, I don't expect him to make his third commitment for quite some time after previously teaming up with Tennessee and Miami, respectively. The five-star prospect grew up a Hurricanes fan and many thought he would at least stay committed while taking other trips, but that obviously wasn't the case.
"Manuel also just recently made it to Florida's campus for the second over the past month or so. He has constructed a tight-knit relationship with Dan Mullen and Billy Gonzales, and also went on-air saying he favors Mullen's staff over the previous regime. I wouldn't say Florida is the school to beat, but they're definitely toward the top, joining the likes of Georgia, Clemson and Miami. However, I expect Manuel to take a whole lot of time with his recruitment and visit several schools in the coming months."
SECOND TAKE: MIKE FARRELL, RIVALS.COM
"He's a tough one to read because you just don't know and he doesn't talk about recruiting that much. When he does, he doesn't give you a really good read. He's already been committed twice.
"Florida certainly has some momentum in his recruitment. He would be huge for them, literally and figuratively. He's just the type of weapon that Florida needs offensively to help their quarterbacks and to get back to recruiting the skill positions the way they used to under Urban Meyer. I can't say Florida is the team to beat or has a lead for him because he's hard to pick but they're certainly in the mix."

RIVALS RANKINGS WEEK