2020 Position Rankings release: Offensive line
CLASS OF 2020 POSITION RANKINGS: Offensive tackle | Offensive guard | Center
CLASS OF 2020 RANKINGS: Rivals250 | Team
It looks to be another elite group at the top on the offensive line, especially at the offensive tackle position. We have one with a 6.1 Rivals Ranking (Myles Hinton is a five-star already) and four others with a 6.0, the highest four-star grade by Rivals.com. Justin Rogers is an offensive guard with a 6.0 ranking, so he is in that five-star discussion early, too. It is a very deep group in 2020, with one five-star and 34 four-stars on the offensive line right out of the gates.
THURSDAY: Quarterbacks | Running backs | Wide receivers/Tight Ends | Offensive line
FRIDAY: Defensive line | Linebackers | Defensive backs | Athletes
Teams with top commits: Georgia, South Carolina, Texas A&M    
Georgia only has one offensive line commitment for the 2020 cycle, but Broderick Jones is the highest-ranked prospect at his position to be committed. He is a Rivals100 tackle who will be watched closely this fall.
South Carolina has three 2020 commitments and two play on the offensive line. Tyshawn Wannamaker is a home-state prospect ranked as a three-star offensive guard. Isaiah Walker is a four-star tackle out of Florida that the Gamecocks landed a commitment from a little over a month ago.
It is easy to see that Jimbo Fisher has really put an emphasis on the offensive line recruiting since he took over as head coach. His 2019 group is impressive, and he has four offensive linemen committed in 2020. All four commits for this class play along the offensive line. Leading the way is Rivals250 tackle Akinola Ogunbiyi. Smart Chibuzo, Joshua Bankhead and Jordan Jefferson are the other three. All four are from the state of Texas.
Team to watch: Notre Dame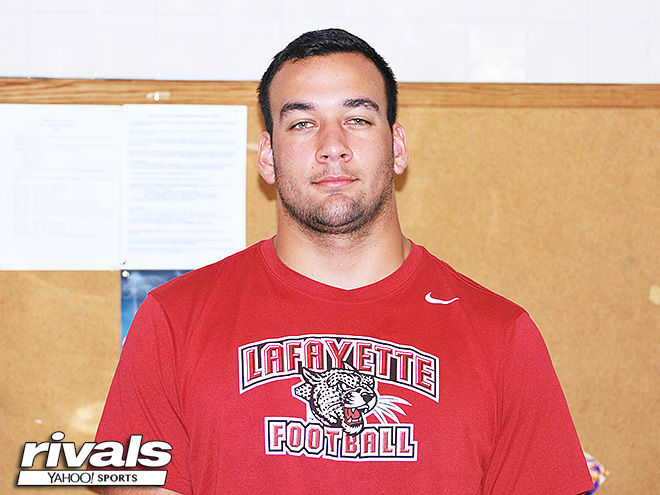 The Irish already have one Pyne committed in 2020 quarterback Drew Pyne, so why not add another? Kevin Pyne is one of the premiere offensive tackles this cycle and with his cousin already committed the Irish may have an edge. There are plenty of other programs in this race, with Michigan, Ohio State, Virginia Tech and UCLA being a few. It is still early, like it is for most 2020 prospects, but the Irish appear to be in a good spot.

Player to watch: Tate Ratledge 
Ratledge is a prospect that does very little media, plays at a private school in northwest Georgia and does not get out to camps, so he is an elite talent that is not reported on too often. The Rivals100 offensive tackle does not plan to make a decision until next year around this time, but he is not one that likes the attention and all that comes with being a top recruit, so he is one to keep an eye on. Alabama, Georgia and Tennessee are viewed as the main competitors for Ratledge at this time.
RIVALS RANKINGS WEEK