Take Two: Can Clemson snare another top-ranked, five-star QB?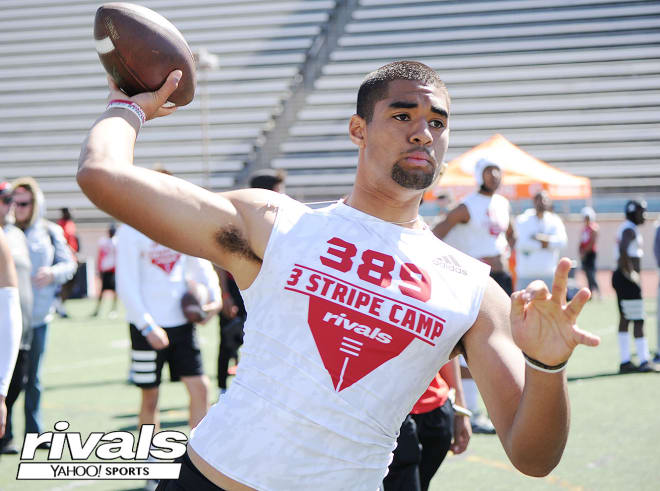 Take Two returns with a daily offering tackling a handful of issues in the college football landscape. Rivals.com National Recruiting Analyst Adam Gorney lays out the situation and then receives takes from Rivals.com National Recruiting Director Mike Farrell and a local expert from the Rivals.com network of team sites.
THE SITUATION
D.J. Uiagalelei is the No. 1 prospect in the 2020 class, a five-star quarterback with tremendous physical skills and special qualities on the football field.
The Bellflower (Calif.) St. John Bosco standout also recently returned from a trip to Clemson, which he called his best visit yet. For a while, the Tigers have been a serious contender in his early recruitment.
Does Clemson have the recruiting muscle to come into California and land the No. 1 prospect in the 2020 class?
A look at the Tigers' recent recruiting success could provide a glimpse as to just how powerful Clemson could be on the recruiting trail.
Coach Dabo Swinney and his staff went to Alabama to land five-star receiver Justyn Ross in a heated battle against the Crimson Tide. Clemson beat out Ohio State and others for Ohio native and five-star offensive lineman Jackson Carman. The Tigers beat childhood favorite South Carolina for five-star defensive end Xavier Thomas.
And Clemson landed the No. 1 prospect in the country, five-star quarterback Trevor Lawrence. All of those recruiting wins happened in the last recruiting cycle alone.
Uiagalelei, who is also serious about Oregon, USC, Alabama and others, loved the environment and the coaching staff at Clemson. So can the Tigers waltz into California and take the No. 1 player in the 2020 class?
It's still early but history says Clemson has a really good shot.
FIRST TAKE: PAUL STRESLOW, TIGERILLUSTRATED.COM
"Forget the rankings and stars, here's Clemson's recruiting resume the last couple of classes: Two years ago, the Tigers went into a neighboring city to Tennessee's campus and nabbed a five-star receiver named after an iconic Vols quarterback (Tee Higgins). Then last cycle, they beat Urban Meyer for a five-star offensive lineman (Jackson Carman) in his backyard. Only once in the previous 15 years had Alabama been defeated for the state's No. 1 recruit before Clemson grabbed five-star receiver Justyn Ross. So far this class, Clemson is in line to bring in its first Michigan signee since 1975, with nine of its 15 commitments coming from different states.
"The question has become, what's the next notch on the belt? And reaching into California appears the probable step, as the Tigers are in strong shape with a pair of 2019 targets. So yeah, Clemson appears to be swinging a big enough stick to be a leading challenger for D.J. Uiagalelei. Beyond carrying the program profile and quarterback pedigree – see Deshaun Watson – the Tigers check off a lot of the boxes for what Uiagalelei says he is looking for from a personal standpoint."

SECOND TAKE: MIKE FARRELL, RIVALS.COM
"Clemson can recruit anybody from anywhere. After watching the way it has recruited over the last many years, going into Alabama and getting Justyn Ross, going into Ohio for Jackson Carman, Dabo Swinney is showing he can go head-to-head against the best two recruiters in the country. Swinney is No. 3 and he can get anything done.
"Trevor Lawrence was a big deal. A quarterback has to be intrigued on wondering why Lawrence chose Clemson. I think that's D.J. Uiagalelei's thought process – that kid is going to be a three-and-out and I'll be following him."
RIVALS RANKINGS WEEK SCHEDULE