Rivals100 Five-Star Challenge Stock Report: Defensive line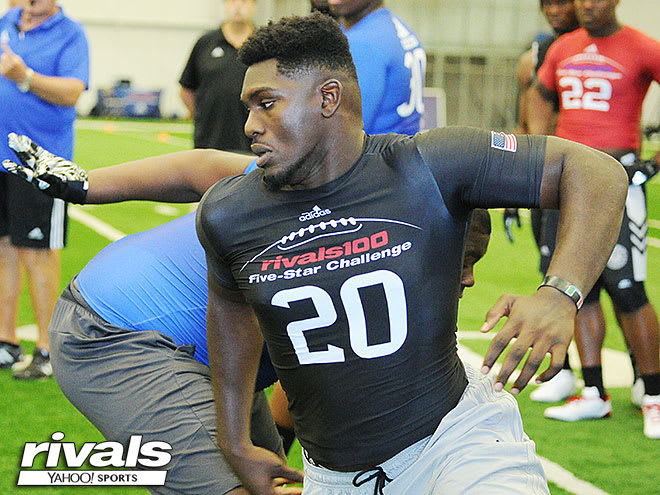 INDIANAPOLIS – More than 100 of the top players in the nation participated June 10 in the Rivals100 Five-Star Challenge presented by adidas at the Indianapolis Colts practice facility. The Rivals analyst team is breaking down the status of each player at the marquee event based on his performance against elite competition. Today, we look at the defensive linemen.
RELATED: QBs | RBs | TEs | OL | WRs | DBs | LBs | The Farrell Awards | Full coverage
STOCK UP
Briggs is powerful. That much is clear and has never been in doubt. He looked a bit quicker that he has been in the past. He didn't dominate the camp by any stretch, but he certainly did enough to earn a mention as a player that improved his stock, be it slightly.
Sandidge is already No. 48 in the country, so there isn't a lot of room to move up, but he showed he could push for the national top 35, especially with his motor, energy and morning dominance.
There was no one, not even freshman Harrison Bailey, who came to Indianapolis with less actual game experience than Smith, and yet there were few who were as advanced technically and physically. Smith won the MVP in part because he was consistently dominant throughout the day and did not display peaks and valleys in his play.
STOCK STEADY
There is a case that could be made for Briggs being a Stock Up guy, but after this weekend, we really do feel good about where he is rated right now. He is very advanced for a rising junior, but also closer to his ceiling than others his age. He definitely looked like a Rivals100 prospect in Indianapolis, though.
Cox just didn't take as many reps as some others, but when he was in, he was pretty impressive. You just don't see the combination of size, speed and athleticism like he has very often. He is going to play at around 260 pounds on the next level and still be a top pass rusher.
Hutchinson was bumped to four stars in the post-spring ratings update, after starting as a 5.6 three-star before his junior year. Hutchinson has really developed his frame physically and we love his competitiveness and motor. He does play a little high and a little stiff, but 5.8 four-stars still looks accurate.
We didn't put Henry on 'Stock Down' because if he slides, it will still be in the five stars because of his upside, but his performance was up and down all day and he needs to get better off contact.
At this point in his career, Herron could grow into a defensive end or end up playing linebacker at the next level. Right now, he's a bit of a tweener, but clearly has the skills to excel at either position. With Ohio State, Michigan, Texas and several others in the mix it will be interesting to see how he develops going forward.
A relative newcomer to the game of football Izuchukwu is still learning, so at an event like this he was going to have his share of ups and downs. He showed flashes of immense potential and his ranking as a 5.8 four-star seems about right, especially if he can tap into that potential going forward. Alabama, Ole Miss, LSU and several others are the in mix for Izuchukwu.
Landry was also exactly what he was expected to be in coming to the camp - an explosive and exciting pass-rusher. In the morning, he struggled to not jump offsides, but in the afternoon, when rushing on the offensive line's movement, he was much more successful.
Possibly the most physically developed player at the event, Oladele continues to turn into a football player. He's played just one season of the sport and is starting to pick up on the more subtle parts of the defensive end spot. Oladele has the size and quickness to be a menacing pass rusher, but he'll need to continue to be coached into a star.
There were stretches where it was a struggle for Parker, but we still come out of Indianapolis feeling good about him being a 5.8 four-star. The young man has size 15 shoes and catcher's mitts for hands. He is definitely not done growing and strength and explosiveness will increase as he does.
Perkins just moved up to four-stars in the post-spring update and he played to that level in Indianapolis. This was an even better performance than the one he had at the St. Louis Rivals 3 Stripe Camp that earned him the invitation. He is kind of in between end and tackle as it projects to college, but he could legitimately be effective at either.
Stills accorded himself well at the event going against probably the best competition he has faced. We can't see him moving up or sliding too far.
Thompson was not quite as effective in Indy as he was when he won position MVP honors against a deep group of defensive linemen at the Rivals 3 Stripe Camp in St. Louis. Still, his move into the Rivals100 continues to look justified, though whether he retains his narrow hold on the No. 1 spot in Missouri remains to be seen.
STOCK DOWN
McLendon is a big defensive end with length and the ability to get to the quarterback, but when going up against the bigger, more physical, and older offensive tackles, he struggled. He has to work his hands more, improve his moves off the ball and be able to counter more.