Rivals100 Five-Star Challenge Stock Report: Quarterbacks
INDIANAPOLIS – More than 100 of the top players in the nation participated June 10 in the Rivals100 Five-Star Challenge presented by adidas at the Indianapolis Colts practice facility. The Rivals analyst team is breaking down the status of each player at the marquee event based on their performance against elite competition. Today, we start with the quarterbacks.
RELATED: The Farrell Awards | Surprises | MVPs | Full coverage

RANKINGS: Class of 2018 QBs | 2018 Rivals250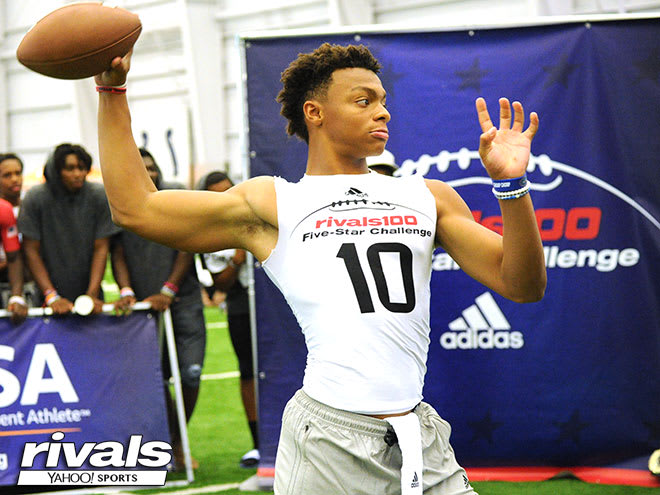 STOCK UP
Everyone used to talk only about Lawrence as the top quarterback in the country, but Fields has closed the gap. He is a top 10 talent, so it is hard to improve your stock as a prospect when that high, but Fields could end up in the top five before all is said and done.
STOCK STEADY
Bailey still has three more years of high school, so he will continue to be evaluated, but he had a solid showing with some of the best in America that are two years older than him by his side. He has a big arm, good size and his offer list reflects his talent.
Gunnell is arguably Texas' best hope for a high nationally ranked quarterback in the state, but didn't necessarily move the analyst team to think that he was significantly better than his current ranking. The Texas A&M commit made some nice passes in one-on-ones, but played fairly conservatively in the 7-on-7 tournament.
Lawrence was Lawrence. He was what the No. 1 prospect in the country is supposed to be — elite. There is no change coming for the Clemson commit.
We just bumped Leary to a four-star outside the Rivals250 and he lived up to that jump. The NC State commit has a cannon of an arm but needs work on his long ball a bit and size is still a slight issue. But he performed well and we like where we have him.
Mayden was on the championship-winning 7-on-7 team, so he deserves some credit for having a generally successful day. The Mississippi State commit didn't exactly separate himself from the other passers with his performance. Even though a few of his passes fluttered on him a little bit, he still was smart about how he placed them.
While Rogers put on a very consistent and impressive performance, he just solidified his position as a Rivals100 prospect. Rogers continues to develop and tap into some of the potential that helped him debut as Rivals100 prospect last year despite limited experience. The TCU commit looks to have the potential to be a future star.
STOCK DOWN
After some travel issues put Corral in Indianapolis basically in the middle of the night, the five-star quarterback was not his sharpest at the Rivals100 Five-Star Challenge. He was inaccurate at times and did not live up to the billing of fellow five-star QBs Trevor Lawrence and Justin Fields. The USC commit who's also looking at Georgia, Alabama and others is still incredibly talented and can make all the throws, but had an up-and-down performance on the big stage.