Rivals100 Five-Star Challenge: Shocking storylines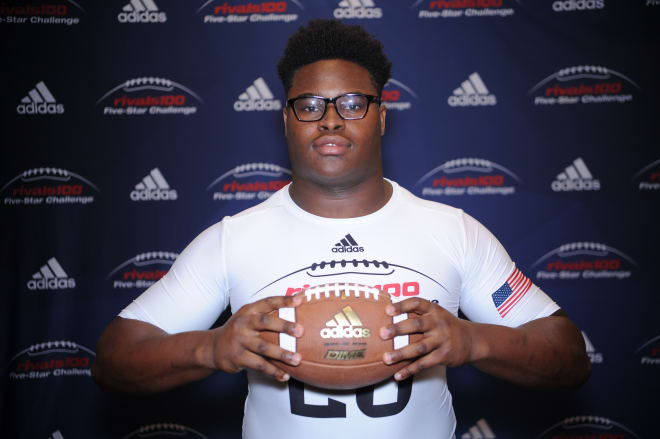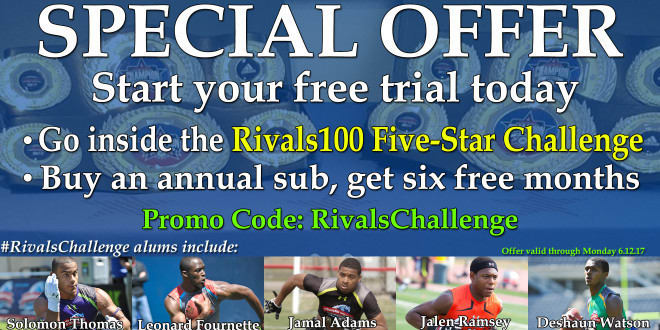 James Cook's Georgia shirt
Despite being committed to Florida State, James Cook has gone out of his way to make his recruitment seem open. He's released lists of top schools and teased a number of visits in the past. On Friday, he arrived in a hotel lobby packed with media donning a Georgia shirt. Cook says he has real interest in the Bulldogs and is only likely to seriously consider UGA and FSU, though he will tour other campuses.
The legacy of his brother, Dalvin Cook, certainly suggests he'll land at Florida State, but a crowded depth chart in Tallahassee is enough to make some think there's a chance of a shocking change of heart. Cook seemed more interested in Georgia than he has been in some time over the weekend.
Louisville steals an official visit
Louisville is nowhere to be found in Rick Sandidge's top 10, but the Cardinals have somehow found their way onto his official visit. On Saturday, the massive defensive tackle says he intends to tour Louisville as part of the five official trips allotted to him by NCAA bylaws.
Louisville is still to be considered a long shot to land Sandidge's commitment, but its inclusion on the visit list is significant.
Al Blades' Tennessee campaign
Al Blades is a heavy Miami lean and has been for some time, but the lengths he went to in order to sell reporters on his interest in Tennessee were impressive. The four-star defensive back says that the Vols are now pushing the Hurricanes for his commitment. Blades' relationship with Tennessee assistant Kevin Beard, who coached him in high school, is the driving force behind the emerging narrative.
Blades will likely still land at Miami, but his upcoming visit to Tennessee now has a bit more intrigue, as he's insisting that the Vols have real shot at stealing his commitment.

Iowa State picking up a commitment
Not exactly a traditional power, the Cyclones made a mark on the Rivals100 Five-Star challenge anyway. Iowa State grabbed a commitment from Jaeveyon Morton before Saturday's camp. The three-star defensive back chose the Cyclones over schools such as Iowa, Pittsburgh and others in a video shot inside the Colts' practice facility.
More Sandidge
Sandidge was not one of the event's marquee names coming into the weekend, but he played like a headliner on Saturday. Sandidge took more reps than any defensive lineman and won most of them rather easily. He was active and showed new levels of quickness and power. Sandidge was one of the day's most pleasant surprises and made his mark on the event from the jump.
Scaife stuns
Miami commit Delone Scaife arrived at the Rivals100 Five-Star Challenge as a four-star outside the Rivals250. That is likely to change going forward. Scaife turned in an outstanding performance that saw him stone a number of higher ranked prospects. Scaife took home offensive line MVP honors and continued what has been an impressive camp season. He may not be the longest offensive lineman around, but there's no arguing with his effectiveness at this juncture.

Isaac Taylor-Stuart wins fastest man crown
Not one of favorites to win the crown, Isaac Taylor-Stuart posted a 4.44 laser-timed 40 to take home the title of camp's fastest man and the championship title that goes with it. Taylor-Stewart was the last prospect to run in the event and posted the best time to close out the event. Taylor-Stewart is considering USC and Alabama, among others.