Rivals100 Five-Star Challenge: St. Brown leads award winners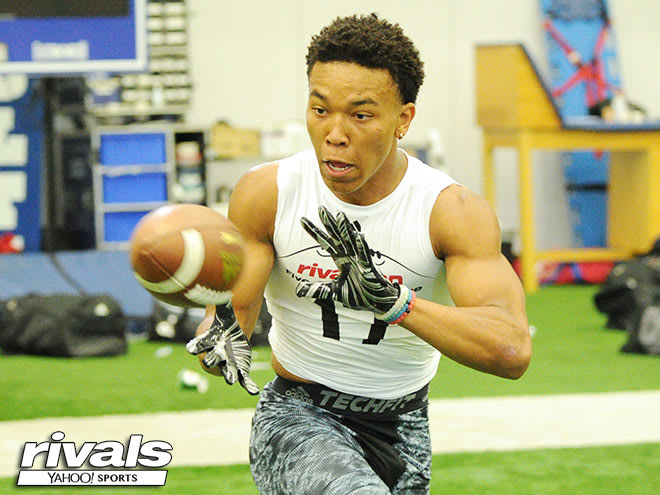 INDIANAPOLIS – Amon-Ra St. Brown had an excellent day. And then it got extraordinary.
On the last play of 7-on-7 competition at the Rivals100 Five-Star Challenge presented by adidas, with one second left and his team needing a touchdown, five-star quarterback Justin Fields lined up a Hail Mary and zinged it St. Brown's way.
He came down with it in the end zone to the amazement of everyone watching.
Of course, St. Brown did. He dominates everywhere he goes.
"He's awesome," Rivals.com National Recruiting Director Mike Farrell said.
"He adjusts to the ball so well, he gets separation, he's powerful, he high-points it, he almost attacks the football and doesn't let anybody make a play on the ball. He lived up to the billing for sure."
#RIVALSCHALLENGE: Five-star Team Roster | Complete coverage | Saturday night session | Saturday day session | Friday media day | Behind the scenes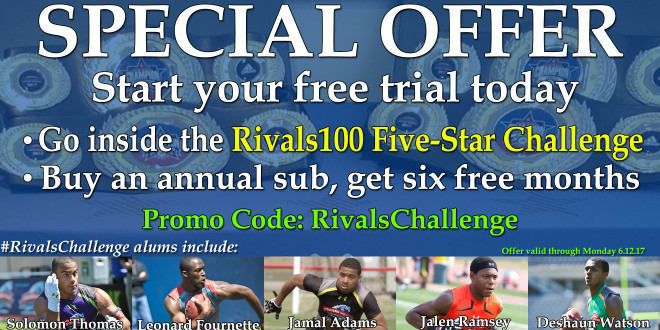 Moved to the top-rated receiver and No. 4 overall prospect in the 2018 class recently, St. Brown came to the Colts practice facility to make a statement: That he's not overrated. The five-star came to back up his rep.

"I come out every camp trying to be the best so my goal was obviously MVP," St. Brown said. "Shoot, I want everything to be No. 1.
"Once you're No. 1 you have to go even harder because the target is on you. Everyone is looking at you and that's when it gets even harder so you have to work even more."
After a while, it just looked unfair.
The Santa Ana (Calif.) Mater Dei standout, who dominated in his junior season, ran by cornerbacks on deep passes – St. Brown caught a ball while diving out of bounds and right into some signage – that wowed the crowd. He burned receivers on short, middle and deep routes.
At one point, some other top prospects came up to Farrell and admitted that, yes, St. Brown was near unstoppable. It was the greatest sign of respect at an event where competitive juices were flowing.
Four-star cornerback Al Blades tried getting in St. Brown's head with some trash talking but it didn't work. Blades did better than most corners on the five-star receiver but still the Mater Dei recruit had his way.
"I noticed Al Blades trying to come up on me a lot but that didn't work," St. Brown said.
And then there was the last catch. The amazing, Hail Mary grab that ended the event with St. Brown running down the field, his teammates chasing him, ripping off his shirt and celebrating with a raucous group of kids.
Usually after touchdowns on Saturday, St. Brown would spin the ball in the end zone and then sometimes punt it. Everyone has their celebration. That's his. But on the last reception he decided to sprint down the field and get chased by all his teammates.
It will definitely be a lasting memory.
"I had a Hail Mary in our tournament with Mater Dei and then this time I honestly felt like I was going to get it but I wasn't sure," St. Brown said. "When I was running I saw (Fields) look left and I said, 'Aw, shoot,' and then he threw it my way so I had to go get it."
He got it. And he got the respect of everyone in the building.
Five-star quarterback Trevor Lawrence was once again exceptional and earned the quarterback MVP award. Four-star Ohio State pledge Jaelen Gill landed the running back MVP.
At offensive line, it was four-star Miami commit Delone Scaife. Along the defensive line, it was four-star DE Tyreke Smith out of Cleveland Heights, Ohio.
The linebacker MVP award went to four-star athlete Richard Jibunor from Athens (Ga.) Athens Christian School. The defensive back MVP was won by four-star Houston Lamar's D'Shawn Jamison.