Rivals100 Five-Star Challenge Stock Report: Linebackers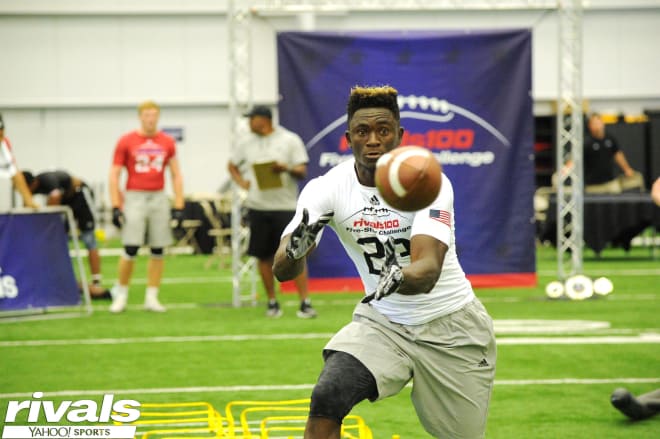 INDIANAPOLIS – More than 100 of the top players in the nation participated June 10 in the Rivals100 Five-Star Challenge presented by adidas at the Indianapolis Colts practice facility. The Rivals analyst team is breaking down the status of each player at the marquee event based on his performance against elite competition. Today, we look at the linebackers.
RELATED: QBs | RBs | TEs | OL | WRs | DBs | The Farrell Awards | Full coverage
STOCK UP
Floyd has great size, excellent vision and then he trusts his instincts to go make plays. Especially during the 7-on-7 portion, Floyd had an impact hovering all over the field and either making plays on the ball or taking a receiver out of the play. He's physical, too, and the USC commit proved he has the athletic ability to hang with any receiver during his routes.
Jibunor is still new to the game of football, but by the end of the Five-Star Challenge, he had other players in disbelief due to his performance. He is an athletic linebacker who has also played defensive end. He showed good speed to the ball, the ability to run with wideouts and his best football is ahead.
One of the strongest prospects at the event, Reese still has his lapses in coverage. That's not too big of a deal for an inside linebacker that will rely on his power to be a menacing run-stuffer at the next level. He moved well over the weekend and seems to have gotten even more powerful.
STOCK STEADY
Bailey is a prototypical downhill inside linebacker in the way that he's built and how he hits. He did well enough in open-field tackling and pass coverage one-on-ones, but could get stretched laterally in coverage during the 7-on-7 tournament.
Luketa is a four-star outside the Rivals250 and he lived up to that ranking. He's not a quick twitch guy and he's not going to show out in camps like this, but there were enough good things to see that make us feel comfortable with where he is.
This isn't an event for a big linebacker and Mitchell is bigger than Luketa, but still showed flashes of ability in coverage and was especially effective when getting his hands on opponents.
Like his brother, Alston, Anfernee is naturally gifted, genetically speaking. The jury is still out on Orji, however, because he could very well grow into a linebacker. He fancies himself a safety, but didn't put himself out there quite as much as some others.
Scott continues to develop physically and also keep his athleticism, which he showed off at the Five-Star Challenge. The four-star USC commit can play downhill and lay the lumber when needed and he can also move in space, handle running backs coming out of the backfield and compete against receivers on deep routes down the middle.
Thomas isn't physically impressive on the hoof as he isn't that long and is a bit squat, but he can be explosive and has sneaky speed for a thumping linebacker. He's a 5.8 four star now and that's accurate.
If there's one area of improvement for Tuliaupupu, it's working on his foot speed because fast receivers can beat him in space, but when was the last time a linebacker had to run 40 yards down the field in coverage like seen in camp settings? Tuliaupupu is a truck who hits people – that's his game and that's why he's so highly rated. He'll be fine once the pads come on. USC, Ohio State and others are in the mix.
STOCK DOWN
Gainer won't take a massive tumble based on his performance. He's still an elite prospect with incredible upside. He did, however, struggle in coverage against top-flight running backs. Combine that with his struggle to gain weight and he may take a slight hit.
No. 103 in the nation and No. 5 at inside linebacker appears to be a bit high based on some physical limitations. He can move and cover, but after comparing him to some others at inside 'backer, we worry about his size.
McClain is a smaller linebacker and some schools have mentioned him playing some safety and being brought into the box on the next level. He can run and he is athletic, but he struggled in coverage more than expected. Linebackers do not excel in 7-on-7 play that often, so there were not great expectations in this setting, but we expected a little more.
Masina has good length and he's smooth in coverage, but the four-star linebacker is thin and needs to develop physically to compete for early playing time in college. During cat-and-mouse drills, Masina was solid and defended well against running backs and he's done well this offseason because he's long and agile. But he definitely needs to continue to develop physically to have an impact on the game and that was a concern coming out of the Five-Star Challenge.
Orji has got the look of a Rivals100 linebacker down, there's no questioning that. Running backs usually don't stand much of a chance when meeting him at the line of scrimmage, but he was shook a few times in open-field tackle drills. Orji was a little better against the pass in short-field 7-on-7 scenarios, but has his limits in one-on-one coverage.
The Rivals250 linebacker has a solid build and good athleticism, but we may have overshot just a little bit when it comes to his ranking. He made a few plays, but wasn't as active as we expected. He's still a solid four-star but his place inside the nation's top 175 prospects is probably too high. South Carolina, Florida, Auburn and Georgia are in the mix for Tindall.