Rivals100 Five-Star Challenge Stock Report: Offensive line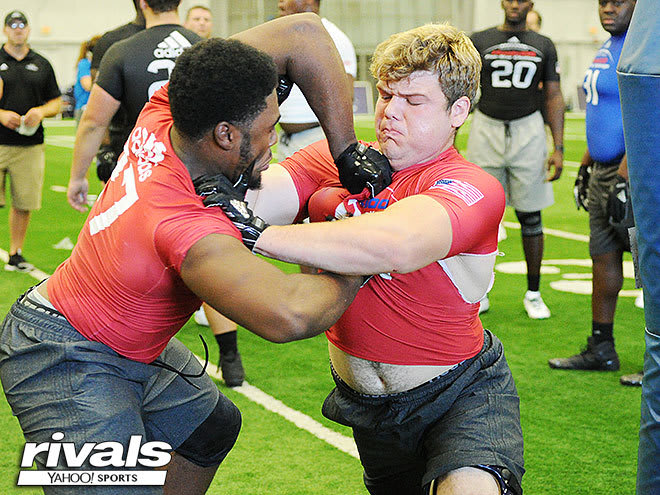 INDIANAPOLIS – More than 100 of the top players in the nation participated June 10 in the Rivals100 Five-Star Challenge presented by adidas at the Indianapolis Colts practice facility. The Rivals analyst team is breaking down the status of each player at the marquee event based on their performance against elite competition. Today, we review the offensive linemen.
RELATED: QBs | RBs | TEs | The Farrell Awards | Surprises | MVPs | Full coverage
RANKINGS: Class of 2018 OTs | OG | C | 2018 Rivals250
STOCK UP
The four-star interior offensive lineman has tremendous feet and is super powerful so he can dominate against bigger defensive tackles without a problem. He stands his ground and does not get pushed back in the pocket. The Five-Star Challenge was a big test for him because there were some outstanding defensive tackles there and he passed with flying colors. If he was just two or three inches taller, there's no doubt he'd have 50 offers. Washington, UCLA, USC and others are involved.
Hill had a pretty dominating performance over the weekend. He has re-shaped his body, he showed his balanced strength and at times he was simply tough to move. He is light on his feet, he loves to finish blocks and his name is going to come up in the five-star discussion before long.
The offensive line MVP, Scaife capped off a monster spring with a dominant performance against other elite competition. Already a four-star prospect. there's no denying he belongs in the Rivals250.

I liked Walker better than most at the event. At No. 7 at offensive tackle and in the Rivals100, there isn't a ton of room for him to move but he certainly passed PSU commitment Nana Asiedu and could push for top five at his position.
Webb wasn't able to finish in the afternoon, but he did enough in the morning session before the shoulder injury to help his stock. He is so strong, he plays with such violence and he stoned some of the top defensive linemen in the country. He is an interior guy on the next level, but he is one of the top prospects in the 2019 class.
He's a 5.9 four star for 2019 which is very good but I think he pushed himself to the top half of that group with his performance. As he continues to grow and get stronger, he could be special and his performance against older prospects was very good.
STOCK STEADY
Campbell was as hot-and-cold and any prospect at the event, which has become his calling card over the last year. He's never awful, but he's rarely truly great. You get the feeling he's due to break out sometime in the near future, though, even if he hasn't yet. There is so much to like about his upside, which he may well realize in the year ahead.
Jenkins has worked hard to get in better shape and it showed with better feet and agility in this setting. He has played a lot of tackle, but he is an interior guy on the next level. He could excel there once he settles in and learns the guard position.
Ndoma-Ogar had a rough morning session and afterwards, he was the first to say that nerves played a big part in that. In the afternoon, he figured things out and saw a lot of action on a short-handed offensive line for his team after Clay Webb had to bow out with an injury.
Quick was better early than he was late. He was elite at the St. Louis of the Rivals Camp Series, but he was much more up and down in Indianapolis. He is still one of the top offensive tackles in the 2019 class with his size, feet and work ethic.

The one thing Sewell definitely proved at the Five-Star Challenge is that even at his size, the four-star can play offensive tackle and do it well. He won't be forced to move to guard. Sewell swallows up any defensive end who tries to bull rush him and he showed off quick feet to handle edge rushers. For someone so massive, he should have a more solid power base at times but that will come with more seasoning against some of the nation's best. Alabama, USC and others remain involved.
The Class of 2019 LSU commit wasn't as dominant as he usually is in a camp setting, but he was squaring off against the nation's top defensive linemen. It took him a little while to find his footing but he improved as the event went along. Thomas has some work to do on his body but he justified his ranking with his showing.
STOCK DOWN
Armstrong is a big body on the offensive line who passes the eye test and he has good strength and power, but he needs to improve his footwork and his quickness. He could still get a look at right tackle, but a move to the inside could be in store. He struggled with his movement against the big and quick defensive linemen.
As a Rivals100 offensive tackle, that might be a bit too high for Asiedu, who is still very raw and was a step too slow for the most part against elite ends. Not only did he struggle with outside rushes at times but he also wasn't as physical as we've seen in the past.

Iyama came into the five-star off a very impressive performance at the Rivals Camp in St. Louis but he struggled a little bit with the step up in competition. Iyama has ideal size for an offensive lineman and is still developing with his best days ahead of him, but it's going to take some hard work to get him to the point where he can dominate on a regular basis. The South Carolina commit probably still belongs in the Rivals250 but nearly cracking the top 200 is probably a little too high.

Jones is another prospect who plays offensive tackle who is headed for an interior position on the next level. He has to show better quickness, the ability to reset and improve his hand placement. He has great strength and his body is solid.