Rivals100 Five-Star Challenge Stock Report: Defensive backs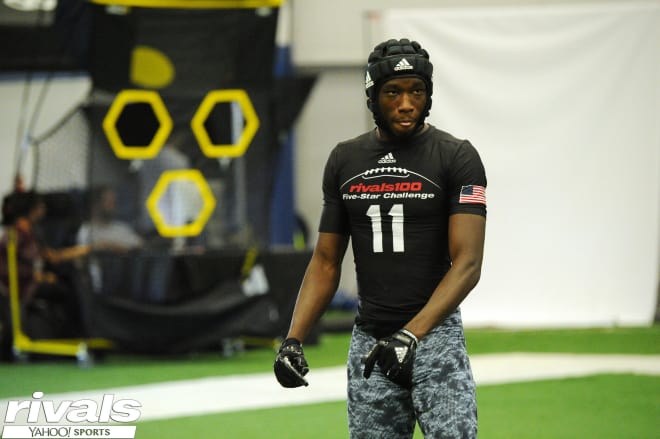 INDIANAPOLIS – More than 100 of the top players in the nation participated June 10 in the Rivals100 Five-Star Challenge presented by adidas at the Indianapolis Colts practice facility. The Rivals analyst team is breaking down the status of each player at the marquee event based on his performance against elite competition. Today, we look at the defensive backs.
RELATED: QBs | RBs | TEs | OL | WRs | The Farrell Awards | MVPs | Full coverage
STOCK UP
Green has been a highly ranked defensive back now for sometime, but he likely pushed himself inside of the Rivals100 coming out of the weekend. When Green catches on to the route being run, he is one of the stickiest defenders in this class.
Jamison almost certainly played his way back into the Rivals250, and may have been one of the most clear-cut examples of a guy that took the opportunity at the camp to raise his profile. He was one of the best in all phases of the camp: Open-field tackling, skill one-on-ones and 7-on-7, where he pulled down a number of interceptions.
Morton accepted a late invitation to replace an injured player and responded by not only fitting in, but excelling, against the elite talent in Indianapolis. The new Iowa State commit is only 5-foot-8, but he has high levels of the attributes more important for the positon, namely speed, fluidity and awareness.
O'Neal should enjoy a positive return based on his camp performance, even if it's more subtle. He does well when he can keep the play in front of him, or in close-quarters while in coverage. When he's patient, he's also able to close down on a runner very decisively.
Smith continues to perform at a high level on the big stage. He was one of the top cover guys in Indianapolis and he will see in a bump in his ranking. Smith broke up numerous passes, he stuck with the big and the fast wideouts, and he hardly had any passes caught on him.
There is some discussion whether Steele is a cornerback or safety, but the 2019 four-star proved it didn't matter – he can make an impact all over the secondary. The UCLA commit thrived at corner, locking up receivers on deep routes during one-on-ones and shutting them down during 7-on-7 play. He's long, athletic and breaks well on the ball. Alabama, LSU, Stanford, Michigan and others are giving chase.
Taylor-Stuart has all the makings of a first-round NFL Draft pick with his outstanding size, length, athleticism and speed. He won the Fastest on the Field competition to make a statement early in the day and continued to do well during one-on-ones and 7-on-7. Taylor-Stuart's length is great, so he can close on the ball, he stays in the hip pocket of receivers and he's physical when needed. USC, Ohio State, LSU and others remain involved.
There are not many cornerbacks with the outstanding instincts of Williams who have the confidence to break on the ball and make it a nightmare for receivers on the outside. The 2019 four-star is surprisingly physical, he is aggressive and challenges receivers time and again. If he was just a few inches taller, Williams would be something else but he's still very talented and special. USC, LSU, Nebraska and others are in the mix early on.
STOCK STEADY
Allen was solid in the camp setting and he was strong in the drills, but when it came to 7-on-7 play, he struggled some in coverage. He is a big safety with good instincts and the ability to come down hill, so he has a lot to offer.
Blades was in the discussion for MVP honors and dominated the camp's morning session. There were lapses, but the four-star corner continues to get better and better. Blades' technique is starting to catch up with his impressive length and athleticism and he's growing into a truly elite prospect. That said, the highly ranked Blades has little room to move up without adding a fifth star, which he is still battling to do.
Charleston was part of the winning 7-on-7 team and he had a big interception early in the tournament. He is an athletic safety with great range and his ball skills are plus. He was solid in the drills and he showed why he is an early four-star safety in the 2019 class.
Cook was particularly decisive in the open-field tackle drills and predictably good throughout the day. It's possible for a receiver to beat Cook if he gets behind him, but even then he can still find his way back to position to make a play.
Dean was solid in the camp setting, then he was tested a little at corner early in 7-on-7 play before settling at safety for most of the tournament. He is going to be a long, rangy safety on the next level and he covered a lot of ground at that position. He is an instinctive kid who loves to play physical.
Gervin did not work out in Indy and therefore was not evaluated.

You'd be hard-pressed to find a more motivated player to do well at the camp, and McKinley did, but there are some things that continue to hinder him a bit. His size is no longer the concern that it once was, but his recovery speed when turning and chasing a receiver vertically needs to improve for his ranking to do the same.
The 2019 four-star acquitted himself well at the event as he continues to show improvement this offseason. The Tennessee commit has great size for a cornerback and the more he realizes he belongs alongside the nation's best, the more confidence he will have and his game will benefit from it.
Proctor's game is not one that is going to get a lot of headlines in a camp setting because he is more about consistency and reliability than he is about the big play. The Ohio State commit has all the physical tools to be successful at the safety position and he is a very smart and disciplined secondary player.
Ranked as one of the top prospects in the class of 2019 already, there isn't much room for Stingley to move up even after a solid showing at the event. Stingley is a versatile defensive back who can play cornerback or safety and his development will be fun to watch over the next 18 moths. LSU, Stanford, Texas and several others are involved with Stingley.
There is an ongoing debate whether Woodbey will be a cornerback or safety in college or whether he'll develop into an outside linebacker. The Ohio State commit proved he can play either position in the secondary. He was excellent in coverage during one-on-ones and then in 7-on-7 he moved to safety, had an interception and closed off his side of the field.
STOCK DOWN
Will the massive Sherwood outgrow his current position of safety? That's the question here and it's starting to look like maybe. He didn't have an awful weekend by any stretch, but there are certainly questions about where he fits on the field going forward.