Mike Farrell's NFL Mock Draft 4.0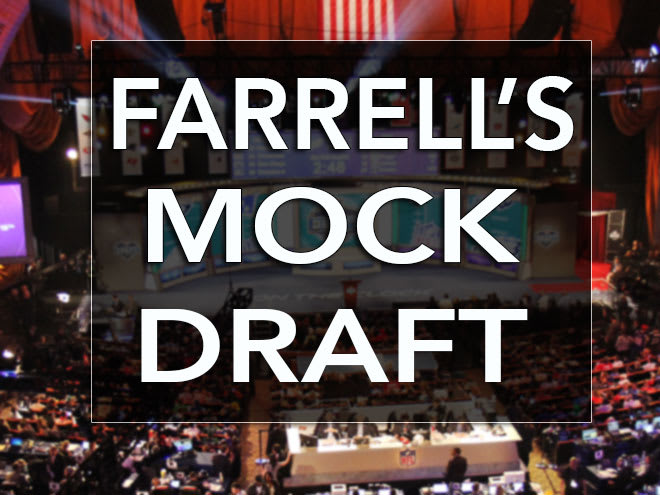 With the NFL Draft first round set for tonight, we take a look at the last Mock Draft from Rivals.com National Recruiting Director Mike Farrell. Here is version 4.0.
Note: This mock draft does not project trades but I fully expect someone to trade up to land one of the two elite quarterbacks, Mitch Trubisky or DeShaun Watson, in the top 10.
RELATED: Schools with most first-rounders | Power programs who have not produced high picks
POSITIONAL SNAPSHOTS: QB | RB | WR | TE | OL | DT | DE | LB | CB | S

1. CLEVELAND BROWNS
There was some talk about an internal dispute between Garrett and Mitch Trubisky here, but the Browns shouldn't pass on the Aggies star. Garrett is a freak of nature and will be expected to fill one of many holes on the roster.
2. SAN FRANCISCO 49ERS
No one has moved up more than Thomas, who has shown the ability to play inside or outside and is scheme versatile at the NFL level. The 49ers are flirting with a quarterback according to rumors, but not sure they will pull the trigger. They are a good trade candidate though.
3. CHICAGO BEARS
This pick doesn't change for me from my second mock draft. After the Bears signed Mike Glennon, the apparent need for a quarterback is gone (although I don't know why), so they add a lockdown corner. But watch for teams trading up in this range who feel they need a quarterback.
4. JACKSONVILLE JAGUARS
I'm changing from Jamal Adams to another LSU star in Fournette. I think with the success Ezekiel Elliott had last year being taken so high that the Jags will hope history repeats it's with the No. 4 pick.
5. TENNESSEE TITANS
The Titans need help at wide receiver, defensive end and defensive back and they use their first pick to give Marcus Mariota a weapon he badly needs.
6. NEW YORK JETS
I know this is a surprise to many and it could be Trubisky, but the Jets have zero solution at quarterback and have a chance to take one of the two elite ones, so I'll take a shot in the dark here.
7. LOS ANGELES CHARGERS
Adams was supposed to be gone by pick four, so the Chargers will be happy to jump on this pick. But again, watch out for trades into this spot for a quarterback, especially if one of the big two are gone.
8. CAROLINA PANTHERS
McCaffrey seems to be the player the Panthers covet, although he's a reach this high. However, he would be a fit in the shotgun offense and give Cam Newton a versatile weapon.
9. CINCINNATI BENGALS
I had Reuben Foster here for a few of my previous mocks, but Allen will be too tempting to pass up and help provide some push to the defensive pass rush.
10. BUFFALO BILLS
Again, someone could trade up and take Trubisky or he could be snagged by the 49ers or Jets, but if none of that happens, the Bills will be happy to take him.
11. NEW ORLEANS SAINTS
A Roll Tide roll here as the best pure inside linebacker in the draft can't slide much further despite some character concerns. The Saints need help all over the defense and getting an anchor in the middle is key.
12. CLEVELAND BROWNS
If the Browns don't trade back up to land a quarterback, they can further help the defense with the athletic safety from Ohio State.
13. ARIZONA CARDINALS
The Cards want a quarterback and could be one of the teams trading up or they could stand pat (no pun intended) and take Mahomes, who has the best arm in the draft.
14. PHILADELPHIA EAGLES
The Eagles wanted Ohio State corner Gareon Conley, but despite Conley's strong denial of the allegations against him, the risk for the Eagles is too great here. This is a safe pick that fills a position of need.

15. INDIANAPOLIS COLTS
Barnett didn't help himself much at the combine, but his on-field production is off the charts and the need at end takes priority over some tempting offensive options, especially at offensive tackle.
16. BALTIMORE RAVENS
The Ravens wanted to go edge rusher but can't resist the options left on offense with so many pass-catching weapons available. Davis is great value here.
17. WASHINGTON REDSKINS - LB Haason Reddick, Temple
The Redskins need an athletic guy who can play all over the field at linebacker and Reddick has shown he can be that guy. He can also blitz off the edge.
18. TENNESSEE TITANS
The Titans could go defense with pick No. 5 and wide receiver here, but with my projection of Williams at No. 5, they need a lock down cornerback and White is a good value.
19. TAMPA BAY BUCS
I'm not sure the Bucs are sold on Cook this high, but this is such a natural fit at a position of need, they pull the trigger.
20. DENVER BRONCOS
The offensive line needs help and Robinson is good value down here. There is such a dropoff after the top two tackles that Denver is happy he is available.
21. DETROIT LIONS
Defense is needed as is help at running back, but how do you pass up Howard if he slips this far?
22. MIAMI DOLPHINS
I like Garrett Bolles at tackle, but apparently Miami loves Lamp. They could go tight end as well here or linebacker, but I'll say Lamp is the pick.
23. NEW YORK GIANTS
The Giants were hoping Reddick would fall to them here and will be tempted with Bolles available, but they add another offensive weapon who could be a couple years away from greatness.
24. OAKLAND RAIDERS
The Raiders want an athletic linebacker who can drop in coverage and Davis is a perfect fit. Keep an eye out on Joe Mixon here too if the Raiders have the guts to take the PR hit.
25. HOUSTON TEXANS
Texans need a QB, and they aren't sold on DeShone Kizer, so they take the Cal signal caller who started his career at Texas Tech. A bit of a reach, but teams tend to do that when picking QBs.

26. SEATTLE SEAHAWKS
The offensive line needs help, but King is all the rage these days, especially with teammate Sidney Jones' injury. Pete Carroll will stand on the table to land him.
27. KANSAS CITY CHIEFS
Chiefs need a QB, but will wait until later in the draft. Wilson, when paired with Pro Bowlers Marcus Peters and Eric Berry, gives the Chiefs one scary secondary.

28. DALLAS COWBOYS
An edge rusher is a must and Harris also showed off his ability to cover a ton of room in space. I had Taco Charlton here in my first mock, but now Harris is more coveted.
29. GREEN BAY PACKERS
Dallas could jump on Watt at No. 28, but if it doesn't, I can see the Packers adding defensive value here. Mixon would be tempting to fix that running game.
30. PITTSBURGH STEELERS
31. ATLANTA FALCONS
Too much value to pass on here for the Falcons as few expected Bolles to be available this late.
32. NEW ORLEANS SAINTS
Could the guy who broke the 40-yard dash record fall to the last pick of round one? Maybe it's doubtful, but if he does, the Saints can replace Brandin Cooks with a similar player.