All-American Bowl: Position-by-position MVPs
SAN ANTONIO – After a week of intense competition, joint practices and installation, some of the nation's best players and the next wave of college football standouts took the field in the Alamodome on Saturday.
Rivals national recruiting analyst Sam Spiegelman was on hand for all the action during the week and for game-day at the All-American Bowl – a 34-14 victory for the West. Here are his positional MVP awards from Saturday's game.
*****
QUARTERBACK
Cade Klubnik is a gamer. The Clemson signee drew the start for the West and continued his ongoing win streak as a high school starter. Klubnik showcased his mobility and ability to extend plays in the first quarter with a great throw to his right that led to the game's first points. Klubnik made big plays when he needed to the most, including deep balls to Kyion Graves (Ohio State) and perfect execution of a screen pass to Rayshon Luke (Arizona), which went for six.
Klubnik came up with a few more splash plays downfield with game awareness on an offsides penalty, which led to another long reception to CJ Williams (USC). Later in the series, he evaded a strong East pass rush by moving right and dropping it to a wide-open Landon Samson (South Carolina). Klubnik had three scores, was poised and wildly effective throughout Saturday's contest.
*****
RUNNING BACK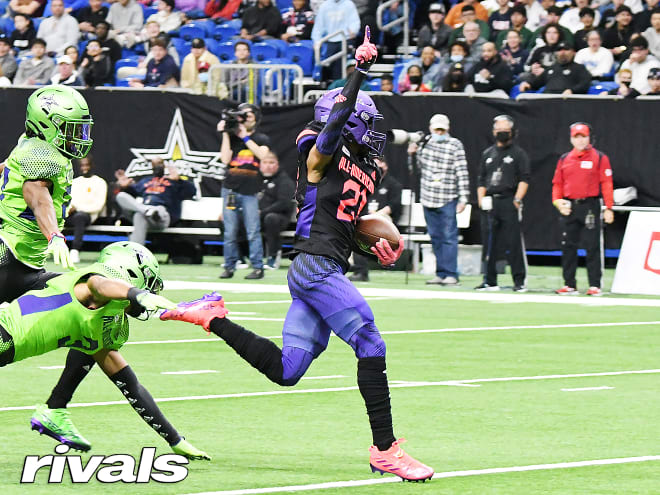 Rayshon Luke celebrated his commitment day in style – scoring on a pair of touchdowns while also revealing his pledge to Arizona in between. The shifty, electric all-purpose back was on the receiving end of the West's second scoring drive, taking a designed pass in the backfield to the house with the help of a great block in space from offensive tackle Hunter Erb (Texas A&M).
After announcing his Pac-12 destination, Luke took a handoff 46 yards in a cloud of dust for a second touchdown. He's a dynamic weapon for Jedd Fisch to plug in on offense and special teams.
*****
WIDE RECEIVER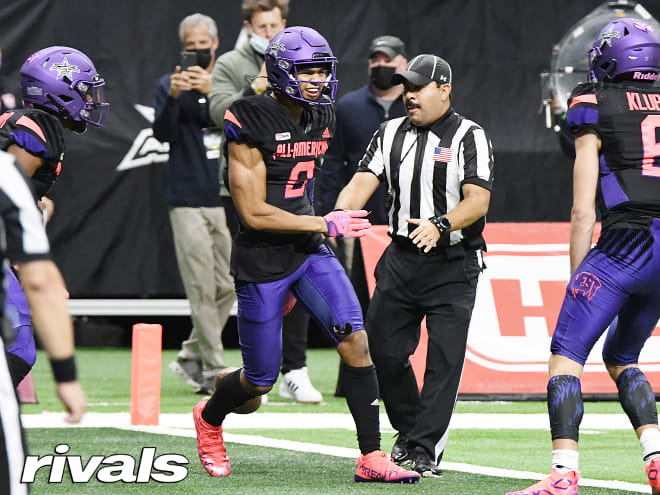 Like Luke, CJ Williams was not only the game's best receiver but also celebrated his All-American Bowl with his college reveal. The USC-bound pass-catcher came up with the game's top highlight early as he made a circus catch with one foot in-bounds in the back of the end zone.
Klubnik was looking in Williams' direction throughout the game. He also reeled in a jump-ball in the third quarter. Graves, Barion Brown (Kentucky) and Isaiah Bond (Alabama) came up with big plays, but Williams' big-play potential throughout the week showed up in a big way on game day.
*****
OFFENSIVE LINE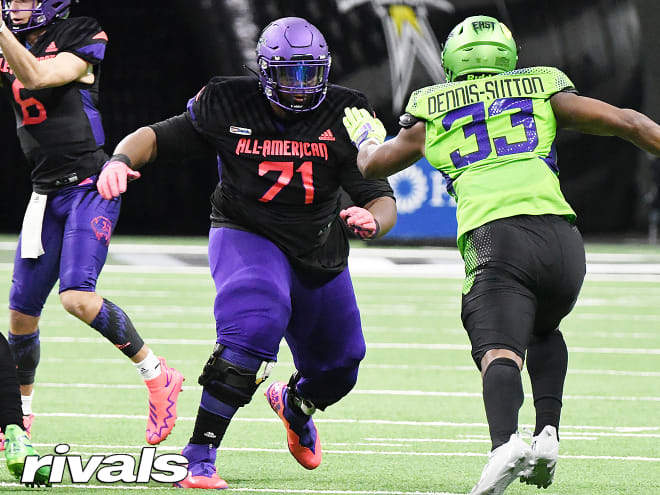 Rivals100 offensive guard Earnest Greene was one of several offensive linemen to show well in San Antonio, especially considering the enormous talent on both the East and West defensive fronts. Greene, who committed to Georgia over Alabama during the All-American Bowl, was beaten for a sack early in the contest before rebounding with stellar protection of Klubnik and Devin Brown (Ohio State) along with some hard-fought battles against elite linemen.
Greene is massive-sized and is powerful enough to move defenders off the ball. Most importantly, he's rock-solid in pass-pro and can create running lanes. He's the latest big piece up front for Georgia with upside inside and possibly even out at tackle.
*****
DEFENSIVE LINE
The All-American Bowl roster was highlighted by a surplus of elite defensive line talent. On Saturday, five-star Dani Dennis-Sutton was uncontainable flying off the edge for the East.
The Penn State signee recorded a sack in the second quarter and then delivered a devastating pop on quarterback Justyn Martin's release, which led to a Devin Moore interception. Dennis-Sutton generates a fantastic pass-rush off the edge and his blend of length and explosiveness is problematic for opposing offensive coordinators to game-plan against.
Nic Caraway (Purdue), Caden Curry (Ohio State), DJ Wesolak (Missouri), Mykel Williams (Georgia) and Marvin Jones (Georgia) were also in consideration for MVP.
*****
LINEBACKER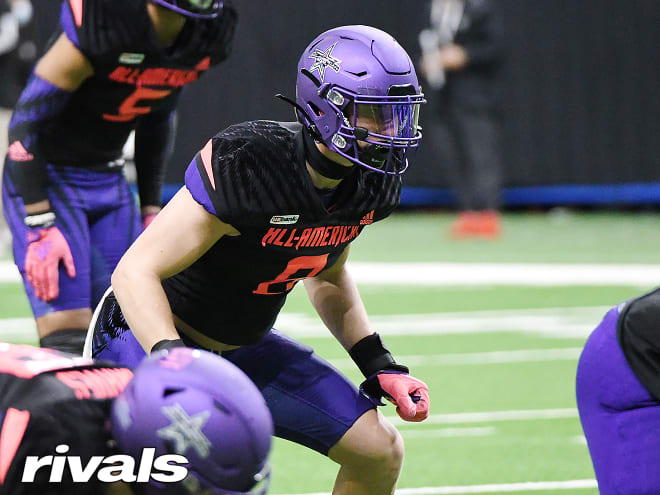 Utah signee Lander Barton was a playmaker in the second level, stuffing the run and roaming to make plays from sideline to sideline for the West. The four-star capitalized on a stout defensive line to stuff the run and deliver hits with pop.
He has excellent range for a linebacker and can run with some of the fastest running backs in the game. Barton is going to fit right in for defending Pac-12 champion Utah.
*****
DEFENSIVE BACK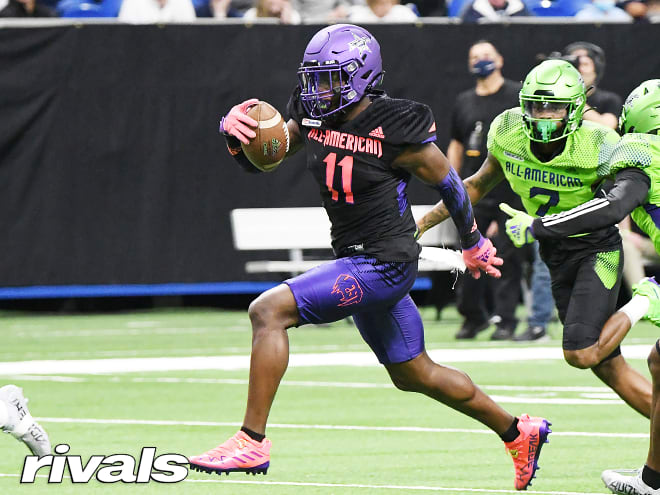 Texas native Kyron Chambers was a late add for the All-American Bowl, but by Saturday the TCU signee and recent state champion from Dallas South Oak Cliff had found his groove. Chambers collected a game-sealing interception in the fourth quarter of Saturday's All-American Bowl, which he returned back to the 11. Eventually, his pick translated to a Ethan Moczulski field goal, icing a 34-14 victory for the West.
Chambers has size and is a devout force against the run and had an opportunity to display his skills deep in coverage in this setting.