National Combine: Gorney's takeaways
SAN ANTONIO - The National Combine was held Friday in the Alamodome and there were a lot of top players and impressive performances during the event. Here are some takeaways from the event:
SMITH COULD BE SPECIAL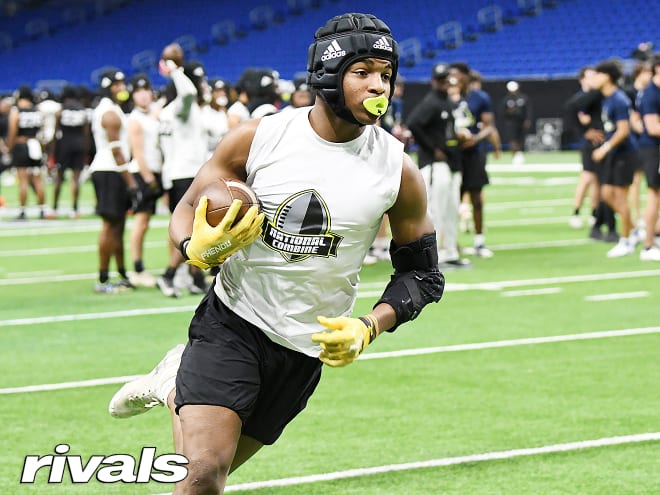 Isaac Smith will probably play safety in college and that's why Ole Miss, Mississippi State and others have made him a top priority but the camp was filled at defensive back so the Fulton (Miss.) Itawamba Agricultural standout switched over and played tight end during 1-on-1s. He was excellent. The 2023 four-star showed off excellent athleticism, hands and playmaking ability and reminded me of a young JaCoby Stevens. That comparison makes even more sense because Smith wants to hear more from LSU and is hoping to take a visit there soon.
*****  
TURNER TURNS UP
Liberty is the lone offer for Semaj Turner right now but that should change immediately. The 2023 defensive end from Pfafftown (N.C.) Ronald Reagan plays with reckless abandon off the edge, looks like he's shot from a cannon when the ball is snapped and because he's so aggressive and relentless it's hard for offensive tackles to really get him under control. Turner is physically impressive, he has a non-stop mentality and there's no question that schools across the state and the region could offer soon.
*****  
TWO QUARTERBACKS STAND OUT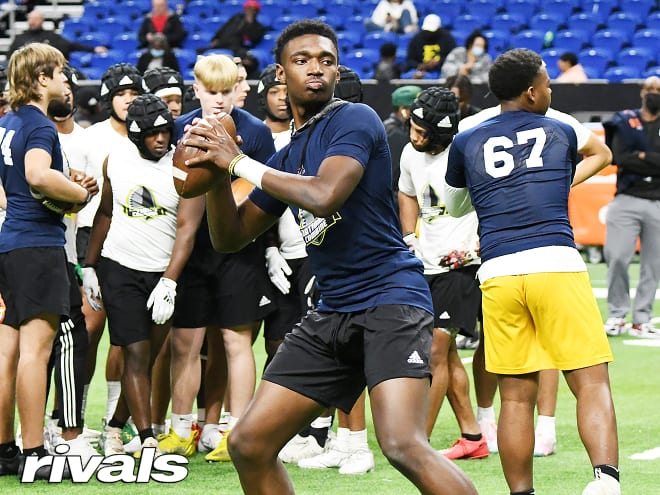 There were a lot of good quarterbacks at the National Combine and not all of them can be mentioned here but two who were especially impressive were Walker White and Cortney Davis. White is a 2024 prospect from Little Rock (Ark.) Little Rock Christian who is an Arkansas legacy but the Razorbacks haven't offered yet. Ole Miss and Virginia have caught his attention early on. He's physically built and spins it so well. Davis is a 6-foot-6 pocket passer who time and again put the ball on the money with some really tough throws.
*****  
DEFENSIVE ENDS IMPRESSED
Terrell James and Zachariah Keith were very similar players - in a good way. James is a 2023 defensive end from Lake Wales, Fla., and Keith is a 2023 three-star defensive end from Douglasville (Ga.) Douglas County who both played with intensity, toughness and a great burst off the ball that made offensive tackles stay on their heels all day. James was ferocious and Keith, who's committed to Georgia Tech, used his length and power to win lots of reps. The Yellow Jackets will have to put in work to keep Keith in the fold and James should see more offers soon since he has only Arkansas State now.
*****  
REICHERT IS A FORCE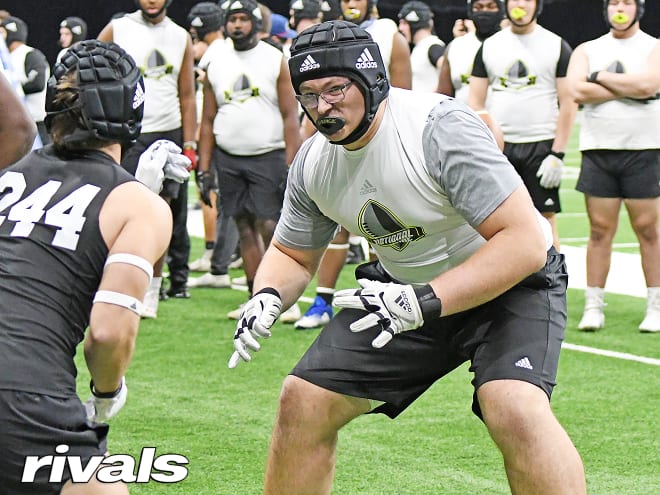 Logan Reichert is 6-foot-8 and 350 pounds. He's just so massive as an offensive tackle that the 2023 four-star from Raytown, Mo., just swallows up defensive linemen who really have no moves against him. If opponents try to go outside, Reichert can use surprising nimbleness to push them aside. Trying to bull rush or go inside is useless because the four-star takes up so much space that he can handle that as well. It doesn't matter that Reichert competes with glasses on because no one is big enough to get in his face and he's usually throwing people aside which is impressive to see time and again.
*****
STEWART HAS SUPERSTAR POTENTIAL
Sometimes we just see a prospect who has superstar potential written all over him and in this case it was 2026 defensive lineman Jahkeem Stewart. He's in 8th grade and already he's 6-foot-6 and 280 pounds. He didn't win every single rep during 1-on-1s but he won enough and he's an 8th grader going up against high school juniors. There's a rumor Stewart will be transferring to Bradenton (Fla.) IMG Academy soon and that will only provide him with greater competition to improve. Years down the road, Stewart could easily be one of the best players in his class.