All-American Bowl: Five prospects whose stock is rising
1. VINCENT ANTHONY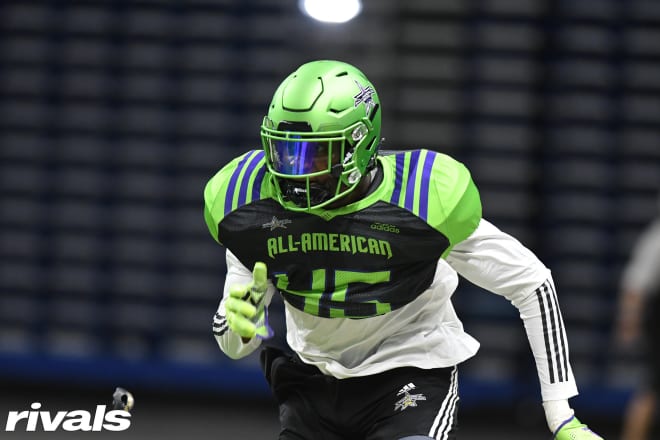 The East defensive line group features some of the most physically impressive prospects in this game, and Duke signee Vincent Anthony is one of those specimens. That was not exactly anticipated before the week. As a 5.5 three-star, Anthony is one of the lowest-rated prospects in this event, but his play has put him among the best. The 6-foot-5, 240-pounder is a long, athletic edge rusher who has shown a strong mental grasp of the position. Anthony's first step is explosive, and he uses his hands and leverage to overcome opposing linemen.
*****
2. TRUDELL BERRY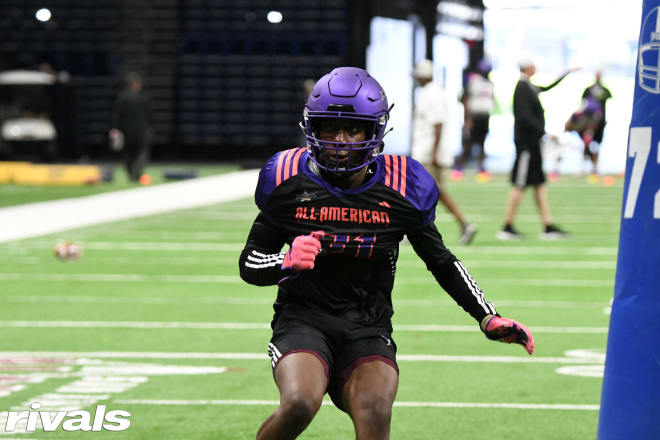 The only two-star non-specialist in this year's All-American Bowl, Vanderbilt defensive back signee Trudell Berry has not looked out of place at all during practices this week in San Antonio. A late addition to Vanderbilt's 2022 class after landing an offer from the Commodores in November, Berry was also a late addition to this All-American Bowl, getting a spot when others had to drop out. You would not fault Berry if he came to San Antonio a little hesitant, considering the late invite, but the Texan has shown plenty of confidence and the ability to cover some of the best receivers in this game stride-for-stride down the field.
*****
3. NIC CARAWAY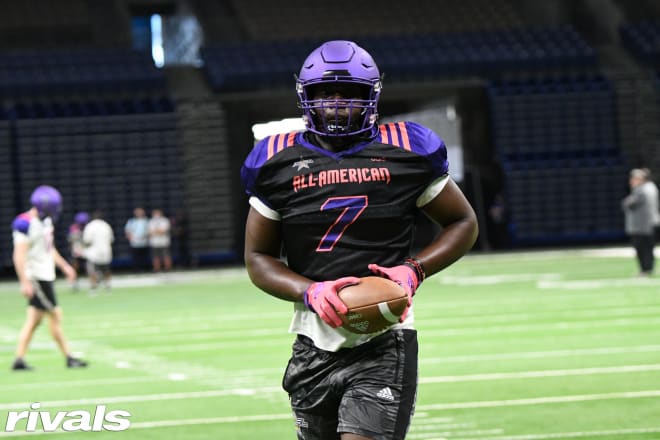 Purdue has successfully recruited the state of Texas since before the turn of the century, and it found another gem in this 2022 class with defensive athlete Nic Caraway. The Boilermakers were the only Power Five school to offer Caraway, who has shown this week in San Antonio he can play with the best. Listed as an outside linebacker prospect, Caraway has worked at both defensive end and defensive tackle this week, impressing at both positions. He gives up nothing from a strength standpoint on the inside, while showing the athleticism on the edge that has some believing he can play in space.
*****
4. AIDEN GOBAIRA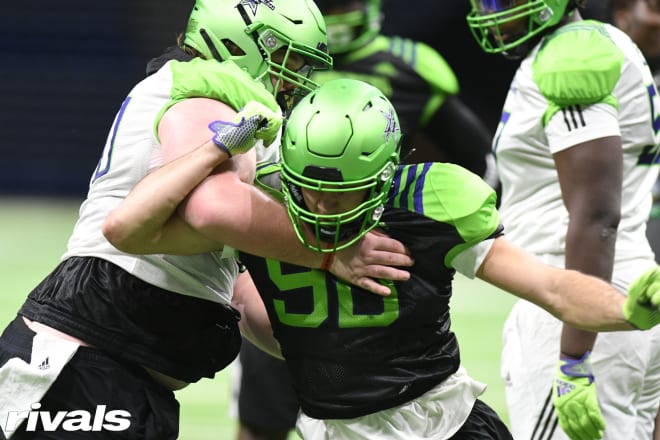 As a Rivals250 prospect, Aiden Gobaira was already highly rated coming into this week, but the future Notre Dame defensive end has made a push for his stock to go even higher. The East defensive line features three five-stars, and Gobaira has competed with them every step of the way. Possessing great length and athleticism off the edge, what has been most impressive about Gobaira this week is his motor. He may not quite have five-star potential, but the Virginian has an outstanding size/skill set combination and a relentless drive to wreak havoc on opposing offenses.
5. DEMARIO TOLAN 
With very little hitting in practice, linebackers do not get a chance to make much of an impact in these postseason All-American bowls until the actual game. LSU outside linebacker signee DeMario Tolan showing up and making people take notice in practice, then, is all that more impressive. Although unable to show much in the way of run support this week, Tolan has stood out in coverage by closing down passing lanes and getting his hands on several thrown footballs. He is a rangy linebacker who is comfortable in space, but his frame suggests he should not give anything away in stopping the run, either.