Four-star DB Davison Igbinosun commits to Ole Miss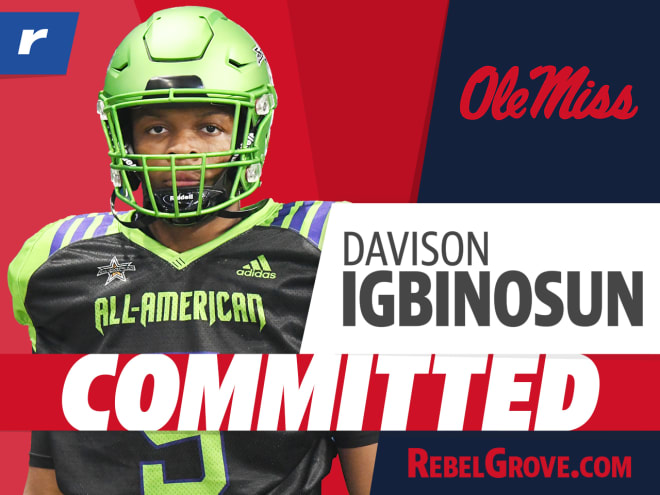 THE SITUATION
SAN ANTONIO -- Davison Igbinosun kicked off All-American Bowl practice with an interception early in the week and also ended the week on a high note.
The four-star cornerback from New Jersey committed to Ole Miss. The Rebels inked two defensive backs during the Early Signing Period. Igbinosun is the second four-star in the haul along with Tennessee safety Taylor Groves.
"Coach (Chris) Partridge and Coach (Marquise) Watson also like my versatility," Igbinosun previously told Rivals of the Rebels' push. "Coach Partridge said that he wants to move me around a lot; he wants me to play safety, the nickel corner, boundary corner and field corner."
Igbinosun, out of Union (N.J.) High School, is the nation's No. 27-rated safety and the No. 2 player in New Jersey.
RIVALS REACTION
Ole Miss emerged as a contender for the four-star from New Jersey soon after Igbinosun backed off his Rutgers pledge. The lengthy cornerback (6-foot-3, 185 pounds) brings length and a ton of raw ability to the Rebels' secondary and a talented defender to trot out against bigger SEC receivers.
During his senior season at Union High School, Igbinosun displayed excellent range and ball-hawking tendencies on top of the ability to return interceptions afterward. Igbinosun was dynamic on offensive snaps as well with massive playmaking ability.