Three-Point Stance: NFL Draft, skill positions, Luke Fickell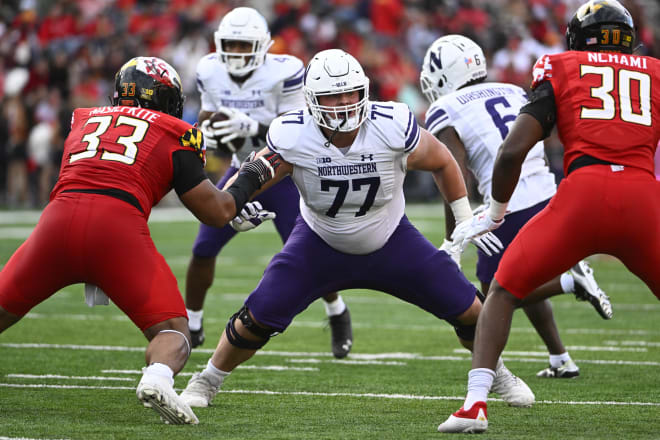 Rivals national recruiting analyst Clint Cosgrove has thoughts on underrated NFL Draft prospects from the Midwest, rising skill position prospects and Luke Fickell's rise to the head coaching position at Wisconsin.
UNDERRATED MIDWEST LINEMEN IN THE NFL DRAFT
This may be a stretch as Skoronski has been a special player since I first saw him as a freshman in high school and he was also a Rivals250 recruit. While I knew he was incredibly talented and tough to boot, he was undersized at the time, leaving questions to how high his ceiling would be.
While Skoronski continued to grow and dominate throughout the years, he is still what many would consider undersized when it comes to a left tackle. But he is so skilled that it doesn't matter and is pretty much guaranteed to go in the first-round.
Skoronski has more than lived up to his four-star rating by starting at tackle since his freshman year at Northwestern and capped off his career by leading the nation in pass blocking grade according to PFF.
I will never forget the first time I saw Van Ness at a random winter training session following his junior year. The rising senior had a great frame but was still growing into his body and when I sent him out to the schools that I scouted for at the time, many questioned whether he was fluid and athletic enough to play at the Power Five level and just as many believed he would be an FCS or Group of Five player.
As he continued to grow into his frame, he also continued to get bigger, faster, stronger and more coordinated. His recruitment slowly built up, starting with a couple of FCS and MAC offers prior to getting Power Five interest and ultimately signing with Iowa.
I always believed in Van Ness, but as much faith as I had in his ability, I never predicted him to be a first-round draft pick after only three years at the college level. Needless to say he has outplayed his 5.6 three-star rating and will likely be coming off the board on the first day of the draft.
Like Skoronski, Schmitz was undersized in high school, but unlike Skoronski he wasn't an elite technician with future NFL tools. Watching his development at Minnesota has been incredible and his leveling up is a huge testament to Minnesota offensive line coach Brian Callahan with help from the Gophers' strength program. The 6-foot-4, 280-pound offensive guard prospect finished his high school career with two Power Five offers, a 5.5 three-star rating and did not make the national, position or state rankings.
Schmitz always had upside, but few if any could have predicted this meteoric rise. He is rated as the No. 1 center prospect by PFF, led all centers with his PFF grade and has an outside shot of going in the first-round at a position that is rarely drafted on the first day.
*****  
SKILL POSITION RISING IN THE MIDWEST
The Midwest has always been known for linemen and linebackers, but the region appears to be in the midst of a skill player revolution and it was never more evident than this past weekend's Pylon 7-on-7 tournament in Chicago. The wide receiver group as a whole is better than I have seen in a long time and it was rare to see so many talented players at the position in a tournament that was absent of teams from the South and West Coast. While the defensive back and quarterback talent was not at the same level as the elite receiver group, there were a number of players, both with and without offers, who proved capable of developing into Power Five players.
Class of 2025 receiver Talyn Taylor could be as talented as any Midwest receiver I have seen at this stage in their career and he has future five-star written all over him. The group of 2024 receivers has both elite level talent and depth. As highly rated as Jeremiah McClellan is, he is probably better than his ranking suggests and proved to be unstoppable over the weekend.
I'Marion Stewart is always open and is faster than many assume. Kyan Berry-Johnson tracks the ball as well as any receiver in the nation and his ball-skills are second to none. Then you have newly minted three-star Chris Durr who is a little undersized, but dynamic with the ball in space and his level of skill will eventually make him too hard to pass up for the bigger schools. There were also a number of names that are relatively unknown today but have major college potential such as Chicago (Ill.) Mount Carmel's Darrion Gilliam, who has a chance to be special along with 2025 Chicago (Ill.) Morgan Park's Jahmare Washington, who has star potential. The list could go on from QB to DB to a number of other receivers and the evolving Midwest skill has been fun to watch.
The numbers back up the evaluations as well. The 2023 recruiting cycle had 39 Rivals250 players with 24 of those 39 playing non-skill positions and 12 playing offensive line. The remaining 15 (38 percent) skill players only featured two receivers which is a far cry from the 2024 class and what we are likely to see in the 2025 class. There are currently 35 Rivals250 Midwesterners in the 2024 class and 18 of them play skill-positions with six receivers leading the way.
*****  
FROM PLAYING IN THE BIG TEN TO LEADING A BIG TEN PROGRAM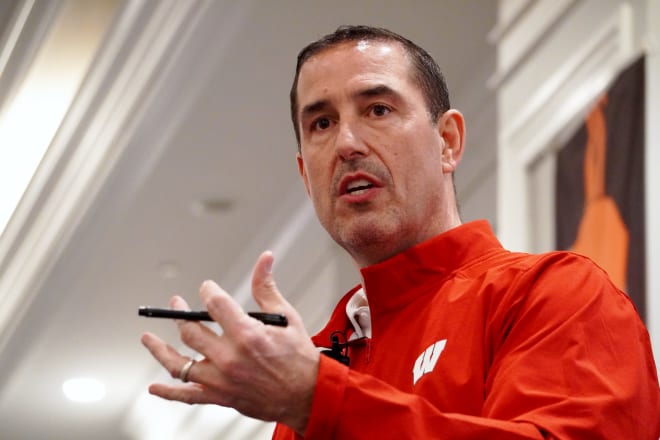 Luke Fickell became the fifth former Big Ten player to take over as the head coach of a Big Ten program upon his hiring at Wisconsin. There are plenty of former Big Ten players who go on to become head coaches, and I believe it is a testament to the pride and style of football that these former players have in a conference that typically plays second fiddle to the SEC.
The ironic part of it all is that only two of the five lead the program they played for in Pat Fitzgerald at Northwestern and Jim Harbaugh at Michigan. Michigan State head coach Mel Tucker played at Wisconsin, Fickell played at Ohio State and Bret Bielema played at Iowa. The schools may be different for most of these coaches but the pride for their conference remains strong and I see this as another example of the Big Ten's love of tradition and style of play.