Rivals Rankings Week: Who should earn a fifth star in latest 2022 refresh?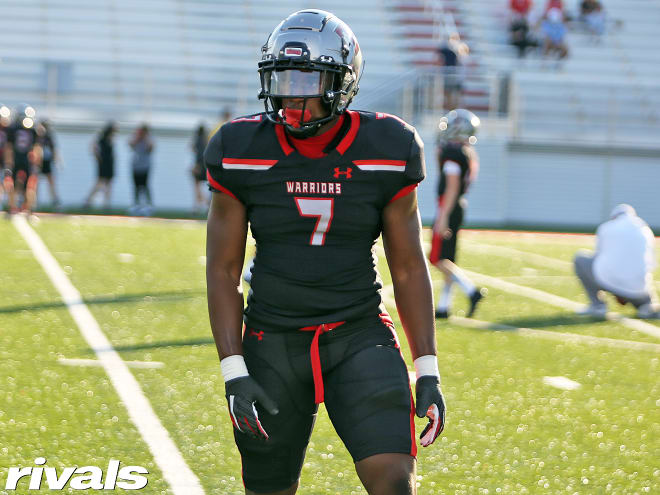 The postseason update to the 2022 rankings will be unveiled this week. Needless to say, this is a huge update with a lot of big moves up, moves down, and a handful of new five-stars. National Recruiting Director Adam Gorney and the Rivals analyst team heavily debated which prospects should be awarded their fifth star. Each of them weighed in on the top candidates here.
Adam Gorney: DE Jeremiah Alexander
Why he should be a five-star: Alexander has such special ability not only as a defensive end coming off the edge but someone who can play in space, who's involved in nearly every tackle on defense and he's a physical force that looks like a seasoned college football player playing on the high school level. Alabama develops guys like Will Anderson and others to be game-wreckers on defense and Alexander could be next in line.
Why he shouldn't: There is almost no reason to not make Alexander a five-star and the only argument is that it wasn't done soon enough. If there is one thing to watch it would be how Alexander performs against national competition at the all-star games but that's it.
Recruitment overview: Alexander made an early commitment to Alabama but backed off that pledge to take other visits. His recruitment came down to the Crimson Tide and Clemson and in July, Alexander recommitted to the in-state power.
*****
Sam Spiegelman: LB Harold Perkins
Why he should be a five-star: Perkins quickly surfaced as a two-sport athlete and emerged as an intriguing football recruit, and just a few games into his senior season had quickly assured himself as one of the most dominant players in all of Texas. Playing a variety of roles for Cypress (Texas) Cy Park this season, Perkins piled up 1,300-plus yards and 21 touchdowns on 78 carries. He added 325 yards receiving via 14 receptions and three more touchdowns. Defensively, he still accounted for 35 tackles, 3 TFL, two sacks, a fumble forced and recovered, and also three interceptions, including a pick-six. Perkins finds ways to impact games in multiple facets, which is why is so coveted.
Why he shouldn't yet: Perkins is a bit of a tweener — the skill-set of a safety to cover 1-on-1 or over the top; the range of linebacker and the explosiveness off the line of a speedy edge-defender. Those prospects, historically, have been hit or miss coming out of the Lone Star State, but Perkins is so uniquely gifted I feel strongly he'll buck the trend. In today's football, he provides a coordinator ultimate flexibility and consistently impacts games whenever he's on the field
Recruitment overview: Texas, Texas A&M and LSU are all in the mix for Perkins' commitment, which is set to be revealed Jan. 2 at the Under Armour All-America Game. Texas A&M has long been the favorite for the five-star linebacker, but Texas certainly established itself as a contender throughout the fall and LSU is a team many close to Perkins suggest are surging at the right time. After all, Perkins has family all over Louisiana.
*****
Clint Cosgrove: Kiyaunta Goodwin
Why he should be a five-star: Goodwin is one of the most coveted prospects in the nation for good reason. There are few, if any, high school prospects that already have NFL lineman size with a skill-set to match. Goodwin has great length, is dominant physically, and has a superior level of twitch that you rarely see from players with his size. When Goodwin is playing his best, he is as impressive as any offensive line prospect in the nation. There are few offensive tackles in any class that check all of the boxes of a prototype at his position, and Goodwin brings it all to the table.
Why he shouldn't yet: With any prospect at Goodwin's size, there are always worries that they will get too big which leads to a decrease in mobility and conditioning. There were times early in Goodwin's career where we saw glimpses of that, but he has put in the work to stop that from happening. When managing an incredible frame like that of Goodwin's you cannot take many days off, because there is a point where great size can have diminishing returns. Due to his physical superiority, Goodwin can dominate at the high school level no matter what, but when you get to college and the biggest defensive ends are also some of the best athletes, it is a whole different ball-game.
Recruitment overview: With over 50 offers Goodwin has his choice of pretty much any college program in the country. He is currently committed to Kentucky, but his recruitment could play out until signing day as he has continued to take visits and evaluate his options.
*****
Adam Friedman: Andre Greene Jr.
Why he should be a five-star: There are a select few prospects that have displayed the ability to make highlight reel catches on a consistent basis. Greene has the ball skills, speed, and size to be ranked as one of the top receivers in this class. He was unstoppable this season, even when there were two or three defenders guarding him. Greene proved doubters wrong week in and week out. He has the ability to easily win one-on-one matchups while showing the route running skills and physicality to beat double-teams and press coverage.
Why he shouldn't yet: Greene accomplished a lot this season and put himself in position to possibly get his fifth star but everything he did this season was against defenders that were largely not Power Five prospects. In fact, Greene hasn't seen legitimate scholarship athletes try to cover him for the majority of this past season. His performance at the Under Armour All-American Game will be the true barometer of whether he should be a five-star.
Recruitment overview: Greene is committed to North Carolina. He picked the Tar Heels over Clemson and Georgia and plans on signing during the Early Signing Period.
*****
Ryan Wright: Marvin Jones Jr.
Why he should be a five-star: The ideal sized weakside defensive end, Jones has it all at his position. Size, speed, athleticism and strength. The extra added pieces to his game, technique and determination make him elite. When the game film comes on, Jones isn't showing out against lesser talent. American Heritage stacks the schedule taking on anyone and everyone.
Why he shouldn't yet: Can Jones be faster or stronger, yes, and that will come once in a collegiate weight room day after day. If there are any doubters, watching him practice and compete at the All-American Bowl will quell any debates.
Recruitment overview: On Nov. 10, Jones shared that he was seriously considering Alabama, Georgia, Florida State and Oklahoma. Four days later, he added Texas A&M to that mix. His father was an All-American linebacker with the Seminoles keeping legacy hopes alive for the fanbase. Word is, Alabama really wants him. Georgia is building a monster recruiting class.