Rivals Rankings Week: New 2023 ATH rankings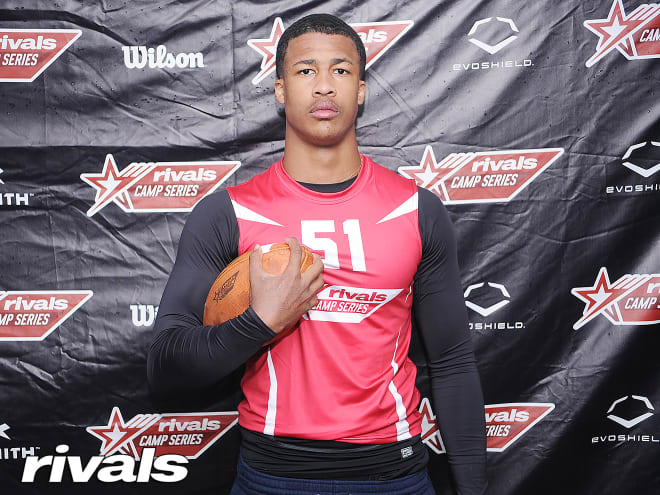 PROGRAM WITH THE TOP COMMIT: Ohio State
Alex Styles is not only the highest-ranked athlete, his commitment to Ohio State makes him the only committed 2023 athlete in the Rivals250. The junior out of of Pickerington Central (Ohio) gave his pledge to the home state team in mid-November.
He is an explosive athlete that could play multiple positions for the Buckeyes, but will most likely start out in the secondary. With the frame to grow into a linebacker, and the coverage ability of a corner, there is little question as to why he retained his top ranking at the athlete position.
Styles has all of the tools to become an NFL player and should see early playing time at Ohio State.
*****
PROSPECT ON THE RISE: Nyckoles Harbor
Nyckoles Harbor is the fifth-biggest riser in the new Rivals250 after jumping 85 spots. The jump makes him the third-ranked athlete and No. 36 prospect overall in the nation. The junior out of Archbishop Carroll (D.C.) has a freakish combination of size and speed, and it is hard to find many prospects in recent memory that can move the way he does at his size.
At 220 pounds, Harbor could literally play anything from defensive back to defensive line, but will likely end up as an edge rusher at the college level. He is a prospect that could continue to make big moves in future rankings.
Harbor has more than 30 offers, including Georgia, LSU, Michigan, Notre Dame and Ohio State. His recruitment appears to be up for grabs right now, but he will have his choice of any program in the end.
*****
PROSPECT TO WATCH: Mikal Harrison-Pilot
Mikal Harrison-Pilot was another major mover in the newest rankings. He is now the fifth-ranked athlete prospect in the 2023 class after jumping 45 spots in the Rivals250, which makes him the nation's No. 82 prospect overall.
Harrison-Pilot has the skillset and size to play a number of positions at the next level, but you can't help but like what you see from him when he has the ball in his hands. The 6-foot-1, 185-pound junior out of Temple (Texas) is the type of prospect that multiple position coaches on the same staff will argue for when deciding what position he will play at the college level.
With 37 offers from programs such as Michigan, Ole Miss, Notre Dame and USC, it is likely that you will see him starring at a high-profile program in a couple of years.