Rivals Rankings Week: New 2023 WR/TE rankings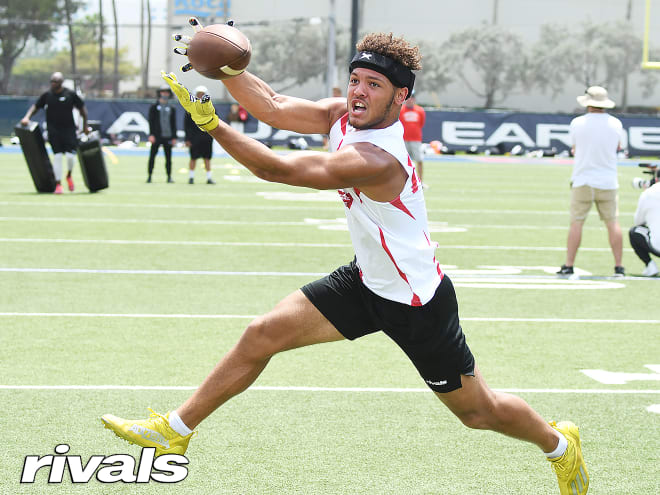 PROGRAMS WITH TOP WR/TE COMMITS: LSU, GEORGIA
Four-star Omarion Miller is the highest-ranked receiver off the board, and he is currently committed to LSU. Miller, who committed in August, was the Tigers' first commitment in the 2023 class. The Louisiana product declared via Twitter that he was "1000 percent committed" to LSU when he announced his choice. He has remained on board through a tumultuous season for the Tigers, who hired Brian Kelly away from Notre Dame this week. Miller has indicated that he thought Kelly was a good hire and that his commitment is not wavering.
Pearce Spurlin, who made the jump from No. 4 to No. 2 in the updated rankings, is the highest-ranked TE off the board. The 6-foot-6, 229-pound product out of Santa Rosa Beach (Fla.) committed to Georgia early in his recruitment and remains solid with the nation's top-ranked team.
*****
PROSPECT ON THE RISE: Carnell Tate
Carnell Tate is one of the biggest movers in the new Rivals250 after he jumped a whopping 53 spots. The jump makes him the No. 3-ranked receiver and No. 15 player overall in the nation. The long and rangy receiver from Chicago who transferred to IMG Academy in Florida gets better every time that you see him, and he shows flashes of greatness.
Tate has over 32 offers, including some early favorites of Ohio State, Notre Dame, Michigan and new contender Tennessee. It was believed that Tate was close to giving Notre Dame his pledge at one point, but the recent move of Brian Kelly to LSU could change a lot for him.
*****
PLAYER TO WATCH: Zachariah Branch
Like Tate, Zachariah Branch made big moves in the newest rankings. He is now the No. 4-ranked receiver prospect in the 2023 class after jumping 59 spots in the Rivals250, which makes him the nation's No. 31 player overall.
What Branch lacks in size he more than makes up for with his athletic ability. Branch is as dynamic as any receiver in the nation when the ball is in his hands, and he is a threat to score with every touch. His blazing speed sets him apart from almost every other player in the country, and you have to look no further than his PR of 10.33 in the 100-meter dash as evidence of that. With continued physical development Branch could make a case for five-star status when all is said and done.