Rivals Rankings Week: Who should be No. 1 QB in 2023?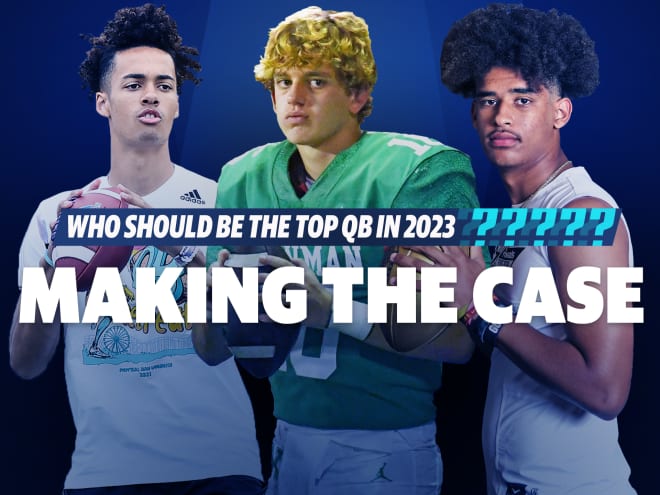 ARCH MANNING 
You can talk about some of the best single-game performances by a quarterback in a given game this season, or you can talk about him being the latest branch off the Manning tree. But the fact is that five-star New Orleans (La.) Isidore Newman quarterback Arch Manning is a football savant that makes excellent decisions and sees the field differently than most quarterbacks his age.
He knows how to slice up defenses. As a junior, he completed 64% of his passes. Manning, an Ole Miss legacy, is also considering Alabama, Georgia and Texas, among others. - Sam Spiegelman, National Recruiting Analyst
*****
  MALACHI NELSON  
The quarterback debate in the 2023 class is not settled, and it could actually be expanded because Nico Iamaleava and Eli Holstein are also worthy of being in this discussion. I could also be convinced that Arch Manning or Dante Moore could hold on to or land the No. 1 spot, but Malachi Nelson is as worthy as anybody else.
Nelson is a stat machine, throwing for nearly 2,700 yards with 39 touchdowns and nine picks, and he orchestrates his offense so well and so smoothly. There is no rush to his game, no panic and his arm talent is unquestioned.
Manning and Moore are also special, but as this recruiting class continues to go through its iterations heading to its own signing day, Nelson is going to be mentioned along with the best players in the class. - Adam Gorney, National Recruiting Director
*****
DANTE MOORE 
At the end of the day QBs are judged by their ability to win, and Dante Moore is a proven winner. Moore has his Detroit King team at 12-1 overall and on a 12-game winning streak heading into the state championship game.
Moore has a great frame, elite field vision, superior mechanics, is extremely accurate and has every intangible to match. His ability to go through all of his reads and distribute the ball with extreme efficiency is like that of few quarterbacks in his class. Moore is an elite decision-maker who rarely turns the ball over or puts his team in a bad position. He is above average in every physical category that a quarterback is measured by, and although he doesn't use his legs frequently, Moore is a great athlete who is a threat to run the ball at any time.
Elite arm strength may be the biggest question about his skill-set right now. That being said, arguably the two greatest quarterbacks of our time (Tom Brady and Joe Montana) had similar questions about their arm strength while sharing many of the same characteristics of Moore. All of this makes Moore as worthy as anybody when debating the top quarterback in the 2023 class. - Clint Cosgrove, National Recruiting Analyst
*****