Rivals Rankings Week: New 2023 DL rankings
PROGRAM WITH THE TOP COMMIT: Notre Dame
The Fighting Irish have an outstanding pair of defensive linemen already committed in top 30 prospects Brenan Vernon and Keon Keeley. Both of them committed to Notre Dame just one day apart, with Vernon announcing his choice a day before Keeley. The two should bookend a very strong defensive line haul for the Fighting Irish once they arrive on campus, assuming there's no change of heart during the coaching transition.
Vernon, No. 16 in the Rivals250, is more of a traditional defensive end that's strong at the point of attack and shows a great motor on passing plays and when the offense runs away from him. Keeley, on the other hand, is a big-time athlete on the edge of the defense. The No. 28 prospect in the Rivals250 has a skillset to thrive as a pass rusher and drop into coverage when needed. Expect the Fighting Irish to have a dominant defensive front when these two prospects see the field in South Bend.
*****
PROGRAMS TO WATCH: Auburn, Alabama, Florida State, Georgia
Auburn is in great position to sign an excellent crop of defensive linemen in the 2023 class. Bryan Harsin and his staff have done a great job laying the ground work in the recruitment of Kelby Collins, Jaquavious Russaw and Keldrick Faulk. The atmosphere at the Iron Bowl made a big impact on the players that visited and the ones that watched on TV. Keep an eye on Damon Wilson, Hunter Osborne, Tomarrion Parker, Jameian Buxton, Yhonzae Pierre, Daniel Harris and Ka'Shawn Thomas.
The Crimson Tide are always in the mix for top defensive linemen and the 2023 class isn't an exception. Five-stars LT Overton and Jayden Wayne are high on Nick Saban's wish list. James Smith, Kelby Collins, Peter Woods and Jaquavious Russaw are major targets for Alabama, too. Woods should be considered a heavy lean for Alabama after growing up a fan of the Crimson Tide and Overton has strong family ties to the school and Saban since his parents worked in the Alabama administration.
Florida State is picking up momentum on the recruiting trail and the Seminoles are in the race for many of the same prospects. Russaw, Faulk and Wilson are all major targets for Mike Norvell and his staff but they'd love to get former commit Gabriel Harris back in the fold. John Walker, Jamarious Brown, Jameian Buxton and Rueben Bain are a few other recruits Florida State fans should track.
Georgia is in the race for many of the top defensive line prospects in the 2023 class. Overton, Wayne, Collins and Russaw all have very high interest in the Dawgs and have been on campus in Athens at least once this season. Smith, Woods and Burley are serious about Georgia and the coaching staff is making sure to stay in contact often. Zavion Hardy, Tomarrion Parker, Kayden McDonald, Ka'Shawn Thomas and Stephiylan Green are just a few other defensive linemen Georgia will be involved with throughout the 2023 recruiting cycle.
*****
PROSPECT TO WATCH: Jayden Wayne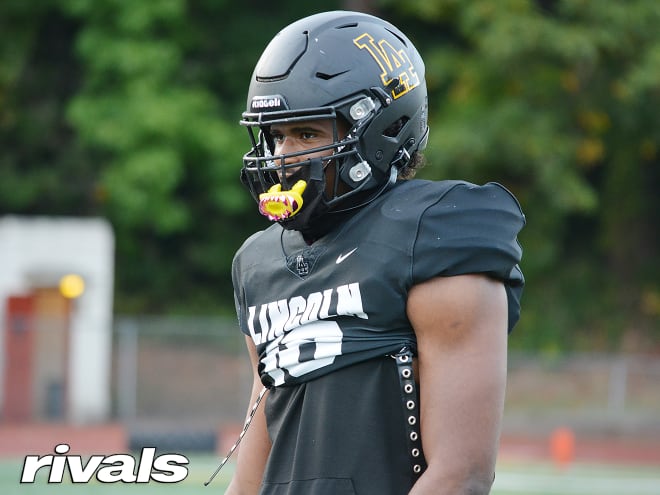 Wayne was just elevated to five-star status and college coaches are doing all they can to get his attention. The Washington native has really made the rounds since the spring ended. Alabama, Auburn, Georgia, Clemson, Texas A&M, Texas, TCU, Notre Dame, Michigan, USC and Washington have all hosted in the last six months or so.
Alabama and Georgia got him on campus for games this fall, too. It doesn't look like Wayne is close to a commitment but he is racking up those frequent flier miles so he could pop up anywhere at anytime.