Five thoughts on the 2023 DB class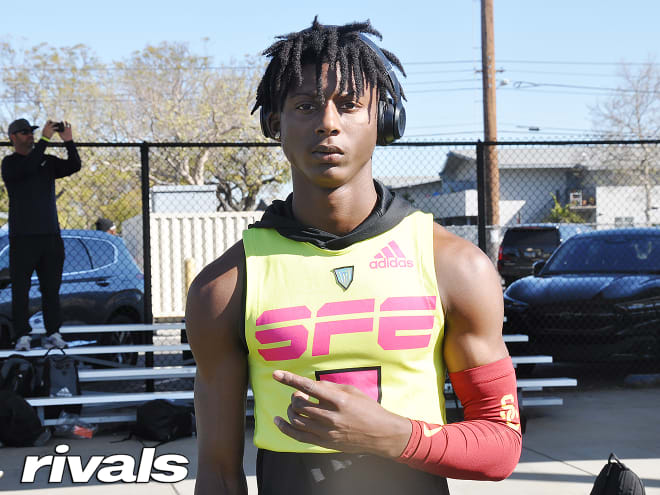 Rivals national recruiting director Adam Gorney continues his position-by-position glance of the 2023 recruiting scene with five thoughts on the defensive backs.
MCCLAIN IS THE BEST SINCE…
There have been some outstanding cornerbacks in recent years and Cormani McClain absolutely joins that elite group.
The new Lakeland, Fla., five-star cornerback is so smooth and so instinctual on the field plus it looks like he's gliding around the field while covering receivers.
He reminds me much more of Eli Ricks than Derek Stingley Jr., someone who has length and speed and isn't necessarily just a physical specimen on the field. Stingley was the No. 3 pick in this year's NFL Draft and Ricks should easily be a first-rounder as well so McClain is following in that path as well.
Alabama and Florida are battling it out for McClain and it looks like the Gators have the edge right now. That would be huge for coach Billy Napier and position coach Corey Raymond as they'd have a Day 1 lockdown corner in McClain if he goes to Gainesville.
*****
AFTER TOP TWO, IT GETS INTERESTING
Cormani McClain and Javien Toviano are the top-two cornerbacks in the 2023 class. After that, there could be a lot of debate and some of it comes down to preference.
Georgia commit AJ Harris sits at No. 3 and he's been very impressive when we've seen him but he's largely been off the national scene this offseason. Still, he has size, he plays with a physical nature and the Bulldogs have been phenomenal at developing defensive backs.
Alabama commit Jahlil Hurley is interesting because he's long and athletic and can make plays so he currently sits at fourth. Auburn has tried to flip him - and his entire family are Auburn fans - but he said recently at the OT7 event in Las Vegas that he's sticking with the Crimson Tide.
New Crimson Tide commit Tony Mitchell could be moved to safety so that's a discussion we will have about that especially if that's his long-term position. He could stay at corner but Mitchell has a thicker bottom half so moving to safety wouldn't be surprising.
Texas A&M commits Jayvon Thomas and Bravion Rogers, Notre Dame pledge Christian Gray, Georgia commit Justyn Rhett and Oregon pledge Caleb Presley round out the top 10.
*****  
NO FIVE-STAR SAFETIES - YET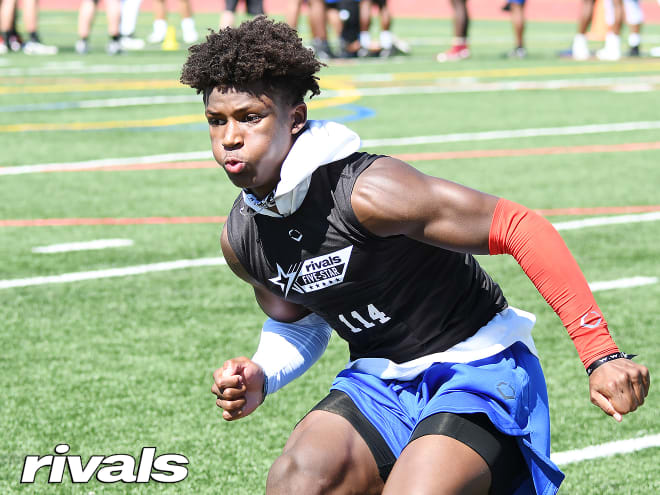 The last two recruiting cycles we've seen multiple five-star safeties but there isn't one yet in the 2023 class although that could definitely change because there are names at the top that could be worthy.
That group is led by Caleb Downs, who could be in an Alabama/Georgia battle for his services now with Ohio State and others involved. The Hoschton (Ga.) Mill Creek standout is more comparable to Dax Hill or Jalen Pitre from this recent draft where he's not a massive physical presence but he's a playmaker all over the field and should be a fringe first-rounder down the road.
New Texas commit Derek Williams is ranked second at the position and Tennessee commit Sylvester Smith is outstanding on film and if he's at a national event in the coming months might make a leap into the five-star talk, too.
*****  
SEC DOMINANCE
Big surprise here - SEC teams are recruiting elite cornerbacks well.
This could be a comically dominant year for teams in that conference, though. Funny for them but not everyone else. There is at least a very decent chance the top-seven and eight of the top nine cornerbacks end up in the SEC.
If McClain picks one of his two current front-runners (Florida and Alabama), Toviano heads to Texas A&M although Texas, Michigan, Oklahoma and others are battling and nobody de-commits then it looks like it would happen.
Last recruiting cycle, five of the top nine ended up in the SEC so there was more disparity by far.
*****
A NOTE ON CORNERBACK SIZE
For a few years there, cornerbacks under 6-feet-tall were preferred as NFL teams took speed over size with offenses changing. That factored into our thinking a little bit as we were once resistant to five-stars that short but became more open to it as they thrived in today's football game.
Then the 2022 NFL Draft happened and Stingley was taken first - a rocked-up, 6-foot-1, 195-pound corner followed by 6-foot-3 Sauce Gardner as the third and fourth picks, respectively. First-rounders Trent McDuffie was 5-foot-11 and Kaiir Elam was 6-foot-2.
So there doesn't seem to be a specific rhyme or reason anymore at the cornerback position which is actually easier to evaluate on because we can look at best players and not pigeonhole them one way or another just because of height.