Five thoughts on the 2023 WR class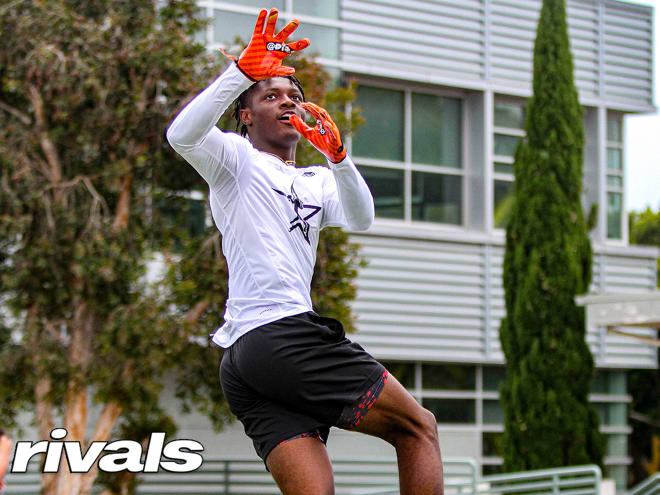 1. CONFUSED AT THE TOP  
There are four five-star receivers in the 2023 class now, and I'm comfortable with Hykeem Williams third and Zachariah Branch fourth for now. But there is still some uncertainty and debate around Nos. 1 and 2 between Carnell Tate and Brandon Inniss.
Tate moved up to the top spot in the latest rankings release, but Inniss didn't necessarily do anything to drop from No. 1. In terms of freak athletic ability and size, Tate holds a slight edge. But when it comes to production and total domination at every event this offseason, Inniss has been the guy.
It really comes down to preference here. Tate is a smooth route runner, great hands, looked awesome at the Pylon event in Los Angeles and has deceptive speed on the outside. Inniss can create separation against anybody, has a skill for finding soft spots in defenses and he might have the best hands of any receiver in the class.
Tate No. 1, Inniss No 1. The debate will go on.
Either way, both are special and provide huge weapons in Ohio State's offense as both are committed to the Buckeyes.
SHARE YOUR THOUGHTS WITH OHIO STATE FANS AT SCARLETANDGRAYREPORT.COM
*****
2. OHIO STATE'S TOTAL DOMINANCE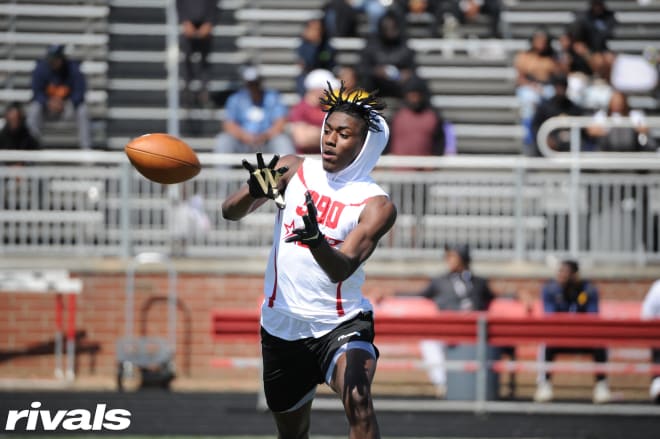 The snowball effect of receiver success at Ohio State is getting to monumental levels. First, Garrett Wilson and Chris Olave are back-to-back first-round NFL Draft picks. Then there is all this warranted preseason hype around the Buckeyes' receiver group this season, led by former five-star (and virtual first-round lock) Jaxon Smith-Njigba.
And this all leads to the incredible 2023 receiver class that coach Ryan Day, position coach Brian Hartline and others have put together so far, with Tate, Inniss and four-stars Noah Rogers and Bryson Rodgers – and don't forget about four-star tight end Ty Lockwood.
One uncommitted quarterback at Elite 11 said it was definitely a draw to play at Ohio State because of all the incredible receivers the Buckeyes have on their roster and the ones coming in. Inniss, even before his commitment, talked about how NFL Draft night made a huge impression on him.
Good times are rolling in Columbus.
*****
3. COOKING UP ANOTHER FIVE-STAR?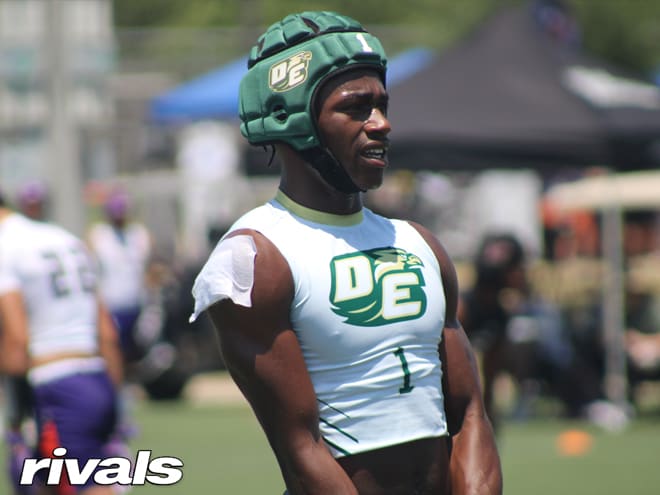 There are already four five-star receivers in the class and so we're reaching maximum levels here, but Johntay Cook has been so good this offseason that he's going to at least get some serious consideration moving forward.
The DeSoto, Texas, prospect who recently committed to the Longhorns has an incredible competitive drive. He's as athletic and sudden as anybody in the class and he wants to prove he's the best on the field every time he's out there.
I am a little confused about his stat line from last season, when he had only 38 catches but went for 806 yards and 18 touchdowns. That big-play ability is definitely appealing, but only 38 receptions all season is something to figure out.
After seeing most receivers this offseason, Cook should be in the five-star talk and that will be determined in the coming months through his senior season and all-star events.
*****
4. THOUGHTS ON SAMPSON MOVING FORWARD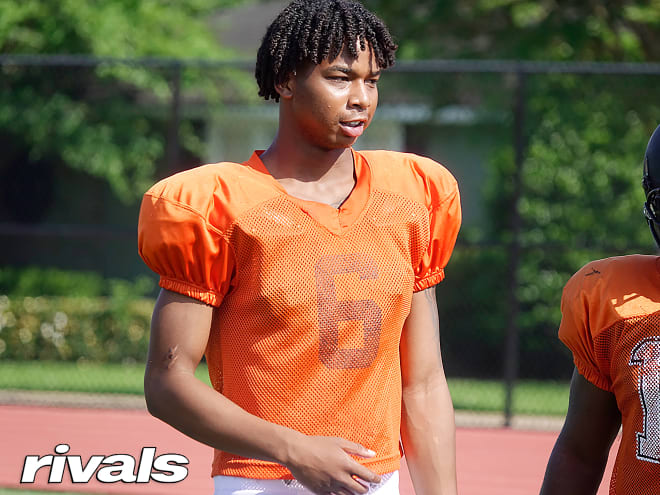 Shelton Sampson became a five-star receiver, and even though he's now lost that ranking I still think he's one of the best players in this class. It's just unfortunate that he's been nowhere this summer, so it's hard to get an apples-to-apples comparison on him with the others.
The Baton Rouge (La.) Catholic receiver has all the physical tools to be special. He has great length and playmaking ability, but he just hasn't been exposed to all the other receivers at a national level.
We cannot necessarily penalize him because of that – No. 1 Arch Manning hasn't done any national events, either – but it is something to consider when we look at rankings and projections to college and the NFL.
Right now, Sampson is ranked as the fifth-best receiver in the country and the top one outside of five-star status. He's incredibly skilled and could definitely return to a five-star ranking, but it would help to see him somewhere.
*****
5. SLEEPERS WHO COULD MOVE UP
A lot of receivers that have been seen over the last few weeks have really left an impression and that could be reflected in the next rankings release.
Malik Elzy was excellent at the OT7 event in Las Vegas. It feels like Penn State commit Yazeed Haynes is better than the No. 33 receiver nationally after seeing him at the Rivals Camp in Philadelphia. UCLA pledge Grant Gray is also cruising under the radar, but he had arguably the best catch of the OT7 tournament and is just so productive he could move up as well.
But no one has been better than Oregon commit Jurrion Dickey, who played with the Miami Immortals in Las Vegas and was completely unstoppable. We haven't seen a ton of Dickey in the last couple years, but he was phenomenal at the OT7 tournament, so good that he could be making a significant move up. He was that good.