Five thoughts on the 2023 DE class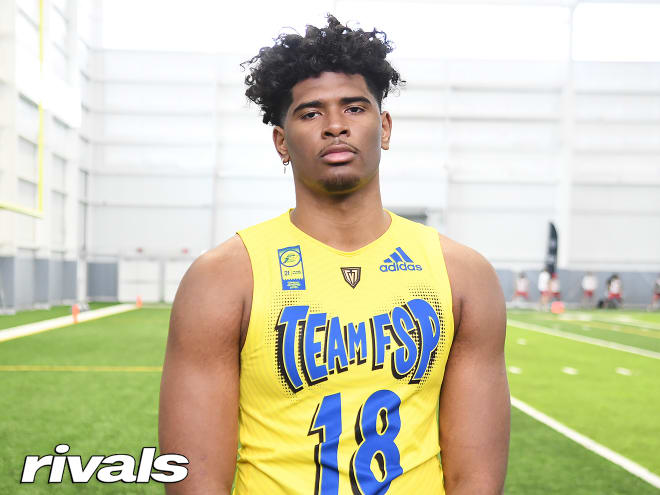 Rivals national recruiting director Adam Gorney continues his position-by-position glance of the 2023 recruiting scene with five thoughts on the defensive ends.
WE WILL LEARN MORE ABOUT WAYNE
Jayden Wayne is one of the best-looking prospects in the 2023 class and he has dominated in the state of Washington and looked good playing tight end during the 7-on-7 circuit. But the five-star has not attended a lot of elite camps where he's played defensive end and so now transferring to Bradenton (Fla.) IMG Academy, we will get a much-better look at Wayne as an elite prospect.
That could mean he moves to No. 1 at strongside defensive end, stays right where he is at No. 2 or moves down depending on his performance and projection to college and where we think he will go in the NFL Draft. The new Miami commit has a lot of special abilities but now playing a national schedule on arguably the best team in the country will give us more insight into all his abilities.
Either way, Wayne is a special prospect with tons of unique talents.
*****
THE DE ORDER IS A WORK IN PROGRESS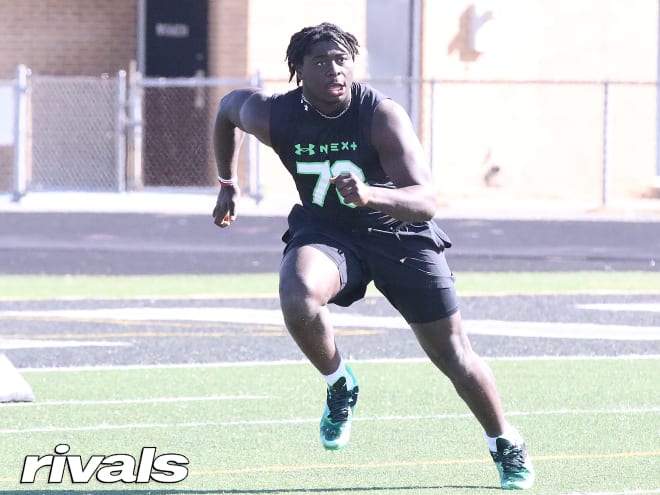 The 2023 class is absolutely loaded at both strong-side and weak-side defensive end and the order at both spots - and nationally in the Rivals250 - remains very much in flux.
At strongside defensive end, David Hicks, Jr. leads the way but Wayne is special, too. We haven't seen a ton of Notre Dame commit Brenan Vernon so there is fluidity there. Kelby Collins is special, new Clemson pledge Peter Woods used to be higher in the rankings and could move up higher and Georgia commit Gabriel Harris is a bull. Others could spike as well.
At weakside, Samuel M'Pemba is almost positionless since he can be an edge rusher, put his hand down to blitz or stand up and play in space. His physical and athletic ability make his extremely special. But Notre Dame commit Keon Keeley is the perfect example of a high-end defensive end with his length and athletic ability although he hasn't done many national events, either. Matayo Uiagalelei is listed at weakside even at 270 pounds because he moves so well and can play in space plus he's an elite tight end. There is tremendous depth at that position, too, and Alabama pledge Yhonzae Pierre was phenomenal at summer camp in Tuscaloosa, too.
There are just a lot of things that could still happen at both positions that nothing is locked in yet.
*****  
WOODS' COMMENTS WERE SURPRISING
In recent days, four-star defensive end Peter Woods committed to Clemson over Alabama, Florida, Jackson State and others but this really became a choice between the Tigers and the Crimson Tide. It felt like for months that Alabama would win out for the Alabaster (Ala.) Thompson standout who has teammate Tony Mitchell already committed there and former teammates already in Tuscaloosa.
But in explaining his decision, Woods made two interesting - and possibly controversial - comments. One was that Clemson coach Dabo Swinney was "more lively" than Alabama's Nick Saban and that Swinney understood teenage life better. Swinney is 52 and Saban is 18 years his senior but the accusation has never been made publicly to my knowledge that Saban was out of touch in any aspect of his program.
Secondly, Woods said he could take a visit to Alabama during the season which is heavily frowned upon for Clemson commits. There is a sense that the Crimson Tide could keep pushing and work on flipping the four-star defensive lineman but it's unclear this early if Alabama will have any traction with Woods especially since he just committed elsewhere.
*****  
STILL MORE TO LEARN ABOUT NOTRE DAME COMMITS
Keon Keeley and Brenan Vernon committed to Notre Dame more than a year ago but in some ways we don't know a ton more about them now than we did last summer.
Neither Keeley, from Tampa (Fla.) Berkeley Prep, or Vernon, out of Mentor, Ohio, have done many national or even regional events and while we still think Keeley is a five-star and Vernon is a high four-star it will be crucial to see them in the coming months.
Keeley is a freakishly long and athletic defensive end who has been pressed hard by SEC teams to flip but so far the Irish have held those programs off. Many believed Vernon was going to end up at Ohio State and some compared him to former five-star Jack Sawyer, who's with the Buckeyes, but the four-star picked the Irish and has stayed committed.
Senior seasons and all-star events will be big for both.
*****
FIGURING OUT UIAGALELEI
D.J. Uiagalelei was a five-star quarterback in the 2020 class and while he was going through the recruiting process, his younger brother, Matayo, was a ball boy for powerhouse Bellflower (Calif.) St. John Bosco.
Now Matayo Uiagalelei is a high four-star defensive end in the 2023 class and at 6-foot-6 and 270 pounds he's one of the best-looking prospects in his class. But he didn't play in Bosco's spring game and then at the Battle at the Beach 7-on-7 tournament over the weekend he was in a boot. Uiagalelei told me that he's on the shelf until Bosco starts fall camp with a lower-leg injury.
Uiagalelei is often fantastic coming off the edge - unstoppable. But we want to see consistent dominance in his senior season and that could mean a five-star ranking as well as Ohio State, USC, Oregon, Alabama and others work to land his commitment.