Five thoughts on the 2023 OL class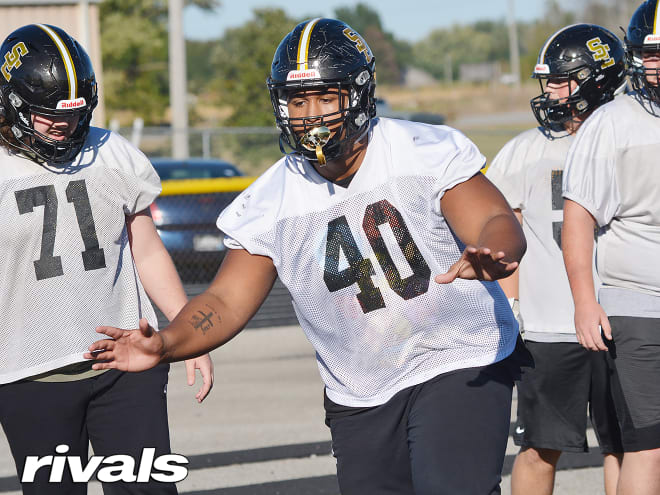 1. Battle for No. 1. 
There are some recruiting cycles where the No. 1 offensive tackle is clear, stands out and there isn't much that can be done to overtake him. This is not one of those years.
New Iowa commit Kadyn Proctor is a phenomenal talent. I love how he mauls defenders and looks to block on the second level, but new five-star Samson Okunlola has been outstanding at numerous events this offseason.
While Okunlola has dominated against regional, if not national, competition, Proctor hasn't done many events, so it's tough to figure out which one is preferred among the five-stars.
Plus, there are only two five-star offensive tackles at this point. That can absolutely change and the all-star weeks will be incredibly valuable for that as everyone gets the best feel for all those players on the same stage, standing side by side. Those evaluations are maybe the most important of all.
*****
2. CONTROVERSY OVER MAUIGOA
There was some confusion this week when Francis Mauigoa committed to Miami that a fifth star was pulled from his ranking. I can assure everyone that was not the case as the Bradenton (Fla.) IMG Academy standout was never a five-star prospect - yet - on Rivals.
Of course, Mauigoa is one of the best offensive tackles in the class. He has great size and plays with a mean streak, but in the last rankings cycle we decided not to move him up, although his current ranking reflects that we still like him very much.
There are currently 19 five-stars in the 2023 class and we'd like to get to up to 32 (but won't force it). Mauigoa is at No. 21 nationally right now, so there's a good chance he will end up in that five-star stratosphere. But this early in the recruiting cycle with so many evaluations still ahead we haven't pulled the trigger on the new Miami commit just yet.
*****
3. ANY OTHER FIVE-STARS?  
Over the last decade, there have been on average 3.6 five-star offensive tackles per recruiting class. Only twice during that time have there been only two five-star OTs, and that has never happened in the last seven cycles.
In short, while there are no guarantees, history is on the side of more five-star offensive tackles coming in this class.
Which leads me to the question: Who could it be? Mauigoa is definitely one under consideration but Cayden Green, Ohio State commit Luke Montgomery and maybe some others are under consideration as well.
*****
4. SHANAHAN TOPS THE LIST  
There is a lot of disparity in TJ Shanahan's rankings in the industry, but I absolutely love him and think he's special, especially as an interior offensive linemen.
Guys at those positions have to be smart and take a lot of pride on keeping their quarterbacks upright. But maybe even more important is that they have to play with a mean streak and have that dog mentality that a lot of people talk about but not many possess when the going gets tough.
Shanahan is one of those special exceptions. The Austin (Texas) Westlake standout is the top-rated offensive lineman in the 2023 class and while that's rare - usually it's an offensive tackle topping the list - he's more than deserving from what we've seen this offseason, especially after adding in the fact he has position versatility and can move outside if needed.
We might be the outlier on Shanahan's ranking, but we think it's right.
*****
5. PLAYERS WHO COULD SURGE  
A lot of movement will still happen among the 2023 class, including along the offensive line, and three players who I have my eye on as potentially moving up are Notre Dame commit Charles Jagusah, four-star Zalance Heard and four-star Lucas Simmons.
Jagusah might be one of the best offensive tackles in the country, but he has been quiet this offseason, so seeing him in action during his senior year or at an all-star event will be crucial.
Heard stays out of the limelight but when he shows up to an event, the Monroe (La.) Neville standout dominates.
Simmons is all of 6-foot-7 and 300 pounds and he plays at off-the-beaten-path Clearwater (Fla.) Clearwater Academy International, so he might be getting overlooked.