A glimpse behind the scenes at the #RivalsChallenge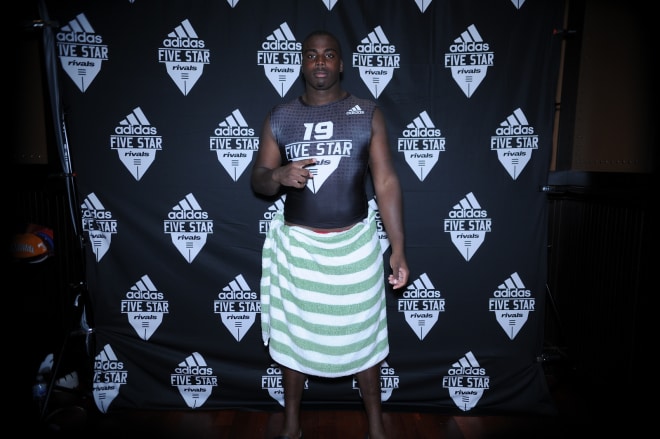 Morris takes a dip 
As part of Wednesday's registration day, prospects arrive at the hotel, check in and do interviews. They also get fitted for their adidas gear. But when 2020 offensive lineman Chris Morris showed up at the hotel, he was seen briefly, but then quickly disappeared without checking in or doing any interviews. That's when a mini search for him began, as event staff searched the property to locate him. After a brief period of searching, Morris reappeared, showing up in the lobby with a towel around his waist.
Not knowing that he was supposed to check in, the fun-loving Morris elected to take a dip in the pool to cool off and came back to the lobby in search of lunch. Rather than change, Morris then went through the registration process with the towel covering his wet shorts. It was just one of several fun moments for Morris, as he had his fellow campers and Rivals staffers laughing throughout the week.
During competition Morris made a name for himself with his showing, as well, and surely raised his profile among his fellow competitors.
Business trip for Britt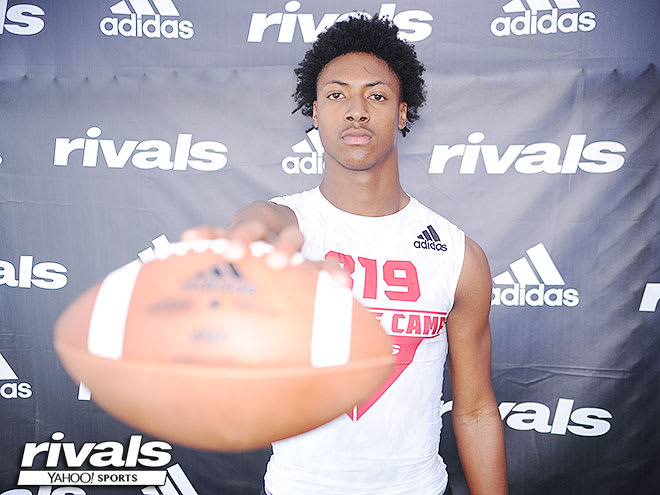 One of the features of the Five-Star Challenge is a players lounge in the hotel, where prospects can relax and hang out when they're not competing. One of the main attractions in the lounge is a number of video games, including a designated area for prospects to play the popular game Fortnight. Obviously, it was a prime attraction for most recruits, but a few, including 2020 Miami wide receiver commit Marc Britt, didn't' seem too interested in showing their gaming skills.
When asked why he wasn't interested in video games, Britt made it clear why he was in Atlanta.
"I don't play games, and I'm not here to play games," he said.
The business approach by Britt was refreshing, especially after several prospects elected to take long stretches of play off during Thurdsay's action.
As an underclassman, Britt could have just been happy to been there, but he came in looking to dominate, and he more than held his own at the event.
Nix and Bailey override coach 
Coaching 7-on-7 is much different than coaching a traditional football game, and former NFL MVP Priest Holmes found that out after his team went 1-2 during pool play action on Thursday. Rather than panic, the team's quarterbacks, Auburn commit Bo Nix and 2020 Rivals100 prospect Harrison Bailey, put their heads together and told Holmes they should take over the offensive play-calling.
Nix spent the spring playing for Cam Newton's 7-on-7 team, while Bailey has been a fixture on Atlanta-area team Hustle Inc. since he was in the eighth grade. The two clearly picked up plenty of tricks along the way, and while sharing co-offensive coordinator duties, they led their team to an undefeated record and the event's championship.
The showing was just part of an all-around excellent day for Nix, who won the quarterback competition, the quarterback MVP award and the team championship.
Knox plays the hat game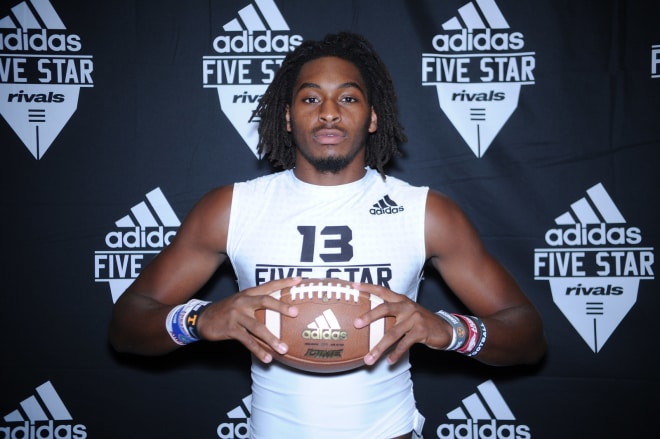 A year ago, then-Florida State commit James Cook showed up wearing a Georgia sweater, but most chalked it up to him looking for some attention after being pledged to the 'Noles for years. But eventually he ended up back on the market and signed with the Bulldogs.
This year's prime wardrobe watch contestant was Rivals100 wide receiver Trey Knox. The uncommitted prospect showed up wearing a Tennessee hat, fueling speculation that the Vols have jumped to the top of his list. Knox has had a few leaders during his recruitment, at one point looking like a lock for Ohio State, only to see Arkansas make a major push over the past few months. But after dominating Tennessee's camp in front of Jeremy Pruitt last month, Knox is now a major priority for the Vols.
Will he follow Cook's suit and end up a Vol? Certainly Tennessee fans are hoping his wardrobe choice is a harbinger of things to come.
Flowe steals the show 
Class of 2020 linebacker Justin Flowe is the No. 2 overall player in his class, but considering he's just halfway through his high school career several of the nation's top recruits weren't acquainted with him coming into this week. That changed very quickly, as several of the top players in attendance came away amazed with Flowe's ability and his constant motor. Having intensity like Flowe's in a camp setting is rare, and Flowe always plays like his hair is on fire, whether it's during drills or the competition period.
Rivals.com National Basketball Analyst Eric Bossi was attending the event as a spectator and even remarked how much Flowe's performance was impressing other prospects.
"He's as intense of a high school athlete as I have ever seen," Bossi remarked, further showing that Flowe's transcendent talent applies not only to his fellow competitors but to talent evaluators of all kinds.